« #PhonyScandals Get Almost Phonier If You Can Believe That
|
Main
|
Top Headline Comments 8-1-13 »
July 31, 2013
Overnight Open Thread (7-31-2013)–VRWC Edition
"The key to understanding the Left is knowing that they inhabit a Manichean fantasy world in which history is controlled by roiling, magical forces, in which signs, symbols, and portents are more important than empirical reality and in which their opponents are not just wrong but evil:"
The funny thing about Hillary Clinton is how vastly her reputation exceeds her accomplishments. In reality, the only reason anyone has heard of her is that she married Bill Clinton. Otherwise, she would have toiled away as an obscure, reasonably competent if obnoxious lawyer. She was a relatively unpopular First Lady who is best remembered for being embarrassed by her husband's serial infidelities. She served a brief term as a Senator from New York, a role in which she achieved nothing. Then she lost the Democratic nomination to Barack Obama, and punched her ticket during a singularly unsuccessful stint as Secretary of State. Never has she had an original thought, formulated a successful strategy, or stepped out of the shadow of her singular husband.

But none of that matters: Hillary already has the establishment's enthusiastic backing as she prepares for her next presidential run.
And she's well on her way to getting the highly coveted Maverick endorsement.
I'll spare you a picture of Hillary! and show the proposed Hollywood version instead: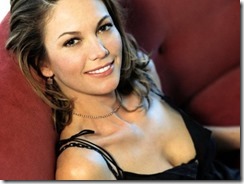 Hey man wanna race for pink slips?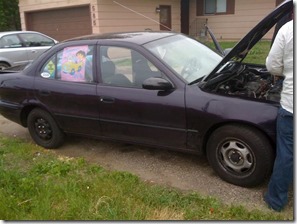 The Real World Effects of EMP on Vehicles
An EMP blast would bring the world to halt and fry the electronics on every car, right? Well maybe not.
The government-sponsored EMP Commission did some tests in 2008 and found that even in a strong EMP field most cars didn't even stall much less get fried:
We tested a sample of 37 cars in an EMP simulation laboratory, with automobile vintages ranging from 1986 through 2002. Automobiles of these vintages include extensive electronics and represent a significant fraction of automobiles on the road today.

Automobiles were subjected to EMP environments under both engine turned off and engine turned on conditions. No effects were subsequently observed in those automobiles that were not turned on during EMP exposure. The most serious effect observed on running automobiles was that the motors in three cars stopped at field strengths of approximately 30 kV/m or above. In an actual EMP exposure, these vehicles would glide to a stop and require the driver to restart them. Electronics in the dashboard of one automobile were damaged and required repair. Other effects were relatively minor. Twenty-five automobiles exhibited malfunctions that could be considered only a nuisance (e.g., blinking dashboard lights) and did not require driver intervention to correct. Eight of the 37 cars tested did not exhibit any anomalous response.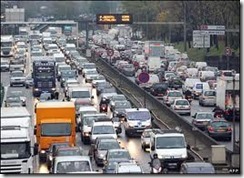 Facebook: 'Kill Zimmerman' Page is Okay but Bans Page on 'Chiggers'
No word on riggers and giggers.
The Smithsonian May Get a New Exhibit
It'll go in the genocide wing I guess.
Why Some Libertarians Sympathize with the Confederacy
"Whatever you say about the Confederate States of America, it was no libertarian paradise."
"I'm just glad I got out of there and didn't end up like Mike," said Husmer's cousin Amary Martin, 33, an attorney at a large law firm who hasn't seen Husmer, her closest childhood playmate, for nearly six years.  ..."Just look at that loser with his contented grin and positive outlook day in and day out," she added. "The poor guy doesn't even know how bad he has it."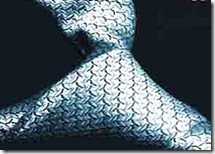 Ten Familiar Automotive Technologies That Will Go Extinct
Most of these I can believe but I'm pretty sure that camshafts and drum brakes will still be around twenty five years from now.
Bank Forecloses on Wrong House, Steals Stuff, and Refuses to Compensate Owner
Because she can't produce the receipts which were among the items taken from her house by the bank's agents.
In America, the Cheese is Dead
If you want cheese for next week, you buy a young cheese. And when you buy young cheese for next week, you go home, [but] you never put the cheese in the refrigerator, because you don't put your cat in the refrigerator. It's the same; it's alive. We are very afraid of getting sick with cheese. By the way, more French people die eating cheese than Americans die. But the priority is different; the logic of emotion is different. The French like the taste before safety. Americans want safety before the taste.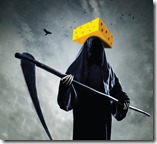 Teh Tweet!
Yahoo group. That is all.
Tonight's post brought to you by the new landing approach system at SFO: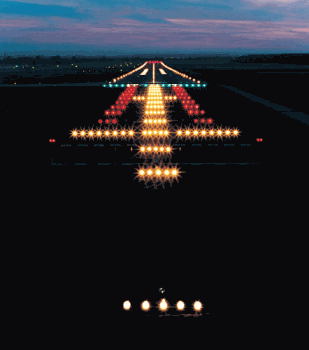 Notice: Posted by permission of AceCorp LLC. Please e-mail overnight open thread tips to maetenloch at gmail. Otherwise send tips to Ace.

posted by Maetenloch at
10:09 PM
|
Access Comments