« Alternate Mixed-Use Evening Open Thread
|
Main
|
Top Headline Comments 7-30-13 »
July 29, 2013
Overnight Open Thread (7-29-2013)
More on Ms. Magazine Does Guns
In which Heidi Yewman who intensely fears and dislikes guns buys a 9mm Glock and carries it around for a month just to see what it's like. With a completely open mind and everything despite being a board member of the Brady Campaign. Swearsies.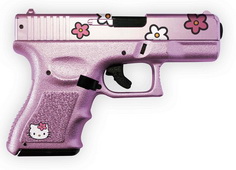 And you'll be shocked, shocked to discover that after four weeks she found it scary, dangerous, and all together icky. So of course we need more gun control. Because the children. And the middle class.
Tony told me a Glock doesn't have an external safety feature, so when I got home and opened the box and saw the magazine in the gun I freaked. I was too scared to try and eject it as thoughts flooded my mind of me accidentally shooting the gun and a bullet hitting my son in the house or rupturing the gas tank of my car, followed by an earth-shaking explosion. This was the first time my hands shook from the adrenaline surge and the first time I questioned the wisdom of this 30-day experiment.

I needed help. I drove to where a police officer had pulled over another driver. Now, writing this, I realize that rolling up on an on-duty cop with a handgun in tow might not have been fully thought through.

I told him I just bought a gun, had no clue how to use it. I asked him to make sure there were no bullets in the magazine or chamber. He took the magazine out and cleared the chamber. He assured me it was empty and showed me how to look. Then he told me how great the gun was and how he had one just like it.

The cop thought I was an idiot and suggested I take a class. But up to that point I'd done nothing wrong, nothing illegal.
Because apparently the law is expected to limit every possible foolishness and bad judgment a person could ever make.
And of course she found the gun dangerous - mostly because she refused to learn anything about the weapon and also because she did willfully dumb and dangerous things like this:
I played two tennis matches with the gun in my backpack next to the court, and I went to three parties in homes where children played just feet from the pile of guests' jackets and purses, including mine with the gun inside.
I put my purse on the counter and then spent the next hour out on the back deck. Walking into the kitchen to refresh our drinks, I noticed my purse with the 9mm Glock still inside it. I'd forgotten to lock it up! Panic set in as I realized my teen son was playing videogames just 10 feet away. What if he'd decided to get the socks I'd bought him from my purse while I was out on the deck?
Also it's quite possible her gun was possessed since it seemed to emanate brain rays that constantly put the idea of pointing the gun at random people into her head. A competent gunsmith/priest could probably fix that.
Bottom line: Heidi Yewman has no business owning or using a gun. Or a car or anything heavy or sharp or electrically powered. And no pets or children either. Smaller spider plants might be okay though.
And she has quite a future in fiction.
Also NYPD: No Guns For You, No Help From Us
Gelman stabbed Joseph Lozito in the face, neck, hands and head on an uptown 3 train in February 2011, after fatally stabbing four people and injuring three others in a 28-hour period. Lozito, a father of two and an avid martial arts fan, was able to tackle Gelman and hold him down, and Gelman was eventually arrested by the transit officers. Lozito sued the city, arguing that the police officers had locked themselves in the conductor's car and failed to come to his aid in time.

The city, meanwhile, claimed that the NYPD had no "special duty" to intervene at the time, and that they were in the motorman's car because they believed Gelman had a gun.
Why Democratic Women Stick By Their Creeps
Because it's really about power, groups, and Fen's Law.
However, modern liberalism usually defines the world in terms of groups and group rights. The rights of the individual are much less important (see how often the Left criticizes our society as too individualistic or "go it alone") and their vision of a wise redistribution of money, power, authority, rights, etc. often requires the correct person or group to be in charge. Having the Left's preferred people in charge is, in fact, the preeminent value on the Left, and any other "rule" can be broken in its name - i.e., it's okay to serve on corporate boards and make lots of money, as long as you donate to the party, etc.

In short, the rights of a female employee of San Diego Mayor Bob Filner don't amount to that much in the minds of a lot of San Diego Democrats, compared to the need to keep Filner in charge so he can enact their preferred policies.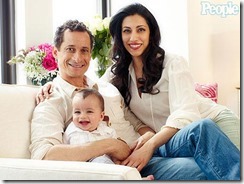 In Soviet Detroit Police Rob You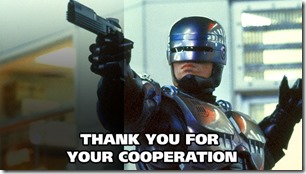 Thought For The Day
:

'Most Small Business Owners are Dumb as Hell'
Most small business owners are naive and start things they think will be "fun."  There was no limit to the number of sports bars, trinket shops, horse hobby farms, music studios, and restaurants I had to deal with working as a credit analyst.  NONE of them were profitable.  NONE of them were feasible.  It was just some moron who foolishly cashed in their 401k to "pursue a dream" and start a company they thought would be fun.  Of course "fun" things are usually oversupplied to the market and the profit margins just aren't there.

Another reason for the spectacular failure of small businesses is their owners truly and honestly believe accounting is optional.  That's the "hard stuff" and they literally have no idea how much they're making or losing.  All one has to do is watch Restaurant Impossible where the host invariably asks the bloated sows about their "P&L" and they don't even know what that is.  Again, these are lazy, dumb people who started the business for "fun."  Not profit.  And since accounting isn't "fun" they don't do it.
All of them believing that by understanding the technical work of the business they are immediately and eminently qualified to run a business that does that kind of work. And it's simply not true!
Alternative View: Entrepreneurship is Supposed to be Hard And the term 'Craigslist Penis Effect' is definitely worth stealing.
Sure your a pedant, but how good of a spelling nazi are you really? Take the test and findout.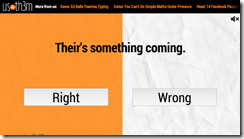 Five long running soap operas have been cancelled in as many years but since they're cheap and popular the web may be their salvation.
TV has gotten more sophisticated since daytime was popular, and we have gotten more sophisticated in our viewing habits, but deep concern for fictitious human beings is still a major part of the TV-watching experience. This is another thing that soap operas bequeathed us: intimate, long-term relationships with make-believe people. We may mock the soap-opera watcher for her bad taste, but we and our good taste spend an awful lot of time dissecting the psychology of Omar Little, imagining Carrie Mathison's future, obsessing about Don Draper's past. Soap operas remind me that I'm lucky TV has gotten better-not because I wouldn't have watched and cared if it were bad, but because I would have watched and cared anyway. Lesser stories are still stories. In the heart of most snobs is also someone who just wants to know what happens next. I wish AMC and OLTL luck on their space flight.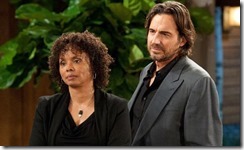 If You Can't Do the Time, Don't Do the Poop
A man was sentenced to a week in jail for pooping in his pants in a courthouse. Well not so much the pooping as the befouling of the restroom afterwards.
And what a mess. The poor maintenance worker who had to deal with it said that "seventy-five percent of the floor was covered in feces" while more was "smeared more than two feet up on the walls" and "on the paper towel and toilet paper dispensers, on the toilet paper itself, and on part of the toilet seat and the left side of the toilet bowl," according to the opinion.

The outrageously graphic 57-page court document, written by distinguished judges who sit one level below the U.S. Supreme Court, includes vivid comparisons to spaghetti with meat sauce and chunky peanut butter. There are also photos of the bathroom where the crime took place, though mercifully after it had already been cleaned.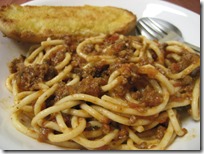 The Yahoo AoSHQ group. Bla bla bla.
And my twitter thang.
Tonight's post brought to you by the Promised Land: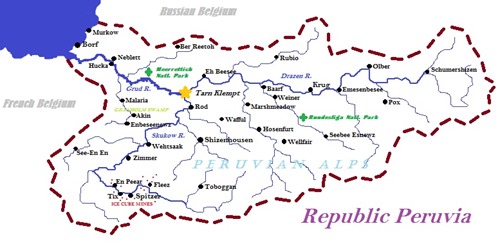 (Thanks to Moron Andy for the map)
Notice: Posted by permission of AceCorp LLC. Please e-mail overnight open thread tips to maetenloch at gmail. Otherwise send tips to Ace.

posted by Maetenloch at
09:34 PM
|
Access Comments