« Bill Whittle's "The Lynching" [OregonMuse]
|
Main
|
The Rainbow of Our Life - [Niedermeyer's Dead Horse] »
July 20, 2013
44 Years Ago Today The Eagle Had Landed
I was sitting on the floor with my eldest kid sister, watching history. My dad worked for Werner von Braun. Dr. von Braun insisted upon the Americanized spelling of his name.
Brown Engineering.
I was nine years old when I watched this. My father had his hand on my shoulder.. a moment we shared that I will never forget.
The whole world was watching.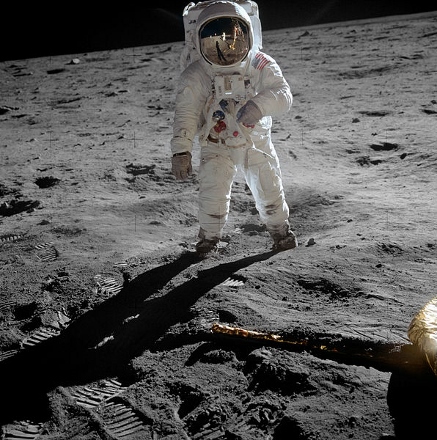 It was a mere 66 years from Kitty Hawk to the moon. We live in amazing times.
Also, here's what a 79 year old Air Force pilot does when some asshole calls him a coward and a liar.

God rest Neil Armstrong, who passed last August.
And God rest Gus Grissom, Lt. Col USAF. DFC, Korea. Air Medal w/ cluster for service. Edward White II, Lt Col. USAF. and Roger Chaffee, Lt. Commander USN. These men paved the way with their lives.
And watch your ass around Buzz. He figured out in a pool after his Gemini mission how to walk in space.

posted by Dave In Texas at
04:56 PM
|
Access Comments