« Would You Rat Out Your Buds For $10,000? [OregonMuse]
|
Main
|
All Things Flags - [Niedermeyer's Dead Horse] »
July 04, 2013
The Aftermath of Gettysburg
Lee's army limped away from Gettysburg after the bloodiest battle in our history. Over 51,000 casualties in a fierce fight. They left the field showered in rain after days of heat and fury.
One of the co-bees sent me this interactive map of the battle. It's pretty interesting.
I'm sure part of this figure, the worst number of American casualties is a combination of the fighting of that week and that we fought one another. Belligerents on both sides were Americans. It's said the Vietnam War finally pushed up American casualties from all other wars above that of our own Civil War (an oxymoron if I ever heard).
The war continued on other fronts, Vicksburg surrendered 150 years ago today after a long and desperate siege. Morgan's Raid into Indiana and Ohio, a minor campaign of 2400 men that just intended to disrupt and pull union resources away from other more important campaigns, and create panic which they did.
But after Gettysburg it was like this. Like so many battles before and after.
"And then, these scenes themselves, who can adequately describe them? Houses demolished, fences destroyed, tall forest trees mowed down like so many stalks of hemp; artillery wagons crushed, broken muskets scattered in every direction, unused cartridges in immense numbers, balls of all kinds, ramrods and bayonets, bits of clothing, belts, gloves, knapsacks, letters in great quantities all lying promiscuously on the field; dead horses in great numbers, some torn almost asunder by cannon balls, some pierced in the side by grape shot, and others with their legs completely shot away; some noble chargers apparently kneeling in death, thir necks, crested with flowing manes, gracefully arched, as if still proud of the riders on their backs. And then many of the human dead, whose mutilated bodies, still unburied, where lying around in all positions. Some with their hands gently folded over on their breasts, others reclining gracefuly on their elbows, and other still leaning against trees, stumps or stones, as if wrapped in the arms of sleep, and given over sweet dreams."
One hundred and fifty years ago today there were too many Americans to be buried. Lincoln spoke there at a dedication to the cemetery that we created out of necessity and the logistics of the time. We had to bury them there, just like we had to bury American soldiers in Europe four score years later.
July 4. One hundred and fifty years ago men were buried where they fell in battlefield graves, or churchyards. Townspeople and farmers found dead men and planted them in the ground. Beginning in August of that year, plans were made and property purchased to bury the dead in a dedicated cemetery, the Gettysburg National Cemetery. Several thousand of the dead were re-interred, pulled from the ground where they fell and laid to rest for eternity here.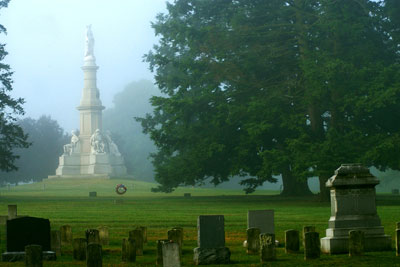 In November of that year, 4 months after the battle Abraham Lincoln spoke these words at this place.
But, in a larger sense, we can not dedicate, we can not consecrate, we can not hallow this ground. The brave men, living and dead, who struggled here, have consecrated it, far above our poor power to add or detract. The world will little note, nor long remember what we say here, but it can never forget what they did here. It is for us the living, rather, to be dedicated here to the unfinished work which they who fought here have thus far so nobly advanced. It is rather for us to be here dedicated to the great task remaining before us—that from these honored dead we take increased devotion to that cause for which they gave the last full measure of devotion—that we here highly resolve that these dead shall not have died in vain—that this nation, under God, shall have a new birth of freedom—and that government of the people, by the people, for the people, shall not perish from the earth.
Morgan's Raid was tipped to me by kevlarchick, an Oh-hi-yo-han.

posted by Dave In Texas at
02:02 PM
|
Access Comments