« Update on Sonoma Cross Incident
|
Main
|
Area Man Has Strong Feelings About Minor Song Released 20 Years Ago »
July 02, 2013
Obama to Egypt's Democratic Resistance: Leave Morsi Alone!
First of all, the crowds are rocking again tonight. Livefeed there.
Regarding yesterday's report that ten cabinet officials resigned from Morsi's government -- it was five, but two other high ranking officials quit too.
Ministers of foreign affairs, telecommunications, tourism, legal affairs and environment had announced their resignations on Monday and Tuesday. Two presidential spokespersons also quit on Tuesday. Their resignations come amid massive protests across Egypt demanding early presidential elections.
In addition to the resignations, the Muslim Brotherhood reportedly has asked the Prime Minister, Hesham Qandil, and some other Muslim Brotherhood ministers to resign, in order to appease those Hoping for Change.
And here's what the Egyptian military is contemplating-- a more thoughtful transition to democracy in which different political groups have time to organize. Remember, last time, Obama's demand for an immediate transition was faulted because only the Muslim Brotherhood and other Islamic parties were organized enough to win elections. It was obvious the Muslim Brotherhood would win due to this unfair advantage, and that seemed perfectly copacetic to Obama.
Egypt's armed forces would suspend the constitution and dissolve an Islamist-dominated parliament under a draft political roadmap to be pursued if Islamist President Mohamed Mursi and his opponents fail to reach a power-sharing agreement by Wednesday, military sources said.

...

The sources said the military intended to install an interim council, composed mainly of civilians from different political groups and experienced technocrats, to run the country until an amended constitution was drafted within months.

That would be followed by a new presidential election, but parliamentary polls would be delayed until strict conditions for selecting candidates were in force, they said.
I don't know what "strict conditions" means, but I'll circle back to that later.
The armed forces planned to open talks with the main opposition National Salvation Front and other political, religious and youth organizations once a deadline set for Mursi to reach a power-sharing agreement expires on Wednesday.

The sources would not say how the military intended to deal with Mursi if he refused to go quietly.
Now, if Obama were as thoughtful, introspective, and comfortable with doubt and reevaluating past positions as his leftist booklickers insist he is, you'd think he'd be interested in helping to fix an error he himself made in inflicting this scourge on Egypt.
But of course he's none of those things, but rather a vain man whose first, second, and last impulse when confronted with his own errors is to stubbornly double down, and that's what he's doing.
Officials have also warned the Egyptian military that a military coup would trigger U.S. legislation cutting off all U.S. aid, which totals about $1.5 billion per year.

"There are specific consequences," the senior official said. "As much as we appreciate their statement that they intend to protect the Egyptian people, they need to be careful about how they inject themselves into the situation. We are telling them that playing a role with their ultimatum to get the two sides together is completely appropriate, but anything that looks like a military takeover is walking a very thin line."
As much as the idea of a military coup is anti-democratic, it should be noted that in most countries, there is some power center or some procedure for removing a very unpopular (or criminal) chief executive. Whether it's a figurehead king or queen whose one real power is to call for new elections in extraordinary situations, or our own Superlegislators of the Supreme Court, who daily take more and more political power out of citizens hands for fear we will make Bad Decisions, most systems of government do in fact have some sort of Big Red Button somewhere to draw on a reservoir of anti-democratic power.
So, in Egypt, it's the military. I don't like that, but I don't like the idea of Judges/Lawyers as Guardians of the Republic either.
Allah's link discusses the possibility that something even worse may come from the elections -- for example, the elections may install a Salafist regime worse than the Muslim Brotherhood.
Possibly. But let's consider this possibility, too: There is nothing that succeeds for democracy and liberal values like the catastrophic failure of fascist ones. Fascism has always been a powerful lure for people-- the Man on the White Horse who will save the country "for the people" and install a regime that pushes a strict regimen of Values on the sinners.
Sometimes, though, perhaps there's a silver lining in letting an Islamofascist government into power-- because the people who suffer under it will no longer just live in the dream hypothetical of what Islamofascism Can Do For You, but are confronted with the reality of what Islamofascim actually does.
And that might be the most potent anti-Islamofascist propaganda possible. Not a radio station like VoA telling tales about the perils of fascism and authoritarian rule, but the real experience of the real misery and incompetence of such rule.
One more thing: The military spoke of "strict conditions" for candidate selection. I'm curious as to what that means. I'm thinking it could mean, possibly, some sort of return to the previous rules about candidates of outlaw parties (such as the Muslim Brotherhood) not being permitted to run for office.
That would be an anti-democratic step, and possibly against Egypt's long-term interests. (In as much it is much better for a country to simply not wish to elect Nazis than to have to forbid them from doing so -- in the latter case, the Nazis would always be able to play the martyr card and the card of How Much Better The Country Would Be If They Let Us Pursue Aryan Ideals.)
But, if that were the case, the election would be rigged against the Islamists. Not a democratic step, certainly, but one even advanced countries have taken -- America didn't permit elections in the south for years and years after the Civil War, after all.
Unfair to Obama: Thinking about it, I don't know if it's fair to hold Obama's public utterances warning against a coup against him. To say any differently would be extremely provocative, after all. And what if, somehow, Morsi escaped while holding power?
I suppose, if I'm being honest, I'd grant that if I were advising him, I'd probably suggest a similar course of public pablum. I certainly wouldn't advise him to go blundering into another country's internal politics again.
I guess my problem isn't with his public utterances but with what I think are his actual thoughts. He has been entirely too supportive -- eager, even -- for a Muslim Brotherhood victory.
And the Egyptian people notice this more keenly than even his American critics do.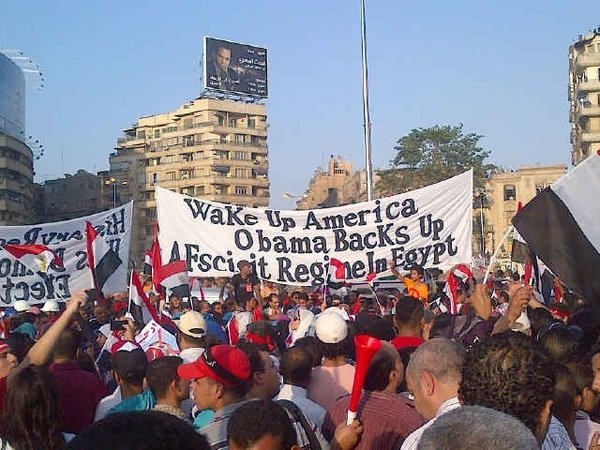 posted by Ace at
03:18 PM
|
Access Comments