« Fun Factoid: 2013 Amnesty "Penalty" Less Than The 2007 Version
|
Main
|
Overnight Open Thread (6-23-2013) »
June 23, 2013
CAC's Spaced-Out Challenge: Galaxy Guide (Part 2)
Part One of our Milky Way Guide focused on the intriguing features of the core. This week, we begin to move gradually away from the heart of our galactic home and more towards our own back yard, but with the plethora of objects in the Sagittarius-Scorpius-Serpens region, we will spend several weeks before moving further outwards and "North" along that ghostly spectre arching across the summer skies.
Photo Credit: NASA/ASU/HST
Arguably, the "Pillars of Creation" is the greatest image taken by the Hubble Space Telescope. Released in 1995, it focuses on a small patch of the larger Eagle Nebula in Serpens. That "small" patch features three trunk-like columns of gas and dust, the largest over six light years high, dwarfing anything our minds can comprehend in relatable size. Inside, hot young stars are turning on. It is the moment of birth on the largest scale we have yet witnessed in beautiful detail.
But what if I told you that you didn't need a billion dollar instrument to witness this wonder? What if I told you patience, an amateur-grade telescope, and a filter can bring this elusive sight right before your own eyes?
And that not just one of these star factories, but four are visible within a few degrees of each other, each of which revealing themselves in virtually any telescope from even suburban skies?
Read on.
Our exploration of the Summer Milky Way continues where we left off in Sagittarius, though we are setting our sights slightly north and "west" of the Teapot. This week's objects are best located first with binoculars, then (if you have one) a telescope. From a truly dark sight, you don't even need these items for three of our targets: the Lagoon Nebula is the brightest patch of nebulosity NW of the Teapot, with a smaller patch barely detectable above it (the Triffid Nebula), a few star clusters due north of that, and faint hints of the Eagle nebulae-cluster teasing the eye north of the clusters.
A quick note on equipment: by "small" telescope we are speaking refractors/reflectors with an aperture of less than 4-5". By medium, we're discussing introductory-level dobsonian reflectors from about 6 to 10". By large, we're in light bucket and large cassegrain territory. For emission nebulae, it is advised you utilize an Oxygen III or UHC/Ultrablock filter, the more common kinds of nebulae filters. These range wildly in price, but a decent one for 1 1/4" eyepieces should cost you no more than about $100. They can make an incredible difference in light-polluted areas, and are a MUST for hunting down the holiest of holies in this week's edition, the Pillars of Creation.
The Lagoon Nebula

Photo credit: wikipedia/HeWhoLooks
The largest of the four we will discuss, it is also the brightest, and will reveal incredible detail even in suburban skies. Several of the hot young stars it has birthed are naked eye visible and make finding the Lagoon all the easier (see chart).
The nebula is of intense interest in the study of stellar evolution. It contains a number of dark collapsing clouds of protostar material called Bok globules. Even more notable, the first four Herbig-Haro objects were discovered within this nebula. These small patches of nebulosity form when narrow jets of gas ejected by thousand-year-old proto-stars slam into the surrounding embryonic gas and dust, signalling the moment of birth.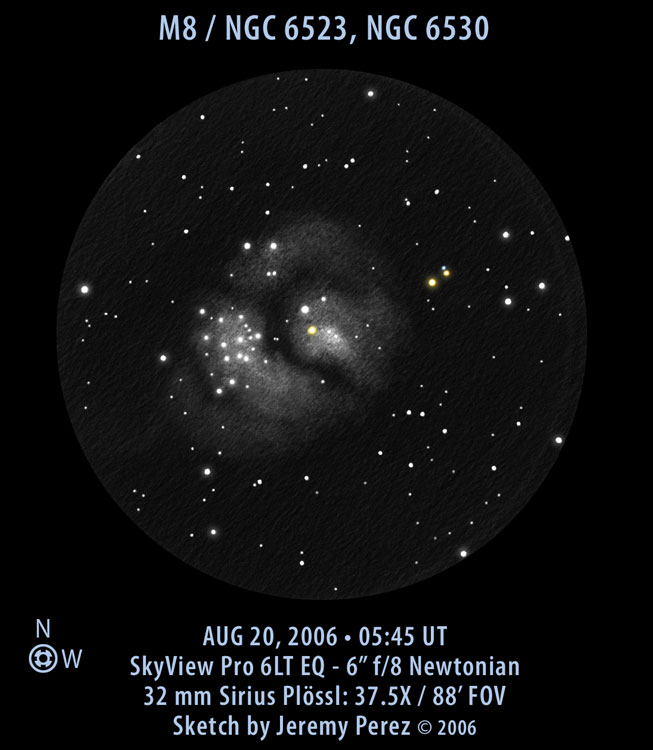 Credit: sketch by Jeremy Perez
Color isn't visible outside of photographs, but the knots of nebulosity and fantastic contrast is well within reach of amateur telescopes. The hot, bright star cluster eminating from the nebula (NGC 6530) is also a great binocular target.
The Triffid Nebula

Credit: wikipedia/HeWhoLooks
The Triffid Nebula is actually several kinds of nebulae in one: the main portion being an emission nebulae lit up from multistar HN 40, dark nebulae traversing and "dividing" it into its namesake; and a faint reflection nebulae surrounds the main "flower":
Credit: Christian Rausch
The above sketch shows that, as a small but bright nebulae, much detail can be picked up with moderate aperture. The nebulae can be spotted from suburban areas with binoculars, with major detail appearing in telescopes as small as 3".
The Swan Nebula

Credit: Scott Rosen
The Swan Nebula (aka the Omega) at the northern end of Sagittarius is another smaller emission nebula, but it's core makes it one of the more striking in the sky. The illusion of a swan drifting across a lake in the stars is plainly visible with an amateur instrument, along with part of the newborn star cluster powering it. The total mass of the nebula is obscured by it's edge-on appearance: at over 30000 times the mass of the sun, it contains nearly 15 times as much material as the Great Nebula in Orion.
Credit: Kim Byong Su
The Eagle (StarQueen) Nebula

Credit: Scott Rosen
A beautiful nebula within the Sagittarius-Carina spiral arm, the Eagle, or Star Queen, is more frequently overlooked for the bright cluster of hot young stars within. Indeed, this emission nebulae, visually wispy from dark sites, pops greatly with the aid of a filter, which suppresses the light from the interspersed stars, allowing for the fainter details to sneak through. There are numerous points of interest within, but we're focusing on hunting down our challenge teased at the very beginning, so let's go for it.
A word of caution: patience is required for this challenge. Many amateur astronomers spend years hunting this elusive target. The Cloudy Nights forums have dozens of threads on the subject, the most recent offering some additional tips and tricks
here
.
All of these objects are best seen on moonless nights from as dark a sky as possible, but this last target, the Pillars,
require
the darkest of dark. Make sure your vision is protected and avoid all stray light while observing. As mentioned before, a nebula filter is REQUIRED to have any chance of seeing the Pillars, and several are available on Ace's Amazon Store. If you're on a budget, I recommend
Celestron's O-III
, which may darken the nebula a bit but enhance some of the contrast than a regular UHC filter.
As always, check out the Light Pollution targets list, clear skies to you, and keep looking up!

posted by CAC at
08:00 PM
|
Access Comments