« Gun Thread (6-23-2013)
|
Main
|
Weekly Gaming Thread: The Temp Agency Edition [David] »
June 23, 2013
Sunday Morning Book Thread 06-23-2013: Chillin' In the Circumstellar Habitable Zone [OregonMuse]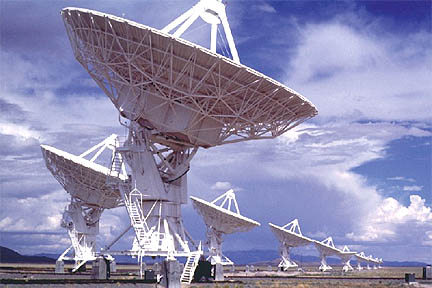 "Holy crap, I think we've just discovered the alien pr0n channel!"
Good morning morons and moronettes and welcome to the the award-winning AoSHQ's Sunday Morning Book Thread.

Is There Anybody Out There?
It has become more or less axiomatic that, with the universe populated with billions of galaxies, and each galaxy filled with billions of stars, there are undoubtedly millions of advanced, tool-using, communicative extra-terrestrial civilizations out there, waiting for us to find. Does not the Drake Equation assure us of this? So one day, perhaps very soon, one of these millions of advanced civilizations is bound to contact us, or we will discover them.
Or, maybe not.
Last week, Mrs. Muse and I watched a DVD called The Privileged Planet, which, along with a hardback companion volume argues for the opposite view, that is, if advanced, intelligent life exists elsewhere at all, it's going to be extremely uncommon. There is nothing unique about this, others have argued for it as well, but The Privileged Planet takes it one step further by claiming that the necessary conditions that make Earth uniquely suitable for life also make it uniquely suitable for observing the universe and making scientific discoveries.
For example, you know those gas giant planets like Jupiter and Saturn in the outer solar system? Well, they absorb or deflect a lot of the miscellaneous interstellar crap that floats into Sol's planetary system, stray comets and the like, before it can get in close to the inner planets, i.e Earth. Without them, our planet would likely have been pounded into rubble. So you have to have gas giants in order for complex life to be able to live on Earth. Also, plate tectonics. I missed the explanation for this one, but I think it has something to do with the natural plate movement and scraping against each other resulting in earthquakes which recycles carbon and replenishes other elements necessary for life. Here's an article that talks about this.
Also, we take it for granted that we can get clear, unobstructed views of the stars. But there's not too many places in our galaxy where this is a given. Our solar system just so happens to be located pretty close to the outside of one of the Milky Way Galaxy's spiral arms, out in the clear. Inside, there's so much dust and gas and crap, we couldn't see a danged thing. Also, our atmosphere just so happens to be transparent, which, needless to say, is a necessary precondition to all of this.
Habitability strongly correlates with observability. That's the central argument of the book.
There are just so many conditions and fine-tunings and little tweaks that all go into making it possible for complex life to exist on the earth, I doubt that we've found them all. As time goes on, I'm sure more and more will be discovered. Don't know if this means we're the only ones around, but it does suggest there probably won't be very many others.
R.I.P. Vince Flynn
Cob-logger Andy already had this earlier in the week, so for most of you, this is going to be a repeat. However, for those of you who don't know, author Vince Flynn has died after a long battle with prostate cancer.
Concerning Mr. Flynn, Wikipedia says
...he has become known for his research and prescient warnings about the rise of Islamic Radical Fundamentalism and terrorism. Read by current and former presidents, foreign heads of state, and intelligence professionals around the world, Flynn's novels are taken so seriously one high-ranking CIA official told his people, "I want you to read Flynn's books and start thinking about how we can more effectively wage this war on terror."
Here's the Vince Flynn page at Amazon with links to all of his books.
Requiescat in pace, Mr. Flynn. Damned cancer.
Meanwhile, I've just heard that master science fiction writer Jack Vance has also passed on, at the end of May. He was 96.

The Books, Like Dominoes
I thought this was cute:

Moron Books
Occasional Moron commenter 'Raul Johnson' has just released a short book, Instead of School: Why Our Schools Do Not--And Cannot--Work for only 99 cents on Kindle. He tells me it discusses "why gathering a bunch of kids together against their will to try to teach them the same thing at the same time turns out to be not such a great idea. It also discusses some of the options available now for parents who would like to get their kids out."

___________
So that's all for this week. As always, book thread tips, suggestions, rumors, and insults may be sent to OregonMuse, Proprietor, AoSHQ Book Thread, at aoshqbookthread, followed by the 'at' sign, and then gmail.com.
So what have you all been reading this week? Hopefully something good, because, as we all know, life is too short to read lousy books.


posted by Open Blogger at
11:00 AM
|
Access Comments