« Is Michael Bloomberg Using City Resources For His "Mayors Against Illegal Guns" Group?
|
Main
|
Chelsea Clinton: How I Wish That the Parents of My Beloved Maternal Grandmother Had Had Access to Planned Parenthood's Abortion Services »
June 21, 2013
Conspiracists Now Say Michael Hastings Was Killed By Someone Who Wanted To Stop His Reporting
Seems pretty unlikely to me, but some people really enjoy this connect-the-dots game. (Link Fixed, but it was just the LATimes anyway, so who cares if the link works?)
During the weeks before he was killed in a car crash in Los Angeles, reporter Michael Hastings was researching a story about a privacy lawsuit brought by Florida socialite Jill Kelley against the Department of Defense and the FBI.

Hastings, 33, was scheduled to meet with a representative of Kelley next week in Los Angeles to discuss the case, according to a person close to Kelley....

Kelley alleges that military officials and the FBI leaked her name to the media to discredit her after she reported receiving a stream of emails that were traced to Paula Broadwell, a biographer of former CIA director David H. Petraeus, according to a lawsuit filed in Federal District Court in Washington, D.C., on June 3.

...

Since Hasting's death early Tuesday, wild conspiracy theories have bloomed on the Internet implying that he was murdered by powerful forces wanting to silence him.

On Wednesday night, the anti-secrecy website WikiLeaks inserted itself into the story, publishing a message on Twitter that Hasting had contacted a lawyer for the organization hours before his car smashed into a tree on North Highland Avenue in Los Angeles.


The message read: "Michael Hastings contacted WikiLeaks lawyer Jennifer Robinson just a few hours before he died, saying that the FBI was investigating him."
Okay let me explain why I find this so unlikely. I'll do it with a joke I've made before, a joke about one of my favorite shows, Columbo. Every Columbo episode starts like this: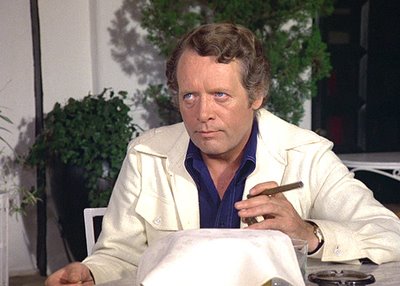 "And you've told no one else about this blackmail information,
or about your relationship with me?
Absolutely no one else, you say?"
Now why is that funny to me? Well, it's a plot contrivance in the show. The show wants to set up a situation where the villain has a clear motive to kill the victim. They frequently resort to this motive, the motive of I Gotta Kill This Guy To Keep This Big Information From Getting Out. And then, in case you're wondering "But wouldn't killing the blackmailer alert all the blackmailer's friends that the villain killed him, who would then inform the police?," the show adds the next contrivance, that the blackmailer has told no one else about the blackmail.
Basically telling the murderer: "Please Murder Me. It Will Be Eazy I Swearz."
We accept this as a plotline in Columbo because it's a TV show and Peter Falk is awesome.
But in reality, you can't just Kill That One Guy to keep information from getting out. People with interesting dirt like sharing that dirt with other people. So in all likelihood, your blackmailer has told one or more people about the dirt they have on you; killing the blackmailer doesn't keep the information bottled up.
What it does is alert several other people that, in addition to having committed some scandalous action in your past, you're currently a murderer at large to boot.
The suggestion in the instant case is that Hastings had explosive information about Jill Kelley.
Oh really? He was planning to meet with her. Planning. Hadn't done so yet. Didn't yet get the MacGuffin Thumb Drive With All The Cluez.
Furthermore, Jill Kelley's accusation has been publicly made, as you can see above. Her accusation isn't secret; it's out there. It's in newspapers. And not just in the LATimes, but in newspapers people actually read.
If someone interviews her -- anyone with a decent reputation, not just Michael Hastings -- she'll tell you about it.
And, furthermore: She's still alive. If Jill Kelley's Not-Secret Secret is so explosive to kill Michael Hastings over, then surely it's explosive enough to kill Jill Kelley over, isn't it?
Well, the Conspiracy Theory may now turn, perhaps the Lethal Secret wasn't about Jill Kelley; perhaps it was some other huge secret he'd discovered.
Again: A huge secret that none of his friends or coworkers had any idea about? A huge secret that he didn't mention to his editor, when his editor called him up to ask "Hey what have you been doing the last couple weeks?" (No slight to Michael Hastings: I understand editors frequently call up reporters to ask what the hell they've been doing. Reporters want to dig up stories, but editors want product they can put in their magazines. Editors tend to think that when reporters aren't actually submitting stories, they're just wasting time on the company expense account, which, to be fair, is only true 60% of the time.)
So, like, no one at Buzzfeed's chain of editorial command knows about this story?
It's not on any of his computers? Which, per the rules of inheritance, will pass to his heirs?
There are no emails about it floating out there?
Again, this is the precisely the sort of premise that kicks of thousands of thriller novels -- a man dies in the first chapter (or commits suicide, or is helped in committing suicide), and we know nothing about him except for hints that he knows Something That Will Change Everything. And then the hero spends the next 300 pages putting together that something.
It's a great plotline that immediately springs into our brains because we've seen it happen, at least in fiction, literally 1000 times by the times we are adults. Literally that many. Even more, if you particularly like the thriller genre.
But while it's a convenient plot for a thriller, it's not a very convenient fact-pattern to serve as a motive for murder in real life. Information is never really kept Completely Secret Except for the One Guy Who Cuts His Own Throat in Chapter One But Leaves a Series of Clues and Riddles for the Hero to Solve to Learn the Secret.
In fact, if Hastings knew something, ten other people did too. And probably more than that.
But they're still alive.

posted by Ace at
02:50 PM
|
Access Comments