« So That Obama Berlin Speech Was Pretty Embarrassing, Huh?
|
Main
|
$70 Million in IRS Bonuses, Because, Go F*** Yourself »
June 20, 2013
Huge Hollywood News: Marvel Locks Down Downey, Jr. For Avengers 2 and Avengers 3;
SyFy Channel Announces New Original Film That Will Likely Alter Our Understanding of What Entertainment Can Be
Interestingly, I don't see anything about further "Iron Man" movies (that is, Iron Man sequels, rather than Iron Man appearing in the Avengers films).
Under the two-picture agreement, Downey will star as Tony Stark/Iron Man in "Marvel's The Avengers 2" and "Marvel's The Avengers 3." Downey is represented at CAA by Bryan Lourd, Jim Toth and Matt Leaf and by his attorneys Tom Hansen and Stewart Brookman of the firm Hansen Jacobson.

Downey, Jr.'s last two Marvel films, 2012's "Marvel's The Avengers" and this year's "Iron Man 3," rank as two of the top five grossing films of all time, collectively earning over $2.7 billion worldwide to date.
Yup, two pictures means two pictures. So will Don Cheadle's Rhodey become the main character in Iron Man 4, with perhaps just a supporting presence by Tony Stark?
Now with the opening act out of the way, let's get the the Headline Performer:
There are two possible reactions to this news: Why? and What the f*** took so g****** long?
I think we can safely dispense of the former group with a condescending sigh. If you don't get Sharknado, you never will.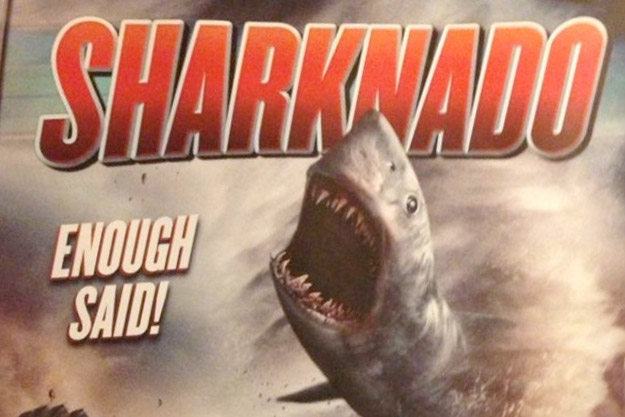 I'm not even really sure you had to say that much. You had me at "Sharkna--."
But in case you're still unconvinced: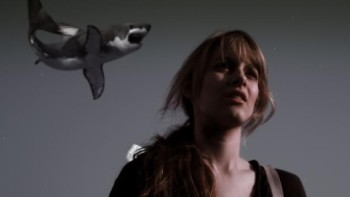 The barometer shows a 100% chance of Awesome.
But wait, it gets better:
In the movie, regulars of a beachside bar including owner Fin (Ian Ziering/Beverly Hills 90210), bartender Nova (Casie Scerbo/Make It Or Break It) and local drunk George (John Heard/Home Alone) team up with Fin's ex-wife April (Tara Reid/Scrubs) to investigate the ecological nightmare that has sharks swimming through the streets of Los Angeles and falling from the skies. Sharknado is a production of The Asylum.
Ian Ziering and Tara Reid? Is this a Shark-nado or an All-Star-Cast-nado? It's like A Bridge Too Far but with flying sharks.
Maybe!

posted by Ace at
03:35 PM
|
Access Comments