« We Need to Give These People Weapons
|
Main
|
Top Headline Comments 6-19-13 »
June 18, 2013
Overnight Open Thread (6-18-2013)
How to Explain Conservatism to Your Squishy Friends
By PJ O'Rourke.
The individual is the wellspring of conservatism. The purpose of conservative politics is to defend the liberty of the individual and - lest individualism run riot - insist upon individual responsibility.

The great religions (and conservatives are known for approving of God) teach salvation as an individual matter. There are no group discounts in the Ten Commandments, Christ was not a committee, and Allah does not welcome believers into Paradise saying, "You weren't much good yourself, but you were standing near some good people." That we are individuals - unique, disparate and willful - is something we understand instinctively from an early age. No child ever wrote to Santa: "Bring me - and a bunch of kids I've never met - a pony, and we'll share."

Virtue is famously lonely. Also vice, as anyone can testify who ever told his mother, "All the other guys were doing it." We experience pleasure separately; Ethan Hawke may go out on any number of wild dates, but I'm able to sleep through them. And, although we may be sorry for people who suffer, we only "feel their pain" when we're full of baloney and running for office.
On why we're only as free as the wild Stephanopoulos.
But what about the old, the poor, the disabled, the helpless, the hopeless, the addled and the daft?

Conservatism is sometimes confused with Social Darwinism or other such me-first dogmas. Sometimes the confusion is deliberate. When those who are against conservative policies don't have sufficient opposition arguments, they call love of freedom "selfish. " Of course it is - in the sense that breathing is selfish. But because you want to breathe doesn't mean you want to suck the breath out of every person you encounter. Conservatives do not believe in the triumph of the large and powerful over the weak and useless. (Although most conservatives would make an exception to see a fistfight between Norman Schwartzkopf and George Stephanopoulos. If all people are free, George Stephanopoulos must be allowed to run loose, too, however annoying this may be.)

But some people cannot enjoy the benefits of freedom without assistance from their fellows. This may be a temporary condition - such as childhood or being me when I say I can drive home from a bar, just fine, thank you very much, at three a.m. - or, due to infirmity or affliction, the condition may be permanent. Because conservatives do not generally propose huge government programs to combat the effects of old age, illness, being a kid or drinking 10 martinis on an empty stomach, conservatives are said to be "mean-spirited."
Read the rest here.
Angry Elves, Internet Mobs, and Eating Your Own
Yet another reason why I'm not a fan of Mark Levin.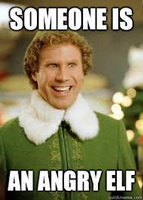 Snowden seems to have been a guy who chose to work for two different spy agencies yet has objections to the idea of spying in general and now just wants to hurt the US government as much as possible. How else do you explain his divulging of details of American spying against China and Russia?
He may have rendered a public service by revealing the full depth of NSA domestic surveillance but more and more that seems to have been just a side benefit of his desire to become another celebrity leaker.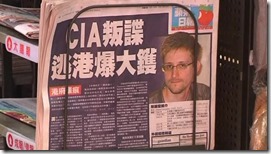 Supreme Court: Your Silence Can Be Used Against You
"The Supreme Court ruled in favor of the State of Texas earlier today in a murder trial where the defendant, prior to be taken into custody, had been questioned by the police and chose to remain silent on key questions. This fact was bought up at trial and used to convict him. Most of us have seen at least enough cop shows to know police must read a suspect their Miranda rights when placing them in custody. The issue was a bit murkier here in that the defendant had not yet been detained and while we all probably thought the freedom from self-incrimination was an implicit right as stated in the Constitution, apparently SCOTUS now thinks you have to claim that right or at least be properly mirandized first."
When you voluntarily talk to the police but then refuse to answer certain questions, that selective omission can be brought up at the trial. Reason #59 why you should never talk to the police without an attorney present.
Who Are the Three Highest Paid Employees on the Pentagon Payroll?
Can you guess them without looking?
Answer: The football coaches at Army, Navy and Air Force.
Weirdest Scandal Ever: Foreign Knights Invading America
The Dutch treat verus that 100-year old document:
On April 29, Sir Jay Merchant was knighted by Ambassador Rudolf Bekink on behalf of Queen Beatrix of the Netherlands. Merchant is the "international relations adviser" in the Office of the Administrator of CMS, which is the agency's highest executive office.

While this may seem like just a neat factoid for inside-the-Beltway water-cooler amusement, there's actually a constitutional problem that precludes this gallant story from having a fairytale ending.
To wit Article I, Section 9, Clause 8:
No Title of Nobility shall be granted by the United States: And no Person holding any Office of Profit or Trust under them, shall, without the Consent of the Congress, accept of any present, Emolument, Office, or Title, of any kind whatever, from any King, Prince, or foreign State.
But of course Sir Jay never got permission from Congress nor has he renounced the knighthood.
Welcome to the new feudalism - in this case literally.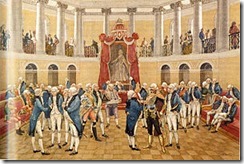 Here Bob Owens by way of WeaponMan's blog explains why .22 has been so scarce.
1. There's a ton of new shooters, and shooters with new guns. Tens of millions have new guns have found new owners, and retailers tell us a high percentage of them are first-time buyers, and another large segment is people long away from shooting or gun ownership that are coming back to it. The entire demographics of shooting is changing, as a visit to a range will show you. These new shooters need ammo, and their mentors and trainers need ammo to train them with. That's not all of it, but it's one factor.

2. Economists know that when the price or availability of a desired good rises, one predictable effect is the consumption of an alternative good in its place. The .22 rimfire is the long-standing alternative to expensive and scarce centerfire calibers like 5.56, 7.62, 9mm and .40. As a result, the shortage of any one of these calibers becomes, in time, a shortage of .22; and to a lesser extent it becomes a shortage of all of these calibers.

3. People who were comfortable buying shooting and hunting ammo day-of or day-before have been spooked by the shortage into carrying an inventory. The longer the shortage continues, the more of these guys there are, the more of an inventory they feel they need. Exercise for the reader: if you shoot 500 rounds a week, how many rounds do you need to weather six months' disruption in supply? Before you say we'll never have six months' disruption, stop and think: we're in about month eight of a shortage right now. People who never stored ammo before are hoarding it now, and people who hoarded it already are hoarding more. This is probably the single biggest factor.

4. People who concentrate on preparedness, for example the readers of Jim Rawles's website and novels, have realized that .22LR ammo is a lasting store of value that has more stability in good times and bad than currency or even gold. (If the rule of law collapses, gold may still have value but may be difficult and risky to exchange). We think this is a larger factor. A lot of people who aren't going to get fully on board with preparedness and move to the mountains like Jim recommends, will still take incremental actions like storing necessities: food, drinking water, and .22 ammo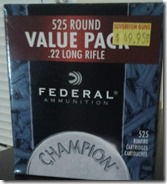 So You Trapped the Snake in a Closet
Whew. Now you can sit back and relax with a beer until the authorities arrive. Wait - what the fuck was that noise?!
Egypt Decides They're Not Really Into the Whole Tourism Thing
Why else would they put tourist-killing terrorists in charge of the most popular tourist attractions?
On Sunday, President Morsi appointed Adel al-Khayat of the Gamaa al-Islamiyya party as Governor of Luxor, a region home to the ruins of two temples and several monuments, widely known as the "open air museum."  The party, Gamaa al-Islamiyya, not only holds conservative views against sunbathing, women wearing shorts, and alcohol, but is also responsible for the 1997 attack in Luxor that killed 60 tourists.
And of course Gamaa al-Islamiyya just issued a fatwa against building anything for tourism:
"A fatwa, or religious decree, published on the Gamaa al-Islamiyya's Web site advised members of the group not to build tourist accommodations. 'Because tourist villages have aspects that anger Allah, including alcohol, gambling and other forbidden things, building these hotels and villages is considered aiding their owners in sin and aggression, and is not permitted,' the decision read."
Eh - that 11% of Egyptian GDP and 90% of jobs in Luxor was overrated anyway. Allah will provide.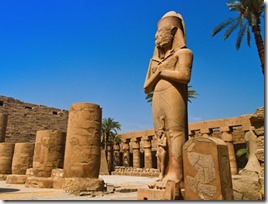 At least according to Google Street View.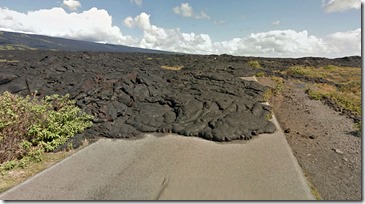 Teh Tweet!
Tonight's post brought to you by Garland, Lamarr, and Turner: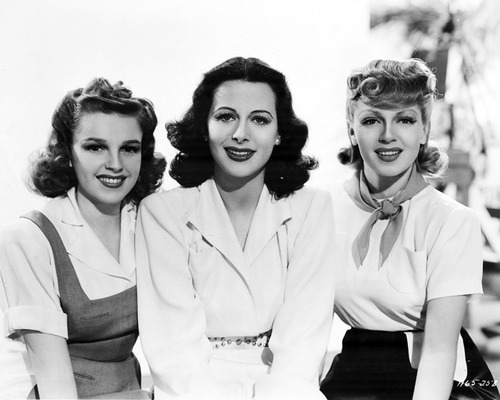 Notice: Posted by permission of AceCorp LLC. Please e-mail overnight open thread tips to maetenloch at gmail. Otherwise send tips to Ace.

posted by Maetenloch at
10:17 PM
|
Access Comments