« Left-Leaning Would-Be Juror Who Wants "JUSTICE!" for Trayvon Attempts to Get on to Zimmerman Jury, Claiming to be Apolitical and a Fox News Watcher
|
Main
|
Top Headline Comments 6-13-13 »
June 12, 2013
Overnight Open Thread (6-12-2013)
Bootstrapping the Industrial Age
We're too far enough removed from the manufacturing of our current technology to be able to replicate what these men did - but so long as a few people keep some of the knowledge alive we can rebuild the chain. After all no one knows how to make a pencil yet millions of them get made every year.
A favorite fantasy game for engineers is to imagine how they might re-invent essential technology from scratch. If you were stranded on an island, or left behind after Armageddon, and you needed to make your own blade, say, or a book, maybe a pair of working radios, what would it take to forge iron, make paper, or create electricity?

Occasionally tinkerers get to engage their fantasy. In February 1942, R. Bradley,  a British Officer in the Royal artillery in World War II was captured and then held prisoner by Japanese in Singapore. Their camp was remote, supplies were almost non-existent, and they were treated roughly as POWs; when they rebelled they were locked in a confinement shed without food. But they were tinkerers, too. Together with some other POWs in his camp, Bradley stole hand tools from the Japanese soldiers and from these bits and pieces he transformed scrap metal into a miniature lathe. The small lathe was ingenious. It was tiny enough to be kept a secret, big enough to be useful. It could be disassembled into pieces that could be tucked in a backpack and  moved in the camp's many relocations. Since large pieces of metal were hard to acquire without notice, the tailstock of the lathe was two steel pieces dovetailed together. The original bed plate was cut with a cold chisel.
And from that lathe they were able to build a duplicate key for the solitary confinement shed and a hidden battery source for a secret radio.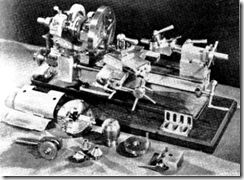 Meanwhile another group of British POWs managed to build a working radio receiver (and nearly a transmitter) in a Japanese camp:
The plan was made to begin building the radio, so until we could build components, there was nothing much we could do. A look at the circuit diagram of a regenerative receiver indicates a number of capacitors - about two or three are required -low capacitors to make the oscillating part of the system work, and in fact from memory we needed in the grid circuit at least one ".01 microfarad" capacitor and there was no chance we could get this anywhere, or any other components.

So we hit upon the idea of taking some tin foil or aluminum foil from the lining of the tea chest from which the Japanese supplied with the rice rations, then by the well known equations for calculating capacity and the relationship of the surface area and spacing of the plates, we built a capacitor or, at least, I built a capacitor which according to calculations should have been about ".01 microfarad."
And finally were able to get news from the outside world:
It was the BBC all right; it was quite a clear signal but it was somebody talking about growing hops in Kent. This broadcast went on for something like three quarters of an hour without any interruption, but ultimately the signal faded out and I was very annoyed. I was asked the next morning by my senior officer what was the news, and I said "we've got good news; I can't talk here, come this way." So he came along and said "what's this news you're talking about." I said I didn't actually hear any news, and he became very annoyed with me and said what the hell did I mean, and I said "if the British primary producing experts are capable and able to spare the time to talk about growing hops in Kent, Britain must still be alive and floating with their thumbs up, and as far as I'm concerned that's the best news I could hear!"
Thank you Mr. Government Helper.
Coyote has a great little rant about how new government regulation has made gas cans suck as much as shower heads. Note the reported hack. Some regulation actually makes products so dysfunctional that people are essentially compelled to modify them in to something less safe than the supposedly dangerous pre-regulation edition.
I bet I've spilled far more gas over the lawnmower with the new style gas cans in the last year than I did in years with the old style.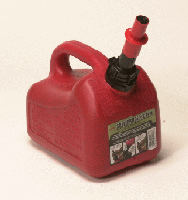 The Most Popular Book in Norway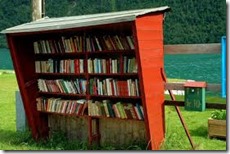 I left Christian Marclay's "The Clock" about twelve minutes after "High Noon." I'd been there since about 10:30 A.M., thinking that I'd stay for about twenty minutes and get the feel of the thing; any longer, and the minutes might drag. But I was wrong. Time flew-it hypnotized. When I sat down, Bogart was trying to rouse a lady out of bed. (Pills.) A heist seemed to be underway in a train station. (I never found out how it went down, because I had to head to the subway for a doctor's appointment before the action took place-in "The Clock," you have to wait along with the criminals; there are no shortcuts here.) People kept waking up, appearing progressively guiltier as the hour grew later. Big Ben-perhaps the hero of this work?-appeared over and over, heroically standing tall against a deep blue sky in one clip. Later, a man hung off its minute hand, trying to stop time. Oh, if only!
"The Clock" is 24 hour length film solely made up of scenes from other movies that refer to the corresponding time. And just the snippets here are pretty mesmerizing.
Vannevar Bush's Memex Finally Appears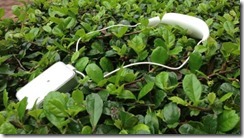 The Origin of 11 Well Known Star Trek Phrases
The Vulcan greeting and the finger-separating hand gesture that accompanies it first appeared in the second season of Star Trek: The Original Series, during an episode titled "Amok Time." Spock himself (actor Leonard Nimoy) has made no secret of the fact that the gesture and phrase were his idea, and that he based them on Orthodox Jewish blessings he remembered from his childhood. In the Jewish blessing, the position of the fingers forms the Hebrew letter "Shin," which represents the name "Shaddai" (Almighty God). Nimoy put his own spin on the traditional gesture by holding up just one hand (instead of both) and changing up the verbal blessing slightly.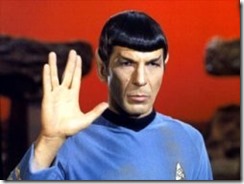 This Lyme Disease Shit Just Got Real
If Lyme disease isn't reason enough to avoid ticks, here's another: the inability to enjoy a burger.

Odd as it seems, researchers say that bites from the voracious lone star tick are making some people allergic to red meat-even if they've never had a problem eating it before.
A natural occurrence or something sinister created deep within a chicken and pork industry lab?!?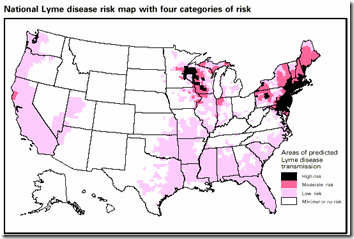 Is apparently the latest cosmetic trend among men. Still beats anal bleaching though.
George Clooney has repeatedly joked that instead of his eyes he gets the skin on his testicles 'ironed' out, but now it appears he's inspired a new craze in Hollywood.

Cosmetic expert Nurse Jamie told MailOnline that she added 'Tighten the Tackle' to the list of services at her Santa Monica spa, Beauty Park, last year, and it has been a raving success.

Delicately describing the $575 non-surgical treatment, the blonde beautician says it involves using lasers to remove hair, erase wrinkles and correct discoloration on the scrotum.

...As well as A-listers, 'handymen, bankers and CEOs' are also keen to improve their looks below the belt, according to Nurse Jamie.

Just the other day she received a visit from a business executive who wanted to feel his best before a round of public speaking.

At first a little nervous, she said by the end of the consultation he was 'loving' the thought of everything he could have done.
Yep a 'ball facial' is just the thing to soothe the chakra and put a spring in your step.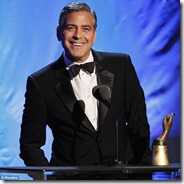 Teh Tweet!
Yahoo group. That is all.
Tonight's post brought to you by my new bumper sticker slogan: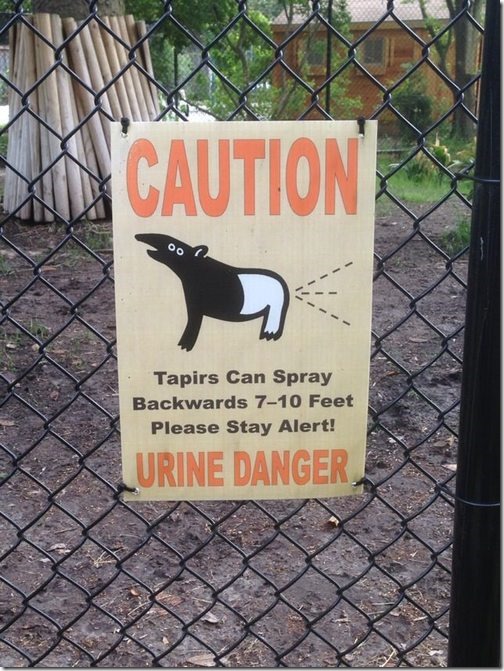 Notice: Posted by permission of AceCorp LLC. Please e-mail overnight open thread tips to maetenloch at gmail. Otherwise send tips to Ace.

posted by Maetenloch at
10:33 PM
|
Access Comments