« A Rare Sight in the Skies Tonight?
|
Main
|
Spying scandals metastasize to Canada »
June 10, 2013
Overnight Open Thread (6-10-2013)
So What Can You Find Out With Metadata?
A lot more than you think. Your social and financial interactions and internet activity pretty much define your personal world.
And if the British had been a bit more savvy in ye olde social networke theory and had a rudimentary analytical engine (or perhaps a team of mentats), it would have been dead simple to identify a Mr. Paul Revere as a critical person among the colonial rabble rousers.
And by rounding up a handful of other nodal pre-traitors they could have nipped the whole insurrection in the bud.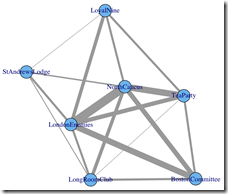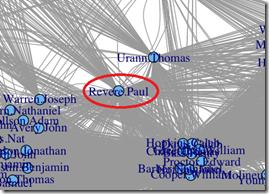 What a nice picture! The analytical engine has arranged everyone neatly, picking out clusters of individuals and also showing both peripheral individuals and-more intriguingly-people who seem to bridge various groups in ways that might perhaps be relevant to national security. Look at that person right in the middle there. Zoom in if you wish. He seems to bridge several groups in an unusual (though perhaps not unique) way. His name is Paul Revere.

Once again, I remind you that I know nothing of Mr Revere, or his conversations, or his habits or beliefs, his writings (if he has any) or his personal life. All I know is this bit of metadata, based on membership in some organizations. And yet my analytical engine, on the basis of absolutely the most elementary of operations in Social Networke Analysis, seems to have picked him out of our 254 names as being of unusual interest.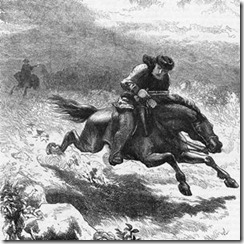 ...At the present time, alas, the technology required to automatically collect the required information is beyond our capacity. But I say again, if a mere scribe such as I-one who knows nearly nothing-can use the very simplest of these methods to pick the name of a traitor like Paul Revere from those of two hundred and fifty four other men, using nothing but a list of memberships and a portable calculating engine, then just think what weapons we might wield in the defense of liberty one or two centuries from now.
Having the Chamber of Commerce and the AFL-CIO negotiate the fate of American workers is like having Nazi Germany and the Soviet Union negotiate the fate of Poland.
You Commit Three Felonies a Day
According to Boston civil rights lawyer Harvey Silverglate in his latest 2011 book.
The average professional in this country wakes up in the morning, goes to work, comes home, eats dinner, and then goes to sleep, unaware that he or she has likely committed several federal crimes that day. Why? The answer lies in the very nature of modern federal criminal laws, which have exploded in number but also become impossibly broad and vague. In Three Felonies a Day, Harvey A. Silverglate reveals how federal criminal laws have become dangerously disconnected from the English common law tradition and how prosecutors can pin arguable federal crimes on any one of us, for even the most seemingly innocuous behavior.
So it's just a matter of digging until the government finds one of your felonies.
And if you're wondering why tech companies tend to go along with government data requests, well this is why:
We know what happened in the case of QWest before 9/11. They contacted the CEO/Chairman asking to wiretap all the customers. After he consulted with Legal, he refused. As a result, NSA canceled a bunch of unrelated billion dollar contracts that QWest was the top bidder for. And then the DoJ targeted him and prosecuted him and put him in prison for insider trading -- on the theory that he knew of anticipated income from secret programs that QWest was planning for the government, while the public didn't because it was classified and he couldn't legally tell them, and then he bought or sold QWest stock knowing those things.
One of These Guitar Companies Is Not Like the Other
And one of them got raided by armed agents (Gibson) while the other didn't (Martin).
So contrast two guitar companies, one that contributes to Republicans and one that contributes to Democrats. Both use the same type of exotic wood for their guitars. And only one of them got raided by the DOJ and Department of the Interior wearing SWAT gear and seizing company assets and ended up having to pay a big fine. The other one hasn't had a problem with the government. In light of the IRS story, it makes you wonder, doesn't it?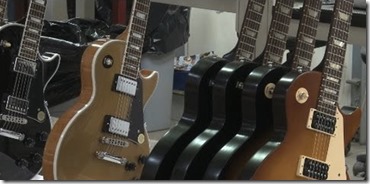 Student Loans and the Stiffing of a Generation
Yeah it's from Mother Jones but their point is valid.
"I understand why this has happened, and I understand why it's hard to get a handle on, but we're going to regret it if we don't do something about this. We're training a whole generation to be wary of going to college, and for those who do, we're forcing them to start out their lives living under a mountain of debt. . . . It's also yet another fault line between young and old that's not likely to turn out well. My generation got a cheap college education when we were young, and we're getting good retirement benefits now that we're old. Pretty nice. But now we're turning around and telling today's 20-somethings that they should pay through the nose for college, keep paying taxes for our retirements, and oh by the way, when it comes time for you to retire your benefits are going to have to be cut. So sorry. And all this despite the fact that the country is richer than it was 50 years ago."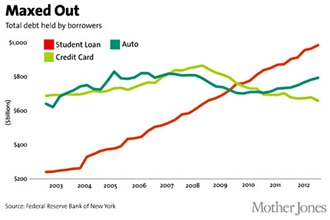 The Navy Finally Stops Yelling
NAVY MESSAGES NO LONGER IN ALL CAPS.
Word went out from the Navy's Fleet Cyber Command on May 8 that the Navy's internal messaging system now had the ability to transmit in lower case as well as the traditional upper case letters.

"Therefore, it is not necessary to limit Navy messages entirely to upper case," said the directive, first reported by the Navy Times.
Of course, the message saying that upper case was no longer needed went out this way: "THEREFORE, IT IS NOT NECESSARY TO LIMIT NAVY MESSAGES ENTIRELY TO UPPER CASE."

Alone among the services, the Navy has been using all capitals for internal administrative messages from the routine to the emergency going back more than a century to the days when teletype machines only sent capitals.
The reasoning behind the change was that messages in lower and upper case were easier to read, Navy officials said. Another factor was that younger recipients of all-cap messages might tend to think that the person sending them was SCREAMING AT THEM AND REALLY TICKED OFF.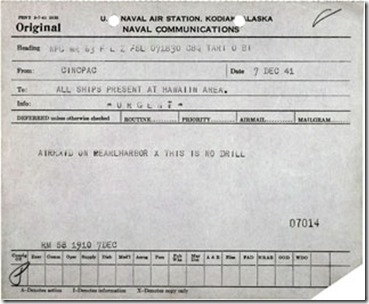 How Police Chases Go Down in Portland
All that's missing is a lost swan and a peace lily.
TSA Agents Stop Chewbacca at the Airport
I guess he was the wookie they were looking for.
Not even Chewbacca and his light saber get a free pass with airport security before being cleared to travel.

Transportation Security Administration agents in Denver briefly stopped "Star Wars" franchise actor Peter Mayhew recently as he was boarding a flight with a cane shaped like one of science-fiction's most iconic weapons.

Airport officials say they wanted to inspect the huge walking stick before allowing Mayhew, who is more than 7 feet tall, on the plane.
I suggest a new strategy: Let the wookie and his cane through.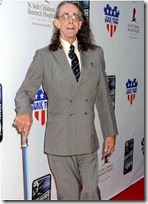 The Yahoo AoSHQ group. Bla bla bla.
And my twitter thang.
Tonight's post brought to you by what the NSA knows: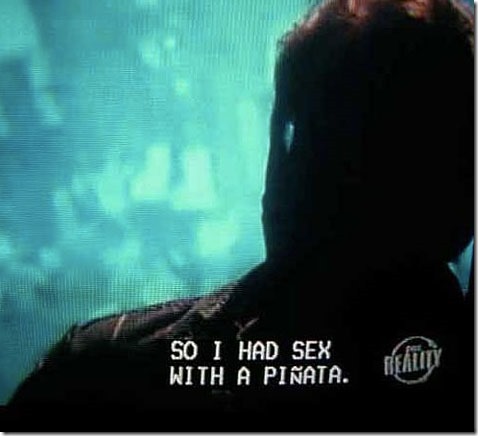 Notice: Posted by permission of AceCorp LLC. Please e-mail overnight open thread tips to maetenloch at gmail. Otherwise send tips to Ace.

posted by Maetenloch at
09:41 PM
|
Access Comments