« IRS Staffers Say They Were Directed to Scrutinize Tea Party From Washington
|
Main
|
Holder Vows He's Not Resigning »
June 06, 2013
So I Made a Gun This Weekend
An AR-15 to be specific. You see because while this is what most people think of when you talk about an AR-15 rifle -

to the BATF only the lower receiver (circled in red) is the actual firearm - everything else (barrel, upper, stock, etc.) are just accessories that are attached to it.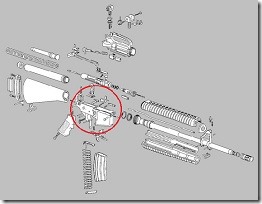 Now you could buy a AR-15 lower receiver separately and build a rifle out of it but you'd still have to go through an FFL, fill out a 4473, go through an NICS check, bla bla bla.
But you can also buy what is known as an '80% lower' which is almost an AR-15 receiver except that certain key sections haven't been milled out and some holes are missing. The BATF has declared these to be 'non-guns' so you can buy them like any other accessory and there are plenty for sale on the web, at gun shows and local gun shops. Once you have one all you need to do is finish the missing cuts and you'll have a working AR-15 lower that you can build into a full rifle.
And after reading this article and this one and this one (particularly the Mother Jones one because spite) I decided to do just that.
But wait - is it even legal to make your own gun? Yes - yes it is.
You can read the details here but basically as long you meet these conditions it's perfectly legal:
You are allowed to own a gun (i.e. not a 'prohibited person')
The gun you make is legal in your state/city
It's not a machine gun (doesn't fall under NFA laws)
It's built by you and intended for your personal use
A serial number isn't even required (unless you later decide to transfer it to someone else).
So I bought an '80% lower' for $120 cash at a local gun show. This particular lower is Cerakote-coated aluminum and it only needed the section where the trigger/hammer/safety fit to be milled out plus a few holes to be finished.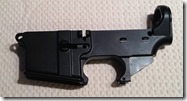 So let's make a firearm out of this hunk of aluminum.
Now if you have the right tools you could finish it in your garage but the far easier way is to go to a local 'build party' where guys get together and use shared tools and expertise to finish out their lowers. And this past weekend there happened to be a build party not too far away from me. It was sponsored by a local machine shop and for $75 they would let you use their tools and guide you through the process. So Sunday I was down there with my aluminum paperweight along with about 10 other guys with theirs.
The shop had a CNC milling machine as well as manual ones. Almost all the guys opted to use the CNC machine since all you have to do is mount the lower, press the start button and 8 minutes later you have a completed AR-15 lower. It's almost too easy. (The BATF agrees and appears to be working on new regs that will require you to mount the part, load the CNC code, and press the start button for it to be 'made' by you).
Because I'm interested in learning machining in general and wanted to understand every step (plus am a tad cray-cray) I opted to do it all manually. The guys there were willing to accommodate me and one of them set me up on a full Bridgeport mill. After a brief operation and safety lesson I started milling away while he talked me through the steps. Initially I used a jig to guide my cuts but later he let me free mill using a DRO (digital readout) to track the cuts.
From start to finish it took about an hour and half - mostly because I was a complete milling newbie and plus I asked a lot of dumb questions during the process. Looking back on it I think you could probably do the same work with just a drill press, dremel tool, and a jig if you didn't mind working slowly and didn't care about aesthetics.
Here is the finished version: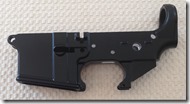 At home I compared it with a factory lower and it matched all specs to within .002". The only flaw I found in mine was a spot in the FCG pocket where I zigged instead of zagged and took off an extra thousandth or two. But it's purely cosmetic and no one will ever see it.
So the bottom line is that for less than $200 and two hours work I now have a fully functional self-made AR-15 receiver that is perfectly legal and yet will never appear on any government list. The satisfaction and pride are bonuses.
In fact now I've gotten into the whole make-your-own-gun thing. For my next project a friend and I are going to order receiver blanks from these guys and make our own custom 10/22 rifles.
You can find me at @Maetenloch.

posted by Maetenloch at
12:46 PM
|
Access Comments