« "High"
|
Main
|
Top Headline Comments 6-4-13 »
June 03, 2013
Overnight Open Thread (6-3-2013) – SMASH THE SYSTEM PARASITES EDITION
Zombie: Time for a Workers' Revolution
True workers of the world unite! You have nothing to lose but your chains. And a world to win.
The formula to determine how much each employee gets to keep for living expenses is called "the tax code," and those who contribute to the national product are called "taxpayers." The managers deciding how the pile is spent are "politicians," who are chosen every two years in a shareholders' meeting called an "election." This system worked pretty well for quite a long time - until recently. It is only within the last few years that something remarkable happened: The number of contributing "taxpayers" in the country for the first time has fallen to approximately 50% of the population. Meanwhile, the number of unemployed, retired, disabled or indigent citizens grew, as did the number of citizens who earned so little in part-time or low-paying jobs that they paid no taxes, as did the number of people laboring in the untaxed underground economy, as did the number of bureaucrats.

The end result of this epochal demographic and economic shift is that for the first time in American history, the people who actually work for a living and contribute to the common good - the "proletariat" in Marx's version, and the "taxpayers" in ours - no longer control the company. Vote-wise, the scales have tipped in favor on the non-contributors and the bureaucrats, and suddenly they are the ones making the decisions about what to do with our collective gigantic pile of money - while those who actually created the pile through their work and tax contributions have become powerless. It is outrage over this very power shift that spawned the Tea Party, which is essentially a movement of taxpayers angry that they no longer get to determine how their taxes are spent. Historically speaking, the Tea Party movement can be accurately defined as a workers' revolution.

Despite the devout wishes of the bien-pensants terrorism is almost entirely the product of a Muslim war against the world.
For example, twenty nations account for over 95 percent of terrorism activity in the world. Of these twenty (Pakistan, Iraq, Afghanistan, South Sudan, Yemen, Iran, Uganda, Libya, Egypt, Nigeria, Palestinian Territories, Democratic Republic of Congo, Central African Republic, Colombia, Algeria, Thailand, Philippines, Russia, Sudan, Iran, Burundi, India, Nigeria, and Israel) all but four of them (Democratic Republic of Congo, Central African Republic, Colombia, and Burundi) involve Islamic terrorism. In terms of terrorism fatalities the top four nations (Iraq, Afghanistan, Pakistan, and Somalia) accounted for 75 percent of the world total of terrorism related deaths. All of these were the result of Islamic radicalism, often directed at other Moslems and not just non-Moslems ("infidels").

This has been the case for decades, and the Moslem world does not like to dwell on this fact. Many Moslem leaders admit that there is a lot of Islamic terrorism but insist that it's all the fault of infidels (non-Moslems) who are making war on Islam, so some Moslems feel compelled to fight back. The catch-phrase Moslem leaders like to repeat is that Islam is the "religion of peace." It is not, and the historical record makes that very clear.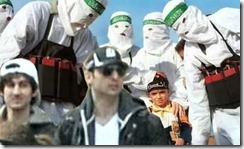 Last week, the State Senate voted to revoke the nonprofit status of any group within the state that does not allow full participation of homosexuals, a move aimed directly at the Boy Scouts of America. According to the Associated Press, the bill "would require those organizations to pay corporate taxes on donations, membership dues, camp fees and other sources of income, and to obtain sellers permits and pay sales taxes on food, beverages and homemade items sold at fundraisers."   Groups that sponsor troops would also have their tax returns and membership policies scrutinized by the Franchise Tax Board, California's version of the IRS.

...The thread that connects California's proposed tax policy with the IRS scandal of recent weeks is the unmistakable trend toward weaponizing the tax code. What was once a neutral instrument used for the purpose of collecting revenue for legitimate governmental functions is now employed to punish behavior that powerful people don't like. Lois Lerner of IRS infamy had a concealed carry permit but the State of California is carrying theirs right out in the open.
Taxes and the auditing process are the new punishment for daring to dissent.
And as always there's a Palestinian connection.
Terry McAuliffe: GEORGE W BUSH KILLED MY FATHER
And this was the 2000 compassionate-con GWB - not the 2004 version that ate babies and shot up wedding parties.
In a May 2001 interview with C-SPAN, titled the "Life and Career of Terry McAuliffe," the former Democratic National Committee chairman says one of the "reasons" his father, Jack, died was "he could not go into a new year knowing that a Republican was actually moving into the White House."

While his father was in the hospital, McAuliffe's mother "went and came back in five minutes later, and he had passed away. And I told the story, you know, I gave at the eulogy at his funeral, and there are many reasons why people thought Jack had died," McAuliffe told C-SPAN. "He was 83 years old. And I said the main reason is that he could not go into a new year knowing that a Republican was actually moving into the White House. I just don't think he could've handled that."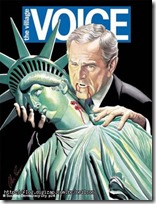 The Final Hog Has Flown in Europe
Europe says goodbye to the A-10.
SPANGDAHLEM AIR BASE, Germany - The U.S. Air Force launched the final A-10 Thunderbolt II tactical sortie in Europe at Spangdahlem AB May 14, 2013.
The airframe belongs to the 52nd Fighter Wing's 81st Fighter Squadron, which inactivates in June.
"I'm proud to be a part of the last sortie," said Lt. Col. Jeff Hogan, 81st director of operations and a pilot from today's flight. "It's definitely a sad day for the (81st) as we end 20 years of A-10 operations here. I'm just proud to take part in this historic event."
Which is both sad and yet a sign of ultimate victory in the plane's original purpose.
And when you read the wikipedia article on the A-10 you realize just what robust really means. The warthog was designed to fight up close and personal, protect the pilot and keep flying no matter what.
The A-10 is exceptionally tough. Its strong airframe can survive direct hits from armor-piercing and high-explosive projectiles up to 23 mm. The aircraft has triple redundancy in its flight systems, with mechanical systems to back up double-redundant hydraulic systems. This permits pilots to fly and land when hydraulic power or part of a wing is lost. Flight without hydraulic power uses the manual reversion flight control system; this engages automatically for pitch and yaw control, and under pilot control (manual reversion switch) for roll control. In manual reversion mode, the A-10 is sufficiently controllable under favorable conditions to return to base and land, though control forces are much higher than normal. The aircraft is designed to fly with one engine, one tail, one elevator, and half of one wing missing.[41]

Its self-sealing fuel tanks are protected by fire-retardant foam.[42] The A-10's main landing gear is designed so that the wheels partially protrude from their nacelles when the gear is retracted so as to make gear-up belly landings easier to control and less damaging to the aircraft's underside. Additionally, the landing gear are all hinged toward the rear of the aircraft, so if hydraulic power is lost the pilot can drop the gear and a combination of gravity and wind resistance will open and lock the gear in place.[36]

The cockpit and parts of the flight-control system are protected by 1,200 lb (540 kg) of titanium armor, referred to as a "bathtub".[43][44] The armor has been tested to withstand strikes from 23 mm cannon fire and some strikes from 57 mm rounds.[38][43] It is made up of titanium plates with thicknesses from 0.5 to 1.5 inches (13 to 38 mm) determined by a study of likely trajectories and deflection angles. This protection comes at a cost, with the armor making up almost 6% of the aircraft's empty weight. To protect the pilot from the fragmentation likely to be created from impact of a shell, any interior surface of the tub that is directly exposed to the pilot is covered by a multi-layer nylon spall shield.[42][45] In addition, the front windscreen and canopy are resistant to small arms fire.[46]
And it was also designed to be able to land and take-off from improvised airfields such as Autobahns.
Camping in the National Forest
Here a young man films himself hiking through the woods over two days while practicing his woodcraft. That may not sound exciting but this video is mesmerizing to watch even while he cooks his eggs or explains why he got lost. His filming style and editing as well as the constant audio background of the woods give you the feeling that you're spending days in the forest along with him. I believe he's hiking through the Uwharrie National Forest in NC.
Uh Oh: Facebook Now Officially Uncool
Too many adults, too much drama, and too much delay in immediate feedback.
Twitter is booming as a social media destination for teenagers who complain about too many adults and too much drama on Facebook, according to a new study published Tuesday about online behavior. It said teens are sharing more personal information about themselves even as they try to protect their online reputations.

Teens told researchers there were too many adults on Facebook and too much sharing of teenage angst and inane details like what a friend ate for dinner.
I guess it's on to Instagram and Vine in order to keep your kool kid cred.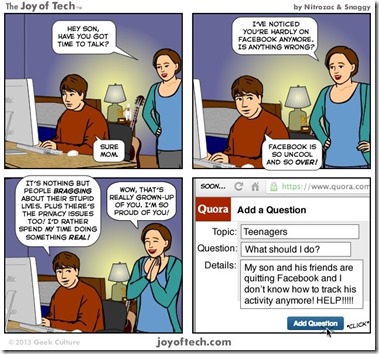 The Yahoo AoSHQ group. Bla bla bla.
And my twitter thang.
Tonight's post brought to you by the modern gangster: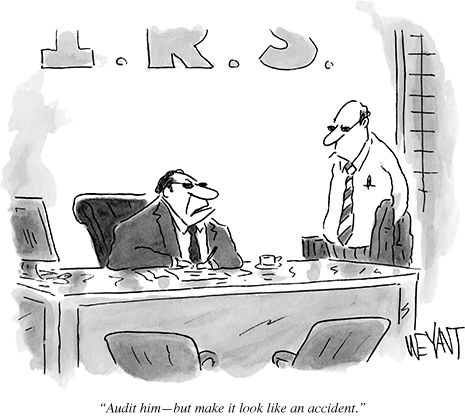 Notice: Posted by permission of AceCorp LLC. Please e-mail overnight open thread tips to maetenloch at gmail. Otherwise send tips to Ace.

posted by Maetenloch at
10:14 PM
|
Access Comments