« Is There Not One Person Employed By This Enormous Government That Is Aware Of Anything?
|
Main
|
Saturday Morning Open Thread »
May 17, 2013
Overnight Open Thread (17 May 2013)
h/t
Good luck to all you morons who are playin' Powerball or MegaMillions. Of course, you'd have better odds just playing some poker with your neighbors or playing some blackjack at the local casino but hey, it is fun to dream of winning a large jackpot like that.
At this point in scandalpalooza, I don't think the IRS can ever be trusted to do their job in a non-political, professional way. Not when you have a largely unioned work force that overwhelmingly donates and supports Democrats and is largely incompetent. Are you willing to now trust them to oversee Obamacare compliance? I'm not. I have zero faith in their ability to their jobs in a fair and impartial way. Factor in the Administration's response by asking for resignations from someone who was retiring anyway and from another guy who had been in the job a week, they really aren't serious in addressing what is wrong with the IRS. Resignations aren't enough either. Jail time needs to happen. You know, serious repercussions. Otherwise it's like the 4 State Department folks that got fired for Benghazi. They lay low, wait a bit and then come right on back into a job paid for with taxpayer money.
Now, in regard as to how to proceed, I think Ben Domenech is exactly right here. Republicans and the long game.

Here's the hard thing Republicans have to do if they don't want this crisis to go to waste: they have to ignore their id, the temptation of the sugar high of partisan point-scoring. They must willfully set aside Obama's presence in the fray, leaving the short term personalized attacks on the table, and go after the much bigger prize. Obama isn't running for office again. Liberalism is. Making this about him is a short term boost to the pleasure center of the conservative brain. Making this about the inherent falsehood of the progressive project will help conservatism win.

The point is that these scandals cut at the core conceit of Obama's ideology: the healthy and enduring confidence of big government to be good government.
Rising PBR Price
Hipsters are to blame for rising Pabst Blue Ribbon costs?

A cheap glass of beer is fast becoming an endangered species in New York City - and you can blame Pabst Blue Ribbon-swilling hipsters for that.

They are the reason why "sub-premium" beer prices in the city have climbed 9.4% in the last seven months, say Restaurant Sciences, which tracks food and beverage sales nationwide.

"I believe the single biggest driver in sub-premium beer price increases is indeed specifically PBR," said Chuck Ellis, who heads the research company. "It has become quite fashionable."
Damn hippies. Is val-u-rite next?
Apache Pron
Missile Defense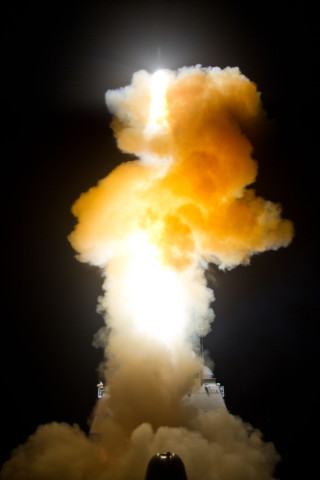 Not too shabby for a system that does not work (if you listen to Democrats). MDA destroys ballistic missile in successful BMD test.

The target missile – fired from a test range in Hawaii at 5:25 p.m. local time on Wednesday – was detected by the SPY-1 radar aboard USS Lake Erie (CG-70). The ship launched a SM-3 Block IB equipped with a BMD kill vehicle that successfully destroyed the simulated threat missile in low Earth orbit.
But don't forget, the President is now in his more "flexible" time that he alluded to Medvedev last year so I get a bit concerned when I hear
the Pentagon plans to share missile secrets with Russia
.
Motorcycle
This is one sweet ass ride. Man puts plane engine in motorbike.

This is the Red Baron - a chopper powered by a 150hp nine-cylinder Rotec Radial R3600 aircraft engine. Unbelievably, working out the fiendishly complex engineering involved in transferring drive to the rear of the engine, and building a custom chassis (not to mention painting, suspension, electronics...) took its owner, Frank Ohle, just 18 months.
Dog Story
Meet Pep, the dog who was sentenced to life in prison in 1924 for killing the governor's cat. Actually, the cat killin' part was made up by a reporter (stuff we still see in today's news) and he really wasn't sentenced to life in prison.

The account of him killing the cat was entirely fictitious, made up by a newspaper reporter taking a touch more than his fair share of journalistic licence.
The editor loved the story as it was frequently reprinted bearing the mugshot picture.
Animal Video
Tonight's ONT brought to you by:
h/t
PawNation
Notice: Posted by permission of AceCorp LLC. Please e-mail overnight open thread tips to maet or CDR M. Otherwise send tips to Ace.

posted by CDR M at
09:56 PM
|
Access Comments