« pre-ONT [Purp]
|
Main
|
Top Headline Comments 5-17-13 »
May 16, 2013
Overnight Open Thread (5-16-2013)
What the Modern Spy is Carrying
On Tuesday the Russian Federal Security Service (FSB) arrested  Ryan Fogle, a third secretary at the U.S. Embassy in Moscow and accused him of being a CIA agent and attempting to recruit a Russian as an agent.
The FSB also released a list of the equipment he was carrying:  wigs, sunglasses, lots of cash, a map, compass, a recruitment letter, cellphone, flashlight, pocket knife, key holder, pepper spray, batteries, notebook,  and a cigarette lighter.
It's decidedly lo-tech but then there's no school like the old school. Hell I carry about half of this on a daily basis - and more when I'm out looking to have a pretty good weekend in Vegas.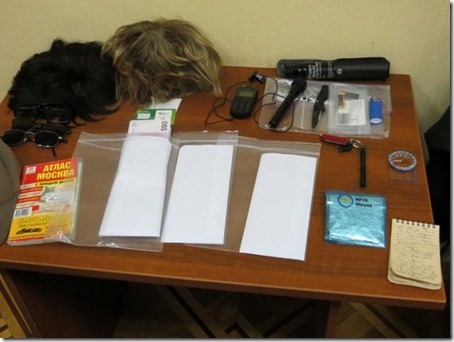 "Unfortunately you've grown up hearing voices that incessantly warn of government as nothing more than some separate, sinister entity that's at the root of all of our problems. Some of these same voices do their best to gum up the works. They'll warn that tyranny is always lurking just around the corner. You should reject these voices. Because what they suggest is that our brave and creative and unique experiment in self rule is somehow just a sham with which we can't be trusted."

-- Barack Obama (May 6, 2013)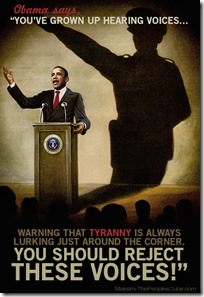 Why Liberals Hate Christianity But Ignore Islam
It's the Original Enemy and there's no hate like your first one.
Because they are locked forever in an ideological time warp, says Wiker, liberals (or Progressives or Leftists or whatever else they call themselves to avoid the taint their ideas leave behind) cannot contemplate the possibility that there is another enemy, greater than their old foe Christianity.  Which brings me to a post I did today for Mr. Conservative.  It concerns Michael 'Mikey' Weinstein, founder of the Military Religious Freedom Foundation, and one of the most rabid anti-Christians you will ever meet.

When I wrote the post this morning, it made me uncomfortable that such a venomous man is somehow Jewish, whether genetically or in actual practice.  I hate to see that kind of hatred emanate from a group with which I'm affiliated.  However, having read Wiker's essay, I realize that my concern is unfounded.  Weinstein's hostility to Christians isn't because he's Jewish, it's because he's a Leftist.
Plus a lot of Leftism basically comes down to opposing whatever middle America likes.
Get ready For the New Campus Speech Codes
Courtesy of the DoJ and the DoEd.
In a letter sent yesterday to the University of Montana that explicitly states that it is intended as "a blueprint for colleges and universities throughout the country," the Departments of Justice and Education have mandated a breathtakingly broad definition of sexual harassment that makes virtually every student in the United States a harasser while ignoring the First Amendment. The mandate applies to every college receiving federal funding-virtually every American institution of higher education nationwide, public or private.

The letter states that "sexual harassment should be more broadly defined as 'any unwelcome conduct of a sexual nature'" including "verbal conduct" (that is, speech). It then explicitly states that allegedly harassing expression need not even be offensive to an "objectively reasonable person of the same gender in the same situation"-if the listener takes offense to sexually related speech for any reason, no matter how irrationally or unreasonably, the speaker may be punished.
So hitting on a girl at a campus party will now involve the risk of rejection and prosecution.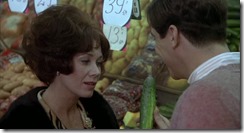 A Movie With a Parasitic Worm as the Protagonist?
Well apparently that describes the recent film, "Upstream Color".
In "Upstream Color," the hero is a parasitic worm. (The role seems to have been played by a mealworm, the pale, segmented larva of a common beetle.) We first see it being shaken out of the root bundle of an orchid by someone identified in the credits as "the Thief," who has detected the worm's presence by a telltale blue scale on the orchid's leaves. Teens help the Thief find such orchids; the teens' reward is Diet Coke that a larva has percolated in, a shared swig of which seems to impart the power to synchronize their movements even with closed eyes. In the hands of the Thief, the neurotoxin is put to a more practical use. Outside a nightclub, he assaults a woman named Kris (played by an exquisite Amy Seimetz) and, using a plastic medical device, forces a worm down her throat in order to brainwash her. Once she's under the worm's spell, he tells her that she's unable to look at him because his head is made of the same substance as the sun and commands her to turn the equity in her house into cash, which she surrenders along with a strongbox of precious coins. To stall her while he works, and then while he makes his getaway, the Thief also imposes elaborate and apparently nonsensical tasks, including the transcription and memorization of Thoreau's "Walden."
And that's just the beginning.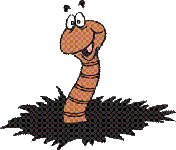 The Flimflam History of Tarot Cards
Most of what you know about the Tarot isn't true.
But tarot cards were still meant to tell fortunes, right?

Nope. The 78-card deck was actually used for playing trick-taking games, along the general lines of Spades or Bridge. A popular variant, French Tarot, is still played widely, especially in (as one might expect) France.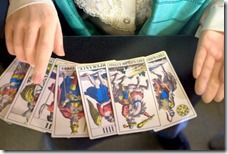 Farley and Spade made a good Laurel and Hardy pair - it's a shame Chris died just a year or two after this movie.
How To Get Power From a Phone Line
Land lines aren't totally useless. For long time I kept a land line with classic old analog phone that works off of the line power just for emergencies. But the price for even minimal phone service just kept going up so I finally dropped it.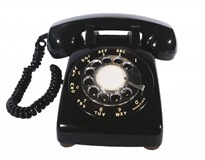 And speaking of phones here's an 1885 audio recording of Alexander Graham Bell speaking that was recovered by optically scanning the fragile disc.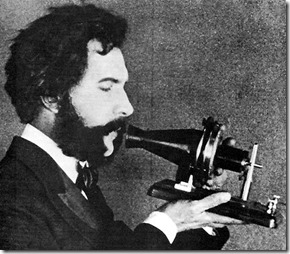 Daily PSA I: Be Wary of the hostaet Wielding Hitchhiker
Daily PSA II: Always Check and See Who Might Be Jerking Off Behind You on the Bus
Yahoo group. That is all.
And my Twitter spew.
Tonight's post brought to you by 1972: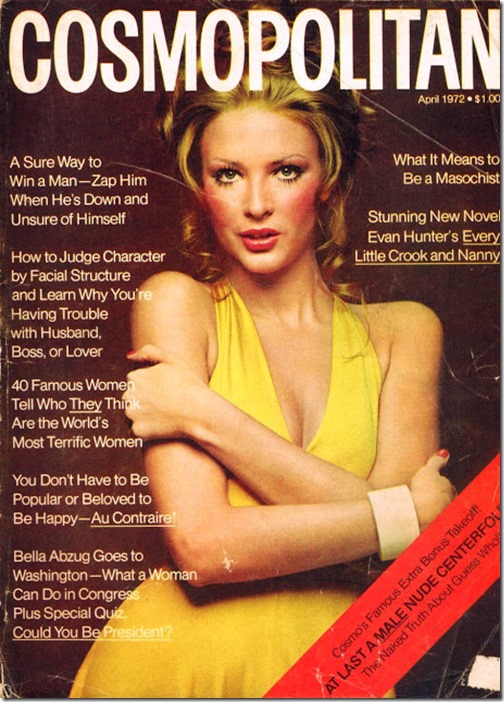 Notice: Posted by permission of AceCorp LLC. Please e-mail overnight open thread tips plus $1 for S&H to maetenloch at gmail. Otherwise send your scraps to BizarroAce.

posted by Maetenloch at
09:52 PM
|
Access Comments