« Pre-ONT -- Sanford victory lap [Purp]
|
Main
|
Top Headline Comments 5-8-13 »
May 07, 2013
Overnight Open Thread (5-7-2013) - Skriking Me Yarbles Edition
"What's it going to be then, eh?"

There was me, that is Alex, and my three droogs, that is Pete, Georgie, and Dim. Dim being really dim, and we sat in the Korova Milkbar making up our rassoodocks what to do with the evening, a flip dark chill winter bastard though dry. The Korova Milkbar was a milk-plus mesto, and you may, O my brothers, have forgotten what these mestos were like, things changing so skorry these days and everybody very quick to forget, newspapers not being read much neither. Well, what they sold there was milk plus something else. They had no licence for selling liquor, but there was no law yet against prodding some of the new veshches which they used to put into the old moloko, so you could peet it with vellocet or synthemesc or drencrom or one or two other veshches which would give you a nice quiet horrorshow fifteen minutes admiring Bog And All His Holy Angels and Saints in your left shoe with lights bursting all over your mozg. Or you could peet milk with knives in it, as we used to say, and this would sharpen you up and make you ready for a bit of dirty twenty-to-one, and that was what we were peeting this evening I'm starting off the story with.

Our pockets were full of deng, so there was no real need from the point of view of crasting any more pretty polly to tolchock some old veck in an alley and viddy him swim in his blood while we counted the takings and divided by four, nor to do the ultra-violent on some shivering starry grey haired ptitsa in a shop and go smecking off with the till's guts. But, as they say, money isn't everything.
Read the rest here.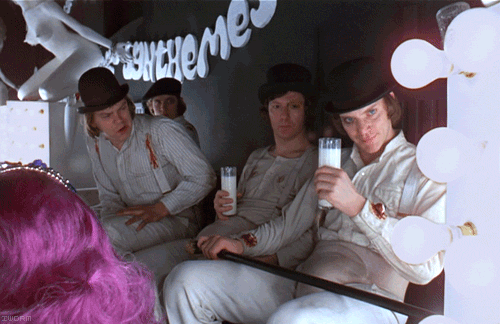 New Civility I: Dan Savage Wishes Cancer on Sarah Palin
Dan Savage has a long history of being a nasty asshole. One day he will die and the world will be a slightly better place.
New Civility II: Newspaper Editor Calls for NRA Members to be Sent to Camps
Not even hiding it anymore.
At some point, we may have to consider whether the anti-gun hysteria is actually doing more harm than good to students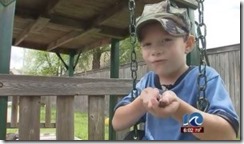 Student-loan company Sallie Mae SLM -1.35% canceled a $225 million bond offering on Thursday after about two weeks on the market, according to people familiar with the deal. The move may mark a line in the sand: Investors whose thirst for yield has revived all manner of riskier asset classes decided they weren't getting paid enough to buy at the offered price amid rising student-loan defaults.
A Whole Lotta Admirals - Not So Many Indians
In World War II, there were 30 Navy ships for every admiral. Now, the Navy has more admirals than ships.

That's a point not lost on Virginia Democratic Senator Mark Warner.

"I want to see the Pentagon cut back on some of this "brass creep" both in terms of numbers and some of these perks," Warner said.
Not long ago, the Navy forced out 3,000 mid-career sailors.

... the Pentagon has added admirals and generals. There are now nearly a thousand. Many of those top officers are surrounded with entourages including chauffeurs, chefs and executive aids. Top flag officers have private jets always at the ready. They live in sometimes palatial homes and frequently travel in motorcades. Former Democratic Senator Jim Webb asked the Pentagon why the Air Force has more four-star generals than the Army, even though the Army has almost twice the manpower. Across all service branches, Warner said, the number of people at the bottom has shrunk while the number of generals and admirals has swelled.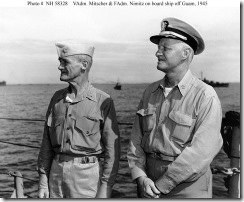 Dying Career #2: Reporter

They say a species must adapt or die, and with the trend of the Internet replacing print journalism (you are reading this on the computer, after all), media folks who don't adjust might not survive too much longer. In short, many reporters could be going the way of their typewriters soon.

Projected Decline: Reporter and correspondent positions are expected to decline by 8 percent from 51,900 jobs in 2010 to 48,000 in 2020, for a total of nearly 4,000 jobs lost, says the U.S. Department of Labor
Well given their recent performance and shameless and open bias maybe it should be considered a suicide.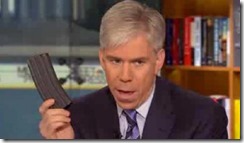 But unfortunately for one of them, Amanda Berry and her family, her mother didn't live to see this day. Berry's mother Louwana Miller died in 2006 at the age of 44 from complications of pancreatitis. Well-known TV psychic Sylvia Browne had told her back in 2004 that Amanda was dead, and her mother said that after that she "lost it" (meaning, lost hope that her daughter was alive).

But don't sit on a hot stove waiting for an apology from Browne. And I bet her admirers will be making excuses for her.
On Monday Amanda Berry was found alive in Cleveland.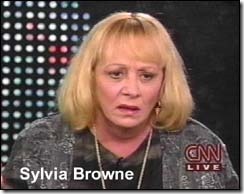 Wait I Thought Only Religious Fanatics Burned Books?!
Oh okay - they are religious fanatics. And so heretical writings must be destroyed.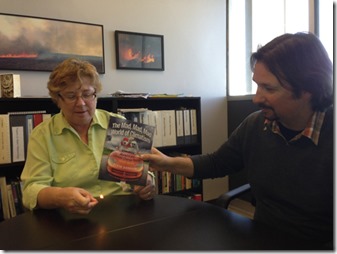 Maybe not so much.
When kids tell you that they have been working on their homework for so loooong, don't believe it. They're probably spending over 35% of their time doing other things like checking their email or Facebook. And that is the number that is determined simply from watching them for 15 minutes and when they know they're being observed. Imagine how much more distracted they are when they're in their bedrooms without being watched after a long than 15-minute time span.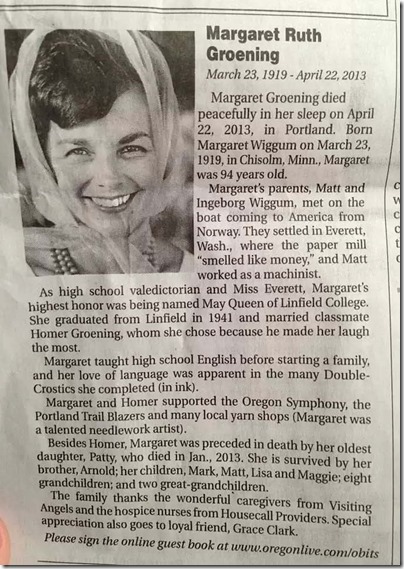 Teh Tweet!
Tonight's post brought to you by these guys seem kinda serious: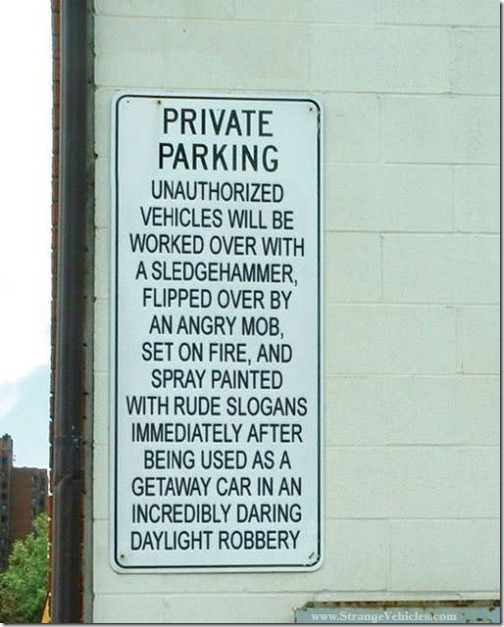 Notice: Posted by permission of AceCorp LLC. Please e-mail overnight open thread tips to maetenloch at gmail. Otherwise send tips to Ace.

posted by Maetenloch at
10:20 PM
|
Access Comments