« Arizona Abortionist: Why No, If a Baby Were Born Whole but Dying, We Would Not Resuscitate It
|
Main
|
Sponatenous Demonstration: 3 Members Sent from Al Qaeda on the Arabian Peninsula to Provoke or Carry Out Benghazi Attack »
May 02, 2013
Howard Kurtz Screws Up Yet Again, But This Time He's Fired, Because He Offended the Left's Gay Lobby
There's no doubt, none at all, that Howie Kurtz is a bit of an idiot and says lots of foolish things.
But what makes this time any different? Ah, well it's because this time he offended the left's current top-banana on the Victimization/PC Protection pyramid.
What did he say? Oh, something stupid and dumb and about Jason Collins. Specifically-- he claimed that Jason Collins left something big out of his Sports Illustrated confessional about being gay.
Specifically, Kurtz alleged that Collins' Sports Illustrated confessional failed to disclose that...
"He was engaged. To be married. To a woman."
Now, I would never normally link the Huffington Post, but this is a real zinger so I will. Below, an excerpt from the SI piece -- early in it, I believe -- in which Collins completely omits mentioning his previous engagement to a woman, except for all the times he mentions it.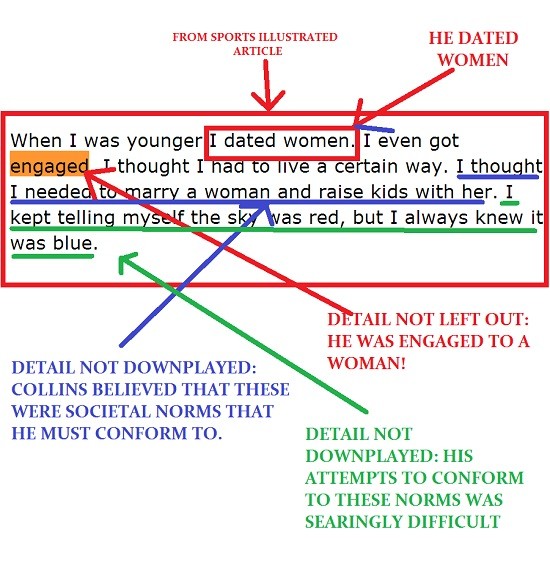 Clearly Kurtz erred, and rather dumbly. But he does this a lot, and no one's had a problem with it in the past.
Why now?
I think it's pretty obvious -- Jason Collins is now the Gay Black Sandra Fluke, and therefore now An Hero, and the Left protects its heroes.
And so Howie Kurtz, who did not face even a whit of criticism for proclaiming, without facts or even any reading, that Anthony Weiner was completely innocent and obviously framed, gets fired for a mistake.
But when you make a mistake against the left, it's not a mistake. It's a crime.
I don't have any problem with Jason Collins coming out of the closet. In fact, I think it's a good thing. I'm glad he has. I think it will have some good effects. I think, generally, Truth is better than Lies.
But I do understand the problem the right has, at least up to a point.
The problem is the same one regarding Michelle Obama's much-vaunted beauty. I've said this and I'll say it again: I would never say Michelle Obama is unattractive. I think she's reasonably attractive. Dividing up women of her age, I'd say she's on the "more attractive" side of things. Maybe, I don't know, top 33%.
She's not an unattractive woman at all.
The problem comes when someone who is modestly attractive, and yet beloved by the left as An Hero For Us All, gets the Full Tonguebath treatment and we have to hear again, and again, and again, and again, and again until our ears begin to bleed, that this is not merely a modestly attractive woman, but in fact one of the most sublimely and incandescently beautiful women to ever bless the soil of the earth with the sweat of her lovely foot.
This is where Truth becomes Lie -- and furthermore, it's truth that becomes a highly politicized lie, not an inoffensive or anodyne white lie, but a Lie With An Agenda. And that agenda is forcing you to assent to the Group's Lie in order to demonstrate yourself as Loyal to the Group or as an Outsider who is to be Ostracized for Failing to Demonstrate His Loyalty Upon Request.
It's a Weaponized Falsehood, a Shibboleth, a Loyalty Oath, that requires you to Assent to Falsehood or become a Martyr for Honesty.
This is the right's problem with Jason Collins (or let me say: this is the understandable and defensible and quite-proper problem with Jason Collins' disclosure; I do not defend other objections).
It's not that he hasn't done something that took a bit of guts here. He has. At the end of a career, or the likely end of a career, he did gamble a little on whether or not he'd be ostracized for his admission.
But by acknowledging this took some guts I do not agree that he demonstrated the courage of Audie Murphy, to be celebrated throughout the annals of history as The One Who Dared All.
I think he dared some. Some. An amount for which I do think he should be afforded some applause.
But let's lighten up on claiming he's the One Who Dared, just like we should probably lighten up on overstatements about Michelle Obama's real, and yet not truly extraordinary, attractiveness.
One cannot also fail to notice that other attractive women -- Ann Romney? Are you kidding me? 60 years old?! How hot is she? -- are not praised for their beauty as the left's and the media's (but I repeat myself) darling is, and Lila Rose will not be praised for her own show of guts in defying the People Who Actually Control the Media and Will Blacken Your Name if You Thwart Them.
Jason Collins did show guts -- and he does have to fear some negative consequences from teammates.
But this is a tiny group, and in two years, if not two months, he won't even have teammates to worry about any more.
But Lila Rose defied those with genuine power, and who will have power, it seems, forever.
If I can admit there may be heroes worthy of praise that the left wishes to celebrate, can the left and the media (but I repeat myself) ever confess that there just may be some individuals of courage, deserving of some approbation, on the right as well?
But of course not. But of course not.

posted by Ace at
04:18 PM
|
Access Comments