« Evening Open Thread + Goofing on LATimes Staffers and Their Empty Threat To Quit
|
Main
|
Breaking: American Press to Find New and Inventive Ways to Ignore Major National Security Story »
April 30, 2013
Overnight Open Thread (4-30-2013)
I'm back my babies. Let me quell your pain.
Memo to the South: Go Ahead, Secede Already!
A screed by Lee Siegel. But first a little context on Siegel:
Disgraced ex-sock puppeteer Lee Siegel, whose cranky-old-man cultural criticism and woe-is-me whining have led to a fruitful career writing for every single liberal publication you've ever heard of, has landed, like these people do, at The Daily Beast, where he has just coughed up one of the lamest hairballs of a political semi-humor column you will ever read: "Memo to the South: Go Ahead, Secede Already!"
According to Siegel America would be idyllic nay almost utopian if only those icky Southerners could be somehow be gotten rid of.
A solid block of Southern states continues to refuse to expand Medicaid, thus squashing one of the linchpins of the president's health-care reform. The South will likely be the last and most stubborn battleground in the fight for gay marriage. Gun control? The more the two sides seem to get cozier with each other, the faster gun-control legislation gets watered down-and more and more red states are passing laws making it legal to carry a concealed weapon. As for immigration, the red states seem to be relaxing their anti-immigrant fervor, but nothing approaching new legislation is even on the horizon.

...Just think what America would look like without its mostly Southern states. (We could retain "America": they could call themselves "Smith & Wesson" or "Coca-Cola" or something like that.) Universal health care. No guns. Strong unions. A humane minimum wage. A humane immigration policy. High revenues from a fair tax structure. A massive public-works program. Legal gay marriage. A ban on carbon emissions. Electric cars. Stronger workplace protections. Extended family leave from work in case of pregnancy or illness. Longer unemployment benefits. In short, a society on a par with most of the rest of the industrialized world-a place whose politics have finally caught up with its social and economic realities.
So much stupid in such a few lines.
On the left paradise is somehow always just one more purge away. Siegel semi-jokingly advocates for secession but I don't doubt he'd be down just as much with disenfranchisement and internment camps if he actually had the power.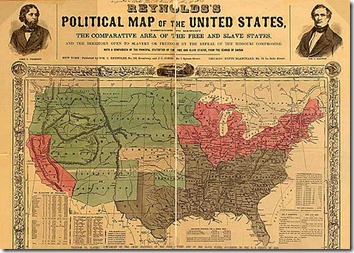 Okay given that this appeared in the amateur webzine I expected it to be a full-on apologia for the marathon bombers. But actually William Saletan makes the case that the Tsaraevs were a family of petty criminals in general and Tamerlan already a violent thug. Then Islam gave him a purpose and a justification for indulging in all his dark impulses.
By now, most of us have heard that the bombers' mother, Zubeidat Tsarnaeva, was arrested last year for shoplifting and destruction of property. This weekend's stories confirm that the charge was a felony, that the quoted value of the merchandise was $1,600, and that the owner of the property was Lord & Taylor, the same company whose security cameras captured the bombers at the marathon.

...Now it turns out that the bombers' father might be a shoplifter, too. Anzor Tsarnaev fixed cars for a living. "Sometimes, when he needed parts, he would show up at Nissenbaum's Auto, a nearby parts and repair shop," the Post reports. "Several times, workers said, Anzor went into the parts yard to find a bracket or screw and emerged offering to pay a small sum for a handful of items. But employees would see his pockets stuffed. Confronted, they say, he admitted picking up a few other meager items."
Tamerlan had a propensity to beat up anyone who upset him and the rest of his siblings were apparently pot dealers as well.
Islam also gave Tamarlan and the rest of the family convenient excuses for their failings. And a reason to strike out against the very country that had given him refugee status and his family over $100,000 in welfare benefits.
The New York Times suggests a different answer: Tamerlan's explanation of why he quit boxing is false. He didn't do it for Islam. He did it because his lack of U.S. citizenship blocked his eligibility to compete in tournaments and build a career in the sport. He just used Islam as an excuse, a story to tell others.

That would explain why, in January of this year, Tamerlan was rebuking a speaker at his local mosque who praised Martin Luther King Jr. The Post says that according to an official at the mosque, Tamerlan "yelled that King represented American values." Tamerlan's worldview wasn't about nonviolence. It was about anti-Americanism. Three months later, he detonated.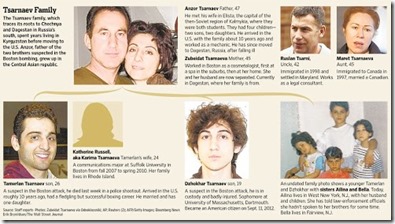 Bruce Holbert's Gun Accident in the New York Times
His account sure seems bogus if not a little suspicious. But because he was idiot with a loaded gun (as was his friend/victim) therefore guns are bad, bad, bad and must be restricted.
I never had much interest in guns. Yet it is I who killed a man.

It was the second week in August, a Friday the 13th, in fact, in 1982. I was with a group of college roommates who were getting ready to go to the Omak Stampede and Suicide Race. Three of us piled into a red Vega parked outside a friend's house in Okanogan, Wash., me in the back seat. The driver, who worked with the county sheriff's department, offered me his service revolver to examine. I turned the weapon onto its side, pointed it toward the door. The barrel, however, slipped when I shifted my grip to pull the hammer back, to make certain the chamber was empty, and turned the gun toward the driver's seat. When I let the hammer fall, the cylinder must have rotated without my knowing. When I pulled the hammer back a second time it fired a live round.

My friend, Doug, slumped in the driver's seat, dying, and another friend, who was sitting in the passenger seat, raced into the house for the phone.

...My friend was killed by a man who misunderstood guns, who imagined that comfort with - and affection for - guns was a vital component of manhood. I did not recognize a gun for what it was: a machine constructed for a purpose, one in which I had no real interest.
Yes guns can be deadly. And they're deadlier when you're stupid.
Also see if you can spot all the flaws in Holbert's story.
George Jones and Clarence Thomas
An interviewer in 2010 saw this letter from Clarence Thomas framed on Jones' wall.
You can hear "The Right Left Hand" here.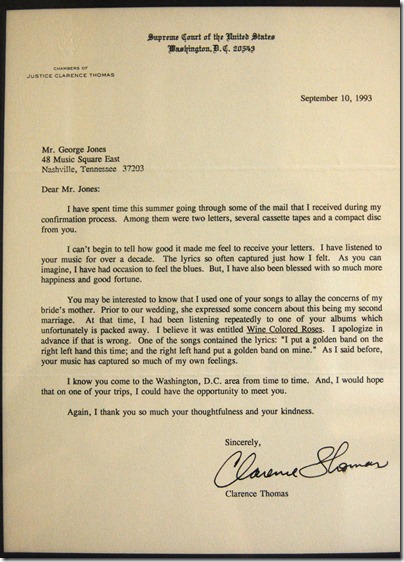 This is a striking statistic I recently ran across in preparing to teach the post-war period for my A.P. European History class: there are more people in Britain today working for in Indian restaurants than in the coal, steel, and railroad industries combined. On one hand, that is not so surprising considering the state of those industries in today's Britain. However, in the grand scope of British history, I found that statistic truly startling.
And things were worse at the beginning of the 19th century:
In 1816, the net public debt of the UK reached 240 per cent of gross domestic product. This was the fiscal legacy of 125 years of war against France. What economic disaster followed this crushing burden of debt? The industrial revolution.

...Between 1815 and 1855, for example, debt interest accounted for close to half of all UK public spending.
The Great Literature of Pancake Making
It always worthwhile to study the classics.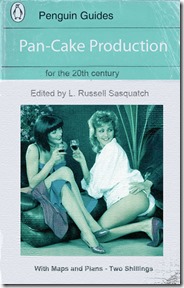 Weekly AoSHQ Commenter Standings
Top 10 commenters:
1 [915 comments] 'sven10077@sven10077' [128.45 posts/day]
2 [446 comments] 'EC'
3 [387 comments] 'Anna Puma (+SmuD)'
4 [384 comments] 'Niedermeyer's Dead Horse'
5 [364 comments] 'BCochran1981 - Credible Hulk'
6 [348 comments] 'Jane D'oh'
7 [340 comments] 'soothsayer'
8 [299 comments] 'willow'
9 [291 comments] 'Nevergiveup'
10 [289 comments] 'CharlieBrown'sDildo'
Top 10 sockpuppeteers:
1 [70 names] 'The Political Hat' [9.83 unique names/day]
2 [53 names] 'Cicero (@cicero)'
3 [32 names] 'andycanuck'
4 [31 names] 'logprof'
5 [29 names] 'mindful webworker ... mmmm.... coffee....'
6 [28 names] 'zsasz'
7 [27 names] 'Islamic Rage Boy'
8 [27 names] 'Beefy Meatball'
9 [25 names] 'kbdabear'
10 [25 names] 'Harrison Bergeron'
Teh Tweet!
Tonight's post brought to you by dangerous radiation: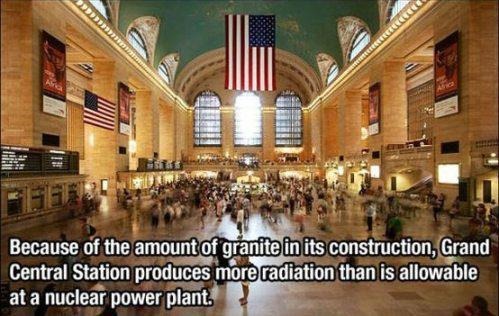 Notice: Posted by permission of AceCorp LLC. Please e-mail overnight open thread tips to maetenloch at gmail. Otherwise send tips to Ace.

posted by Maetenloch at
09:15 PM
|
Access Comments