« Is the Secretary of the Treasury Working Behind the Scenes to Gain Control of the National Guard Through the Navy Federal Credit Union?
|
Main
|
Weekend Home Improvement -- Tools! [Purp] »
April 28, 2013
Sunday Morning Book Thread 04-28-2013: The Hushed Voices of Dissent [OregonMuse]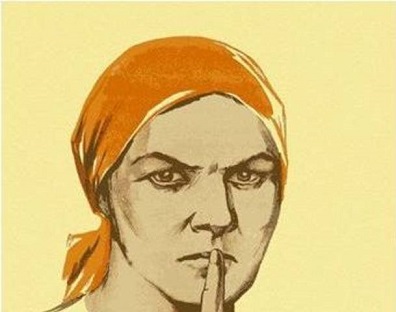 "This is Candy Crowley reporting from the Obama White House."

Good morning morons and moronettes and welcome to the wanna-be samizdat Sunday Morning Book Thread here at the award-winning AoSHQ.
In the comments section, last week, Captain Hate opined this concerning a book he read about the partitioning of Pakistan:
Reading this certainly points out the carnage that people endured (shocking that the rock worshipers have been such disruptive murdering pieces of shit) and also what a fucking weirdo Gandhi was in ways that the entertainment/education fuckheads have sanitized.
The good captain is completely right about Mahatma Gandhi. He was a weirdo and his image really has been completely scrubbed down and sanitized. Of course, the definitive book about Gandhi that all the morons should read is The Gandhi Nobody Knows by Richard Grenier, a conservative stalwart who unfortunately passed away some years ago. It is an expansion of the article he wrote for Commentary Magazine in March of 1983 as a response to David Attenborough's blockbuster movie Gandhi. The movie is a thickly hagiographic depiction of Gandhi's life that Grenier knew to be pure propaganda.
Attenborough sounds like your typical guilt-ridden western liberal who is uncomfortable with having ancestors who have bequeathed him a decent, well-ordered country while others have made a total mess of theirs.
From Grenier I learned that:
--About one third of the production budget for the movie Gandhi was provided by the government of India.
--The topic Gandhi wrote most about in his letters (many volumes of which are still extant) is not what you would think, world peace or human rights or anything like that, but rather, enemas.
(There are certain aspects of Hindu culture that are rather unsavory, including this, which is an example of what Arthur Koestler has referred to as "the deification of filth". Of course, I'm a racist for pointing this out.)
If you're serious about this topic, buy the book and you won't be disappointed. But I would encourage everyone to read the original Commentary magazine article, if for no reason than I think it is an example of really fine writing. Commentary has always had high standards for the quality of its writing, and this is no exception.
Actually, I thought Grenier's book would be out of print. Gandhi has long since been assumed into the modern pantheon of secular saints, so I'm surprised there is still a dissenting voice.
And speaking of important books written by deceased conservative authors that stand athwart the dominant liberal paradigm, I feel that I should offer up another book that I've mentioned here before: It Didn't Start With Watergate by Victor Lasky. He extensively documents how every 'dirty trick' and illegal activity that Nixon supposedly ordered, including wire-tapping, illegal contributions, use of government agencies to harass political enemies, etc., were all carried out relentlessly and enthusiastically by previous (Democratic) administrations, Truman, JFK, and the wildly corrupt LBJ, with nary a peep from our guardians in the mainstream press. But when it was Nixon, whom the press hated with the heat of a thousand suns, it all suddenly became A National Crisis and A Constitutional Crisis and The Worst Thing That Ever Happened In The History of the U.S. And this despite the fact that the Watergate committee admitted that they had no impeachable evidence.
The left incessantly yammers about 'speaking truth to power', but all that really means is 'saying stuff we like.' It's actually books like these that speak truth to power, real truth to real power. Especially the book by Lasky. In any discussion about Watergate, the evidence presented in that book should be front and center (or, at least a little to the right). But no, it's all 'The evil Nixon wiped his butt with the Constitution, ordered break-ins, and he would've gotten away with it if it hadn't been for those two fearless truth-tellers Woodward and Bernstein, who saved the republic." Yes, that's the way the story is told, and it's a damned shame, because it's mostly false.
Note that Woodward and Bernstein are also firmly ensconced in the liberal pantheon of gods and heroes.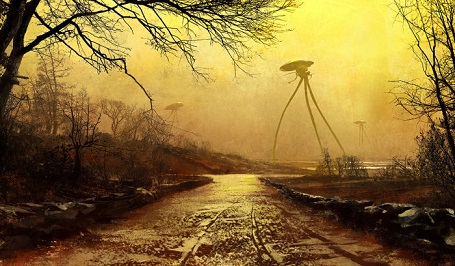 "Drones? We don' need no steenking drones!"

Books For Morons
Another moron author breaks the surface: David Acord has a new book out. In his e-mail, he tells me:
Greetings from a long-time AoS lurker and very infrequent commenter (maybe 2-3 times in the last couple of years -- I can't hang with the big dogs all that often, I get too intimidated).
I'm going to stop right there for a minute and go on a bit of a detour, so hang on. This comes up frequently in the 'de-lurk' threads that we put up occasionally here at the award-winning AoSHQ, and I've never understood it, namely, the fact that some people are actually too intimidated to post a comment. I've been hanging out here since early 2006 and it never occurred to me to feel this way. And I'm certainly not one of the AoSHQ 'big dogs', nor am I some intellectual giant. In fact, I've made a horse's ass out of myself any number of times in the comments. And you know what happened when I did? Two things: either my stupidity was ignored, or else everybody had a hearty laugh at my expense, and then we moved on. After all, we're all morons.
So my message to David Acord and all of you other lurkers out there is this: AoSHQ is less because of your absence. The comments section is the lifeblood of this blog. And remember: no less a conservative than Andrew Breitbart himself (may he rest in peace) once admitted that he did read AoSHQ regularly, but only the comments. Now, how cool is that? So get in here and mix it up with the rest of us morons. I can't guarantee your feelings won't ever be hurt, but skinned knees and bumps on the head are the price you pay for actually going out and living life. So post your comments if you want to live.
Also, this is an anonymous blog, so how bad can it be?
Now, where was I? Oh, yes, moron author David Acord, has just published his new book, a non-fiction, "popular history" book entitled When Mars Attacked: Orson Welles, The War of the Worlds & the Radio Broadcast That Changed America Forever, available for the Kindle.
This is what Mr. Acord has to say about it:
This year marks the 75th anniversary of the infamous October 30, 1938 broadcast when Welles scared untold thousands of Americans into believing that Martians were actually invading Earth. My book tells the complete story of the broadcast and its aftermath - including the free speech battle that broke out, and the push for censorship laws to protect radio listeners from guys like Welles. There are actually quite a few interesting parallels between the post-broadcast push for censorship and the post-Newtown push for gun control -- the same "There ought to be a law" outrage, the attempts to push through legislation quickly while emotions were still running high, etc.

Anyway, it took me two years to write and includes some never-before-seen material that I uncovered during my research at the National Archives, including an internal report from the FCC and many, many letters, telegrams and other correspondence related to the panic. I have been a reporter/editor for 15+ years so my research skills came in handy.
I also note that Mr. Acord is the author of two previous books, Success Secrets of Sherlock Holmes: Life Lessons from the Master Detective and also What Would Lincoln Do?: Lincoln's Most Inspired Solutions to Challenging Problems and Difficult Situations. These books are put out by traditional mainstream publishers, but this time, Mr. Acord is, as it were, striking out on his own by going the Amazon self-publishing route. I wish him, as I'm sure we all do, the best of success with this new, riskier, venture.
When Mars Attacked is the kind of book that struck me as being an interesting read, so I started on it last night. The first chapter is an account of Orson Welles' life from his birth up to the point where he found his way into radio, and let me tell you, there's enough material here to keep MPPPP busy with his Hollywood stories on the morning news thread for at least a fortnight.
Of course, MP4 probably already knows all of the Orson Welles stories. Even the ones that are true.
___________

So that's all for this week. As always, book thread tips, suggestions, rumors, and insults may be sent to OregonMuse, Proprietor, AoSHQ Book Thread, at aoshqbookthread@gmail.com.
So what have you all been reading this week? Hopefully something good, because, as we all know, life is too short to read lousy books.

posted by Open Blogger at
10:37 AM
|
Access Comments