« Jita Burns, Electric Boogaloo (Gaming Thread!) (Also Open)
|
Main
|
Racist America [CBD] »
April 21, 2013
Gun Thread 4-21-2013
Our friend Andy is somewhere in Georgia terrorizing wild turkeys. Or drinking Wild Turkey. Maybe both*. I am your substitute gun guy today. I don't do this for a living you know, so let's do this thing. Let's have sex.
Where to start.. Oooo.. Andy left me a template. Lessee here...
Gun Thread April 21 2013
CONTENT
Ok I think content goes here. The United States Senate engaged in some superflous idiotic drama in the wake of Newtown (never let a crisis go to waste) and attempted to push the leftish gun-grabbing agenda with some incremental anti Second Amendment nonsensical legislation. Hurried law is bad law, see New York state.
They started with a) ban "assault weapons" (a non-sequitor, all weapons may be used to assault persons), 2) ban high-capacity magazines (washed up overactor Jim Carrey screamed about this for weeks, along with carnival barker Piers Morgan) and 4) enhanced background checks, whatever the hell those are.
The Brady bill (1993? I don't feel like lookin it up) established the National Instant Criminal Background Check system, which is managed by the FBI. If you purchase a firearm from a dealer with an FFL, you are subject to the requirements of this law before you can take possession of the weapon. In some states (like TEXAS mofos!) proof of a previous background check or possession of a state-issued concealed carry license is considered as fulfilling the requirements of this law.
So if I bought a weapon today, I still have to fill out form 4473, but they don't have to call me in. Incidentally that's the form that Buzz Lightyear didn't complete when he was buying a used AR-15 which requires you to declare whether the weapon is for you or somebody else. Also he's an idiot.
Anyway, our pal Slublog had some very smart things to say about the response of President Obama who threw down after getting beaten in this round, pitching a fit in his Rose Garden press conference surrounded by props. You should read it all, but this was my favorite part:
Still, the president wasn't just angry because he lost. He was angry because he lost to people who hold an opinion he's unable and unwilling to understand and who he seems to regard as beneath him. Last night, Obama showed us the anger that lurks under the no-drama exterior and revealed what we on the right have known for years - he's thoroughly a man of the left, and shares the left's contempt for those who believe that the second amendment is not a collective right, but an individual right for a collective purpose - ultimately, the preservation of a "free state." Our belief in individual liberty makes us inconvenient, and our refusal to acquiesce to the Benevolent and All-Knowing, All Providing Nanny State makes us barriers to the goals of the left.
Bitter clingers.
Gun Of The Week
(answer below)
This must be where the gun of the week goes. Ok.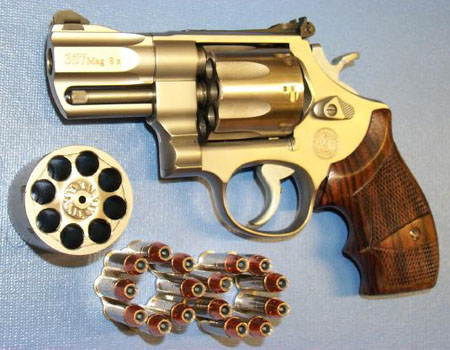 Marksmanship Award
All the LEOs who shot the shit out of that boat where the second asshole bombing brother was bleeding out.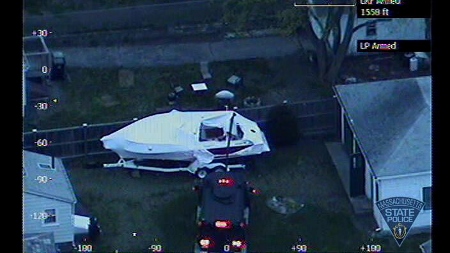 That boat's got more holes in it than my alibi about last Saturday night.
Gun Of The Week - Answer
That there is a Smith and Wesson N-Frame snub-nose 357, a Performance Center 627. It's an 8 shot model (probably illegal in New York now). It's right purty and I deserve to own one. Some smart gun guy, I think it was Kim DuToit said (in the context of semi-automatic pistols vs. revolvers) "A revolver is like a fork. You just pick it up and it works."
Tips
If there are topics you're interested in seeing in the gun thread, please send them to AoSHQGunThread at gmail. You can also send them to me on Twitter at @AndyM1911.
Defend the Second Amendment. Join: The National Rifle Association * Gun Owners of America * The National Shooting Sports Foundation * Your state's second amendment org.
Celebrate America's firearms heritage: participate in Project Appleseed.

* just kidding. Guns and booze are a bad thing. See Terry Kath, et.al.

posted by Dave In Texas at
02:15 PM
|
Access Comments