« It's a Local News Story, I Know
|
Main
|
Top Headline Comments 4-18-13 »
April 17, 2013
Overnight Open Thread (4-17-2013)
[Live coverage of the Waco explosion here (thanks to genghis)]
[Bumping the ONT to the top pending any more updates to the Waco thread]

Meet Our Modern Educators
All of these bombers are now either professors (or in prison) and were early gunpowder and pressure cooker enthusiasts.
Now they teach your children and make you pay for the privilege.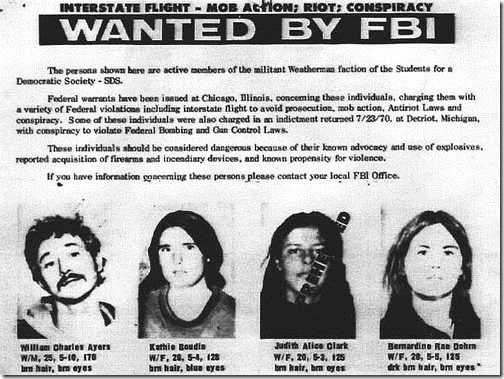 Terrorist Infrastructure Trial Run in San Jose, CA?
Somebody shot up a PG&E sub-station and then moved on to a separate ATT fiber hub and cut the fibers which included 911 lines for the area. I know this area and this was no accidental/drunken attack since they had to open specific manholes to get access to the fibers and also targeted each of the transformers.
The Santa Clara County Sheriff's Department said there was a breach of the security fence at approximately 3:25 a.m., and five transformers at the substation were vandalized by the gunfire.

Meanwhile, AT&T has now also blamed a large telephone outage in southern Santa Clara County Tuesday morning on vandalism.

Cell phones and landlines were said to be impacted by apparent damage to a fiber optic line. That line, which runs relatively close to PG&E's substation, was believed to have been cut.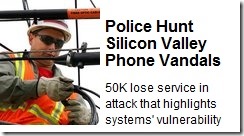 A List of Absolutely Horrible Business Ideas
That were wildly successful.
Airlines are cool. Let's start one. How hard could it be? We'll differentiate with a funny safety video and by not being a**holes.

It will be ugly. It will be free. Except for the hookers.

We are building the world's 20th search engine at a time when most of the others have been abandoned as being commoditized money losers.

Give us all of your bank, brokerage, and credit card information. We'll give it back to you with nice fonts. To make you feel richer, we'll make them green.

It is like email, SMS, or RSS. Except it does a lot less.

The world needs yet another Myspace or Friendster except several years late. We'll only open it up to a few thousand overworked, anti-social, Ivy Leaguers. Everyone else will then join since Harvard students are so cool.
Bottom line is that no one knows nothing about what will succeed and execution matters.
Brownells Explains Why Ammo and Gun Accessories Are So Scarce
We don't realize how intertwined the varied shooting disciplines really are. You may have a hard time figuring out why you can't find reloading components for shot shells. But consider this: all ammunition shares some base-level components - powder, primers and projectiles.

The ammunition to fuel your gun of choice, be it a rifle, pistol or shotgun, is in competition with every other gun and ammo for the basic components and the manufacturer's machine time to assemble them.

Companies don't have independent production lines for every gun they make or every caliber of ammunition they load.

That time is shared across all their lines, and it's tough to pull the tools and computer controlled programming for AR-style rifles to fill other orders. Simple business sense says you have to keep working to meet the highest-demand orders. If buyers give up on buying your gun, they're going to go looking elsewhere.

So your favorite round or gun may be finding itself pushed further down the production schedule. As that happens, existing inventory shrinks - even if the demand isn't anything approaching those uber-hot black rifles.
You might be feeling the pinch, but it's not really some secret conspiracy to keep you from having guns or ammunition. It's the market reacting to unprecedented demand for products.
And manufacturers are hiring.
Mike Weddle, head of maintenance at Dynamic Research Technologies, an ammunition manufacturer in Albany, Mo., says he is adding 10 new hires to his staff of 35. DRT's machine operators make between $10 and $17 an hour -- a healthy paycheck in a region where it's tough to find a job and the cost of living is relatively low.

DRT currently cranks out 80,000 bullets per shift and operates two shifts per day. But that's not enough to meet demand. So Weddle is adding a third manufacturing shift and building an additional facility.
"Demand picked up a year ago -- it quadrupled," he said. "It just went crazy." He says .223 caliber ammo, which is for semiautomatic rifles, is particularly difficult to keep in stock.
But they're limited by the competition for qualified employees:
Jacob Herman, chief operating officer for Red Jacket Firearms in Baton Rouge, La., agrees that finding qualified workers is the biggest hurdle for his business, which has an 18-month long blacklog of orders. Red Jacket, a family-owned company with 30 employees, makes AR15 semiautomatic rifles but has had to stop taking new orders for the time being.

"Finding skilled machinists and advanced skilled labor is one of the biggest problems that we face in getting products out the door," said Herman.
"The firearms industry is fighting for the same employees as the exploding oil business, both here in the Gulf [of Mexico] and in the Dakotas," said Herman, referring to the oil boom in North Dakota, where workers are flocking for jobs with Halliburton (HAL, Fortune 500), Continental Resources (CLR), Hess (HES, Fortune 500) and Whiting Petroleum (WLL).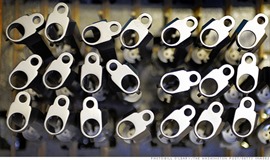 An Analysis of Baseball Ticket Prices
The Rockies and the Mariners seem to be real revenue killers.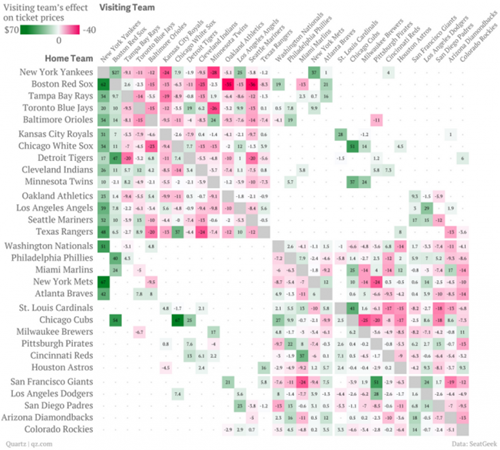 Richard LeParmentier AKA Admiral Motti has died at the age of 66. Ancient religions and sorcerer's ways sometimes work slow.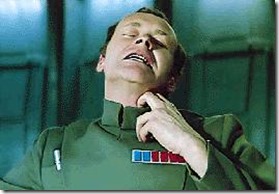 6 Mind-Blowing Things Recently Discovered From WWII
Including the secret Nazi surveillance base in North America that wasn't discovered until the 80's.
While German U boats would occasionally shoot holes in ships off the coast of North Carolina during WWII, we generally think of fighting Nazis as an away game for Canada and the United States. So you can imagine how surprising it was when Canada found out in the early 80s that Germans once mounted a fully armed expedition into their country without anyone even noticing.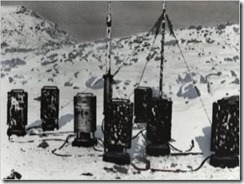 Lart?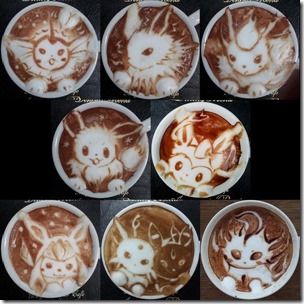 Teh Tweet!
Yahoo group. That is all.
Tonight's post brought to you by charity vs government charity: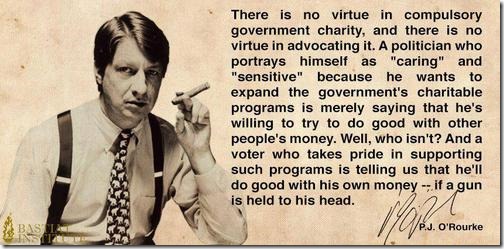 Notice: Posted by permission of AceCorp LLC. Please e-mail overnight open thread tips to maetenloch at gmail. Otherwise send tips to Ace.

posted by Maetenloch at
11:59 PM
|
Access Comments