« Medal of Honor Recipient Army Chaplain (Capt.) Emil J. Kapaun
|
Main
|
Maryland to tax rain that falls on your property [Purp] »
April 11, 2013
Overnight Open Thread (4-11-2013)
Bleg: Does anyone have experience mining Bitcoins?
Recently they seem to be reaching a critical mass (also possibly a bubble) so I've become interested in mining me some.
Why? Mostly because it's an interesting concept to have an open source untraceable-but-usable currency - and absolutely totally not because they're useful for buying underground guns, drugs, women, or alpacas.
This video is a pretty good introduction to what they are and this article seems to lay out all the steps you need to mine them.
So does anyone in the horde have experience with mining and using bitcoins? Are there any Moron groups? Any gotchas to using them?
FYI the current exchange rate is 1 bitcoin = $69 USD or 1/1650th of a healthy white child.
And Insty does his best to save you from making a journey of horror.
Stay away! In fact, I need to point this out: The South is a cultural desert, across which ride Klansmen on horseback and NASCAR fans in F350 Dually pickups. The cultural center is Wal-Mart, and the occasional tailgater before a lynching. Gunshows are disdained as the domain of pointy-headed intellectuals, because they also sell books. No, really, that's all true - stay away! For the love of God, stay away!

UPDATE: Reader Phil Manhard emails: "I wish to add that we have fire ants, sinkholes, red tide, shark attacks, huge and regular brush fires, sandspurs, sunburn, hurricanes (though, unexpectedly!, none in the last couple of years). Yes, for the love of God, stay far away!"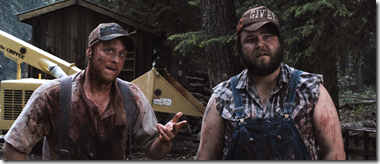 Prager University: Are We Basically Good?
Afghanistan of the 50s and 60s
Had factories, stores, and universities and looked like it was going to break out of the cycle. But now it's just another hell hole.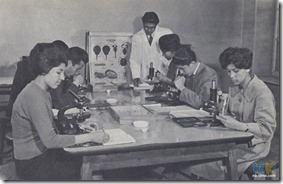 Hmm...So why isn't former astronaut Mark Kelly in jail for gun crimes?
In CA if anyone in your household loses their right to possess firearms, everyone does.
Just last week, the California Senate approved a $24 million funding bill to expedite the process of collecting guns from owners in the state who legally acquired them but have since become disqualified due to felony convictions or mental illness.

Such was recently the case for one woman, who had been in the hospital voluntarily for mental illness last year that she says was due to medication she was taking. Lynette Phillips of Upland, Calif., told TheBlaze in a phone interview Monday she had purchased a gun years ago for her husband, David, as a present. That gun, as well as two others registered to her law-abiding husband (who does not have a history of felonies or mental illness), were seized last Tuesday.

"My husband is upset that they took the right from us that should never have been taken, Phillips told TheBlaze.

But according to the state of California, that doesn't matter.

"The prohibited person can't have access to a firearm" regardless of who the registered owner is, Michelle Gregory, a spokeswoman for the attorney general's office, told to Bloomberg News.
However they can't get a search warrant so they have to use social engineering to get in:
Merely being in a database of registered gun owners and having a "disqualifying event," such as a felony conviction or restraining order, isn't sufficient evidence for a search warrant, Marsh said March 5 during raids in San Bernardino County. So the agents often must talk their way into a residence to look for weapons, he said.
I can attest that there's big money in potato inspection. And without modern automation a bag of potato chips would cost almost $25.
14 ways to tell if you're really a nerd
Including these:
#14 You Own Multiple Editions of Star Wars
#2 You Own Books by More Than One of the Following Authors: J.R.R. Tolkien, George R.R. Martin, Orson Scott Card, Robert Jordan and Steven Erikson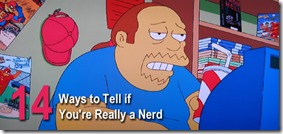 Two 90 Year Olds Compete in the 100 Meter Dash
Okay actually only 60 meters but both were born in 1918 and move pretty damn fast for that age.
MAD Magazine Behaving Badly in the 70s
Ah the good old days. Today these seem both tamer yet more titillating than modern kid magazines.
Let me make this perfectly clear - every boy growing up in the seventies read MAD (and Cracked and Crazy - the Heavenly Trinity).  And let me make it also clear that these magazines weren't necessarily aimed at minors.  Looking back at my old mags, it's interesting to note how inappropriate they were for a young impressionable mind like myself.  But then.... they didn't give a shit back then.  Children weren't insulated quite like they are today.

Anyway, I've covered this ground before, so I won't rehash it.  But, paging through a stack of old MADs, I began to notice a pattern: if there was a sex scene or nude scene in a movie they were spoofing - they were damn well going to include it!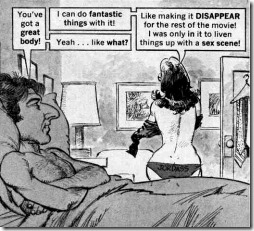 Scientific Breakthrough: Bras Aren't Needed
And may God bless the brave French scientists who devote their lives to le study du boobies.
Professor Rouillon, a sports scientist from the University of Franche-Comte in Besancon, eastern France, spent 15 years studying 130 women with different bust sizes.
 
All were told not to wear a bra for varying lengths of time, between a few months and several years. During this time Professor Rouillon took regular bust measurements using callipers and a slide rule.

The women were asked whether they suffered back pain or felt restricted carrying out daily tasks when not wearing a bra.

He said: 'The first results validate the hypothesis that the bra is not needed. Medically, physiologically, anatomically, the breast does not benefit from being deprived of gravity.'

Professor Rouillon said he believed the 'absence of a bra could keep breasts in shape' and prevent back ache.

He explained: 'The decision not to a wear a bra appeals to women in terms of comfort and aesthetics. Contrary to popular belief, the breast does not fall, but tightens and lifts, and the quality of the skin improves.'
It's science! baby.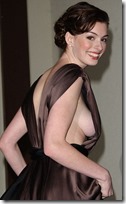 Yahoo group. That is all.
And my Twitter spew.
Tonight's post brought to you by Warriors: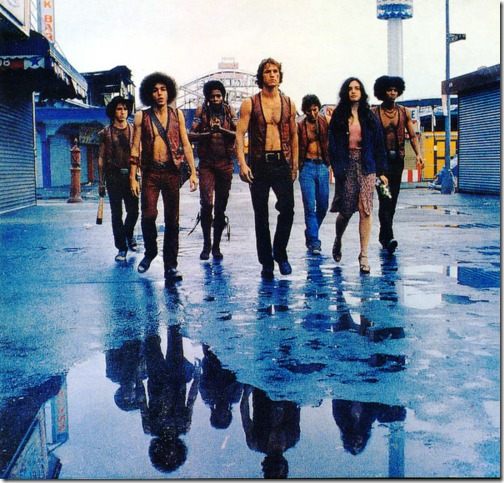 Notice: Posted by permission of AceCorp LLC. Please e-mail overnight open thread tips plus $1 for S&H to maetenloch at gmail. Otherwise send your scraps to BizarroAce.

posted by Maetenloch at
10:25 PM
|
Access Comments