« 700 Special Forces Veterans Call Upon Congress To Establish a Select Committee to Probe the Benghazi Cover-Up
|
Main
|
Shock: Congressman's Gay Son Says Lawrence O'Donnell and Piers Morgan Cancelled Interviews with Him When He Told Them He Wouldn't Be Bashing His Dad »
April 08, 2013
Reddit Editor Uses "Confession Bear" Meme to Confess to Murder, But Then Says It Was a Joke
A joke, but true in some ways, apparently, as he later clarified that there was "SOME truth behind it, but I'm not saying what was true and what wasn't."
"Confession Bear" is an internet meme where you post a picture of a bear and some kind of confession. Whether or not this is a real confession to murder is unknown. It's either an attention-getting stunt (does anyone remember the days when we used to seek attention from real people in real life...?) or a very ill-advised case of over-sharing.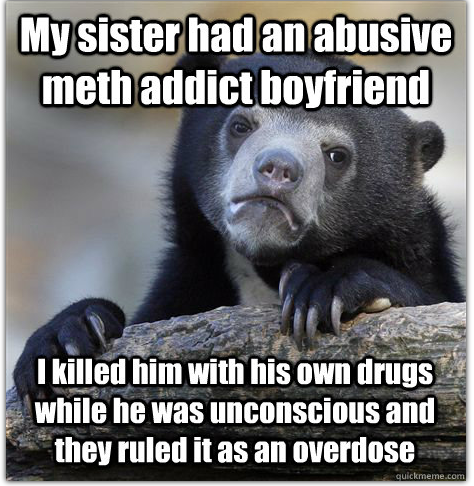 Eh. It seems kind of odd to me that someone would post this sort of thing for either purpose -- to garner attention, or to actually confess to murder online -- but we are now living in that age.
I didn't see Madonna's Truth or Dare movie. I swear upon Dick Cheney's shotgun, I did not. But I did see one clip, or rather I read about it. At one point Warren Beatty (Madonna's then-paramour) was annoyed that Madonna was inviting her film crew to film scenes of them together. Not sex scenes, but, you know, real life stuff, just normal give-and-take. Stuff that most people don't really think of as good for public consumption.
Beatty asked Madonna something along the lines of, "Do you think that if it's not being filmed, then it didn't happen?" I don't know Madonna's answer but I have a vague memory that she vaguely answered, but coyly suggested the answer was Yes-- if I don't have an audience, then it's not really happening.
This is the sort of mentality we see an awful lot of on the internet. Madonna wasn't the only person with this complex, of course. But she was one of the few people deemed worthy of Constantly Being on Television and in the Tabloids to make it clear that she did take that kind of position on fame.
20 years later and we now have the technology to "broadcast," after a fashion, all the details of our lives. And some people, like Madonna, can't resist.
I used to analogize blogging -- or more broadly, seeking internet-based attention -- to videogames. The exact same principles were involved -- garnering "experience points" (hits), milestones and upgraded weapons and armor (links from major sites). We even had a level system -- the Bear Laid Truth's old ecosystem and ranking of blogs.
And like a videogame, you sort of got the same sense of progress without actual real-life progress. It was sort of fun and exciting... the way a video game is fun and exciting. And trivial.
Eh, these kids these days. They'll never understand. They weren't there at The Beginning, man.
No but seriously, any diversion can become an addiction if it's good at supplanting real-world needs. Stuff like "companionship" and "achievement."
A diversion that allows one to escape thinking about one's own failings is pretty intoxicating. I think we have a generation of younger people sort of addicted to this particular drug (or this Massively Multiplayer Online Role-Playing Game, to go back to the original metaphor).
And because it's a new social phenomenon, society hasn't yet built up the Code of Mores and Warnings about it, like it's done with sex or drugs or booze. We don't really have Cautionary Tales or Morality Plays to warn people about it. There aren't any Grimm's Fairly Tales about The Little Girl Who Constantly Put Pictures of Herself Drunk Online.
I suppose we're starting to see some Cautionary Tales, though.
Notoriety and Reality TV: I'm actually (I hate to admit this) a [recovering] reality tv watcher [one day at a time, one day at a time], and I've been saying for some time that no matter what the supposed prize is any reality tv show, the real challenge, given that you've already signed up for this horror show, is to escape with your dignity intact.
That's the real "win." Leaving with your dignity intact (if a bit battered). Lose the contest but leave without too much embarrassment? Congratulations, you won the real game.
I think that principle applies to the online world, too. One can become pretty well-known overnight simply by embarrassing oneself in a big enough, link-whoring sort of way. But that's not really winning; winning is coming out of it at least looking kinda-sorta acceptable for decent society.
"Hacks of the Human Mind:" Flatbush Joe broadens the point and discusses how technology is giving us the power to tickle the Reward Centers of our brain without actually achieving the sorts of things that the Reward Centers were supposed to reward us for.
Video games are achievement porn for men.

Facebook is relationship porn for women. Same with celebrity gossip. They are all hacks of the human mind.

Our brains are built to live in small hunter-gatherer tribes. Some evolutionary change since farming. But our underlying hardware is still mostly for hunter-gatherer small tribes.

The male brain is especially designed to try and find some skill the tribe values and get good at it. People complimenting us on the mastery of that skill makes us feel good. Our brain gives us reward signals.

Video games hijack that the exact same way porn hijacks our mating behaviors.

Our brain rewards us for seeing naked chicks. Cause 10,000 years ago the only way you saw a naked chick was a prelude to bonking. Brain is telling you, way to go, attaboy, keep up the good work.

Brain has trouble adapting to work where you can see a thousand hot chick cooches while sitting alone, unshowered in your studio apartment eating two-day old pizza.

Same with video games. If you got all the positive feedback a video game gives you -- achievement points, xp, etc, etc -- if you got all that in real life from real people then that must mean you are really awesome at something people care about it.

Video games give us all Tiger Woods, Tom Brady, and Kobe levels of ass-kissing praise -- but without actually accomplishing anything.

That fucks with the human brain.

Celebrity gossip just tricks our minds into thinking we are close friends of the alpha dude and alpha chick. They are sharing their secrets with us, you only do that with close friends. Alphas are the ones in charge of food distribution. Really important to be friends with the tribe leaders if the hunt comes up short or winter is bad. Somebody's gonna starve -- but not you cause you are a secret confidant of tribe leader Brad Pitt and Beyonce.

Modern media is mostly a giant brain-hack, mind-fuck.

Well now you've ruined my week, Dick.
I've never really understood FaceBook, but guessing, and looking at it through the prism of the "hack" Flatbush Joe suggests: Maybe we all learned the Friend Game as children, as part of the normal socialization subroutine of human development. But when you get older -- and I just mean mid-20's older -- you find that you don't have to engage that learning very often.* You have a corps of friends already, and you don't really have to make new ones. (You do have to deal with colleagues and acquaintances but that's not the same as making friends; your boss demands you work with those people. It's not a "win" if your work-partner says "Good morning" to you.
So maybe FaceBook is a way of activating those Social Reward Centers that most people use less and less by the time they're 25.
* Note: No, I'm not saying "people don't make friends past 23." I just mean past that age, you're rarely put into a Sink or Swim Friend-Making Challenge as you were when you entered middle school. Those times were both exciting and terrifying, because it actually was a challenge, and there really were winners and losers in the Friend Game.
That competition aspect of Social Behavior tends be less important as one ages (and other competitions become more important).
So maybe we're still wired to do that and FaceBook gives us a manner of doing it that tends not exist in real life...? I mean here the friend-collecting aspect of it, not the Filling in Already-Made Friends on various comings and goings.

posted by Ace at
04:37 PM
|
Access Comments