ę Karnak the Great - ask anything thread [Purp]
|
Main
|
For Your Bidding Pleasure (Niedermeyer's Dead Horse) Ľ
April 06, 2013
The Remarkable Story of the USS San Francisco and the SUBSAFE Program
Eight years ago, USS San Francisco (SSN-711) ran full speed into a mountain more than 500 feet below the oceanís surface.

One sailor died.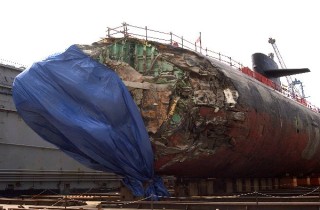 That sailor sadly died from head injuries. But the rest of the crew lived, and the boat rejoined the fleet in 2009. Because of a program initiated after the loss of the USS Thresher SSN-593 in 1963, this month, the tenth. Thresher imploded on a deep dive test after having had her reactor replaced.
The program was called SUBSAFE, and it's mission was to ensure a damaged USN submarine could take a hit, like running into an undersea mountain, and survive to bring its crew to the surface.
The Navy created an elaborate series of checks in the design, construction and maintenance of nuclear submarines to certify a submarine would be able to surface in the event of an emergency. Certification gets as specific as cataloguing the source of the alloy for every piece of equipment thatís SUBSAFE approved, according to the Navy. That means the lot number on a SUBSAFE valve can be traced back to the source.
The Thresher catastrophe was a wake up call, and the Navy, along with a bunch of smart engineers responded to make a dangerous job somewhat less dangerous.
Those who serve have a job that is not a nine-to-five. They train to fight to defend the nation, and that training isn't easy, and often isn't safe. Just because their not in harm's way from the enemy, they are still in harm's way.
Contrast this story with that of the Russian Kursk incident.
via @ExJon on twitter, who served on this boat, and also a nod to my dad, who served on 4 diesel electric boats during Korea.

posted by Dave In Texas at
03:46 PM
|
Access Comments