« Greg Gutfeld on Jim Carrey: "Coward"
|
Main
|
Early morning Doom - student loan writeoffs [Purp] »
March 25, 2013
Overnight Open Thread (3-25-2013)
Remembering Operation Linebacker II
CBS apologized this week for using the wreckage of a US B-52 shot down in Vietnam as a prop in its show "The Great Race" but most viewers probably didn't know how it got there, what it's significance was or why it mattered so much at the end of the Vietnam war.
And Spook86 at In From the Cold explains it for those who've forgotten or never knew.
When the North Vietnamese walked away from the Paris Peace Talks (yet again), President Nixon decided to force Hanoi's hand militarily.  He ordered his commanders to prepare a "maximum air effort" against the North.  Unlike earlier, incremental air power campaigns (such as Rolling Thunder), the new offensive, dubbed Linebacker II, would feature large numbers of sorties against a wide range of North Vietnamese targets from the onset.  And most importantly, the new campaign would send waves of B-52s over Hanoi, in the largest American bomber raids since World War II. 

The offensive began on December 18, 1972.  North Vietnam's Soviet-designed air defense network (built around the SA-2 surface-to-air missile system), offered massive resistance.  By some estimates, almost 2 SAMs were launched for every "Buff" sortie, meaning that North Vietnamese crews fired over 200 missiles during some of the nighttime raids.

But there were also concerns about potential losses; if too many Buffs went down over North Vietnam, SAC would have difficulty maintaining political support for its bomber force and B-52 losses were irreplaceable, since the Boeing assembly line had been shut down a decade earlier.

...The heaviest losses occurred in the early phases of the campaign; three B-52s were lost on the first night over Hanoi, and six more (4 "G" models and 2 "D" models) went down on the third night, forever known as "Black Thursday" in the B-52 community.  Overall, SAC lost 15 Buffs during Linebacker II, including the one now used as a memorial in North Vietnam.  A total of 33 B-52 crew members were killed, and an equal number were captured by the North Vietnamese.  Among the six men who flew on the B-52 whose wreckage now forms that memorial, only four survived.
But for possibly the first time the North Vietnamese leadership were afraid and felt they needed to do something to get Americans to stop the bombing.
But the bombers achieved their goals.  North Vietnam suddenly decided to finalize the Paris Peace Accords, wondering what that "madman" Nixon might do next.  Inside the Hanoi Hilton, hundreds of American POWs also noticed a change of heart.  Senator McCain (and others) recall seeing genuine fear on the faces of their guards, who had mocked and taunted their prisoners for years.  With the B-52s roaming over Hanoi, they too, were worried about what might be in the offing. Treatment of the POWs finally began to improve. 

On February 12, 1973, barely six weeks after the last B-52 sortie over North Vietnam, a U.S. C-141 landed in Hanoi to repatriate the first group of American prisoners.  Among the men on that flight was Navy Commander Everett Alvarez, the first pilot taken prisoner by North Vietnam in 1964, and Air Force Technical Sergeant James Cook, a B-52 gunner who suffered two broken legs, a broken back and fractures in his shoulder and arm during the bailout from his stricken aircraft, which was hit by three SA-2s.  When the C-141 landed in the Philippines, Cook saluted the American flag from his stretcher. 

The Homecoming flights continued for almost two months, until the last of 591 POWs were repatriated.
This was the fate of the men flying that particular B-52:
RR=POW Repatriated.
NR=Negotiated Remains Returned

Callsign: Rose 1, B52D
Aircraft: No. 56-0608
Date of Loss 12-19-72 Hanoi
Based: U-Tapao

Pilot: Capt Hal Wilson, Status: RR
Co-Pilot: Capt Charles Brown, Status: RR
R/Nav: Maj Fernando Alexander, Status: RR
Nav: Capt Richard Cooper, Status: NR
EWO: Capt Henry Barrows, Status: RR
Gunner: E6 Charlie Poole, Status: NR
And these are the four men who survived the ejection and captivity as POWs:
It's believed that Cooper and Poole survived the crash but died later in captivity.
Trayvon Martin's Family's Attorney Facing Perjury Charges?
Now that we know that his girlfriend lied under oath it appears that the family attorney, Ben Crump, also lied about his role in coaching her testimony.
Now it seems clear that Mr. Crump has been caught in an obvious lie, a lie under oath-perjury. It is possible that this is only the first.  It is further possible that truthful and complete testimony by Mr. Crump would unearth additional lies and the machinations of a racial grievance machine intent not only on convicting George and Shelly Zimmerman regardless of the lack of evidence against them, but on enriching the Scheme Team and its associates.

...He left himself an out by claiming he remembers nothing, but that's not likely to be convincing when he is confronted by his own voice coaching Dee Dee.  One can, however, expect him to take the Fifth.  Oh yes: the more trouble Mr. Crump finds himself in, the more fervently the race card will be played.
And why Zimmerman opted to skip his stand-your-ground hearing:
I postulated a few weeks back that Zimmerman attorney Mark O'Mara dropped the SYG hearing because he'd unearthed evidence that destroyed the prosecution's case and wanted Zimmerman exonerated in a court of law.
Was Esquire Duped by the Bin Laden Shooter?
I don't have enough info to judge the credibility of Brandon Webb's post at SOFREP but if true, it severely undermines the shooter's story.
One story coming out of Joint Special Operations Command is that the Esquire "shooter" isn't the shooter after all. To be clear, he wasn't the point man that put the well placed rounds into UBL's head that ended the terrorist leaders life. Sure he was there, and deserves credit but he wasn't the man who shot UBL, and ended his life. And this is an important fact that must be clarified.

The actual shooter at Naval Special Warfare Development Group (NSW DEVGRU or SEAL TEAM 6) has continued to maintain his professional integrity and has not come forward with the story, and most likely never will. Looks like Esquire and Bronstein are the ones who are really screwed, not their interviewee; our sources say he's off cashing large checks from unsuspecting donors who bought the Esquire pity piece.


Here are some interesting insider facts:
    - The "Shooter" was removed from his DEVGRU Squadron for talking about the operation openly after being warned to "can it'
    - He was encouraged by leadership to remain in the SEAL community to finish out his career and gain his full retirement benefits
    - Apparently against his concerns about personal security he has been very active on the public speaking circuit
The Downside of Universal Background Checks
In order for everyone  to undergo a background check when buying a gun, then background checks will have to open to anyone. I have to admit that this is something I didn't consider when I first heard about the proposal.
Currently access to the FBI's background check system is limited to licensed firearms dealers, who have an incentive not to abuse it lest they lose their license. If it's opened up to all prospective sellers of guns-that is, to everybody-what's to prevent someone from abusing it, say by requesting a background check on Greg Sargent, who presumably has no interest in acquiring a gun?

The system only gives a yes-or-no answer as to whether the putative buyer is eligible to own firearms under federal law. But if you're looking to dig up dirt on someone, a "no" answer on a firearms background check would give you a nice clump of it.
Horace Mann, Child Molestation, and Personality Cults
A long piece in this week's New Yorker by Marc Fisher about more alleged sexual abuse at The Horace Mann School, a prep school in the Bronx. Fisher's piece focuses on Robert Berman, an English teacher at the school for many years.
This piece didn't sound very interesting to me but once I started reading I ended up reading it all the way to end.
The Odds of a Perfect NCAA Bracket
Are pretty damn small even if you know something about basketball.
The first probability is based on a 50/50 split of correct picks, which is like using fair coin flips to pick winners. Bergen doesn't really go into how he calculated the second probability, but that smaller number comes up by bumping up the probability of picking the right team for each game. I think he's using an average probability of slightly less than 70% (based on simulation results from this old Wall Street Journal column).
So offering a million dollar prize for a perfect bracket run is a pretty safe bet for contest organizers.
These favorable conditions make insuring these prize offers a good business, as the Dallas company SCA Promotions has discovered. SCA, founded by 11-time world bridge champion Robert D. Hamman, has taken on the insurance risk for roughly 50 perfect-bracket prizes -- including a Sporting News offer of $1 million in 2001, according to vice president Chris Hamman, the founder's son. In the 12 years it has been doing so, SCA has never had to pay out a claim.
Federal Government: Your Laser Pointers Are Too Powerful Fun
So expect a crackdown or partial banning soon.
"Commercial grade green and red laser pointers emit energy far beyond what is safe, posing skin, eye and fire hazards. That was the conclusion of a National Institute of Standards and Technology study on the properties of handheld lasers. The study tested 122 of the devices and found that nearly 90% of green pointers and about 44% of red pointers tested were out of federal safety regulation compliance."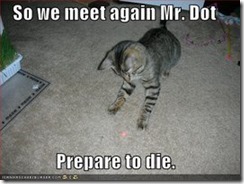 The Yahoo AoSHQ group. Bla bla bla.
And my twitter thang.
Tonight's post brought to you by Steve: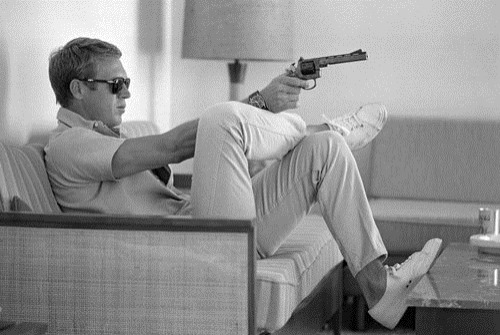 Notice: Posted by permission of AceCorp LLC. Please e-mail overnight open thread tips to maetenloch at gmail. Otherwise send tips to Ace.

posted by Maetenloch at
10:11 PM
|
Access Comments