« Pew Analysis: Joke Channel MSNBC is 85% Opinion, 15% Straight News
|
Main
|
Top Headline Comments 3-19-13 »
March 18, 2013
Overnight Open Thread (3-18-2013)
Math and Logic are Hard, Female Native-Americans Hardest Hit
Which is why MA Sen. Elizabeth 'Fauxcahontas' Warren wanted to know why the federal minimum wage isn't $22/hour. I'll leave it to the reader to identify the logic flaws embedded in her question.
Democrat Senator Elizabeth Warren during a hearing of the Senate Committee on Health, Education, Labor and Pensions last week asked why the current federal minimum wage rate is only $7.25 and not $22 an hour.

"If we started in 1960, and we said that, as productivity goes up - that is, as workers are producing more - then the minimum wage is going to go up the same," the Massachusetts senator said during the hearing.

"And, if that were the case, the minimum wage today would be about $22 an hour. So, my question is what happened to the other $14.75?" she asked University of Massachusetts professor of economics Arindrajit Dube.
Also hard: white man economics 101.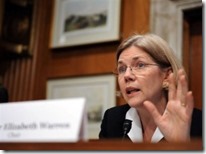 Instapundit: "They'll Be Coming For Hoarders and Wreckers Next"
If you have what the government wants and won't give it up, you're a hoarder. And if you're not on-board with the government's plans, you're a counter-revolutionary saboteur wrecker.
And now this: In Connecticut, a "Hoarder's Tax." "Rep. Betsy Ritter, a Waterford Democrat, not only has sponsored a "combined reporting" bill, but she has also proposed a hoarder's tax. This would place a levy on liquid assets - companies with a lot of money in the bank - and dedicate the proceeds to job creation programs."
And given the coming Great EU Bank Robbery in Cyprus be afraid when the Obama administration starts complaining about people and companies 'hoarding' money in bank accounts instead of 'investing' it in the economy.
Rand Paul advisor warns RNC: Getting Rid of Caucuses in 2016 Means "Nuclear War" With the Base
Eh. For one thing it's a Politico quote so who knows how reliable it is. And secondly I've never been a fan of caucuses anyway (no secret votes, too prone to chicanery, election laws don't apply, etc.). Remember Huckabee in 2008 and Santorum in 2012 - yeah thanks a lot Iowa caucus.
And even if it is true, this is mostly strategizing on Paul's part rather than pure principle. I'll let Allah explain:
Caucuses favor candidates with intensely committed followers, even if their overall base of support is small. The caucus process takes much longer than simple ballot voting does so casual voters stay away while passionate supporters show up. That means overall turnout is way lower than in a primary, which in turn means that a dark horse candidate who lacks money and name recognition can pull a huge upset by mobilizing his fans. That's how Huckabee won Iowa in 2008 and Santorum won in 2012, with Ron Paul a close third.
So I suspect this is Rand planning a run in 2016 and wanting to be able to count on Ron's crazy passionate supporters to give him a win in the caucuses. But the thing is that Rand has enough going for him that he may not even need the Ronulons to grab him a victory.
I'm impressed with Rand so far and I like him but before I can like-like him he's going to have to eventually choose between the views and tactics of his father's Paulbots and his own path.
Have some confidence in your own appeal, Rand.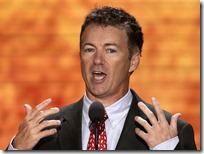 Adam Lanza Planned the Sandy Hook Massacre For Years
He was obsessed with mass murders and had compiled a massive spreadsheet of details of killings that measured 7' by 4'.
What investigators found was a chilling spreadsheet 7 feet long and 4 feet wide that required a special printer, a document that contained Lanza's obsessive, extensive research - in nine-point font - about mass murders of the past, and even attempted murders.

But it wasn't just a spreadsheet. It was a score sheet.

"We were told (Lanza) had around 500 people on this sheet," a law enforcement veteran told me Saturday night. "Names and the number of people killed and the weapons that were used, even the precise make and model of the weapons. It had to have taken years. It sounded like a doctoral thesis, that was the quality of the research."
And he wanted his name in the number one position. Plus it appears that his mother may have enabled his obsession with guns. How much she really knew about her son's mental state and planning we may never know.
"The fascination (Lanza) had with this subject matter, the complete and total concentration. There really was no other subject matter inside his head. Just this: Kill, kill, kill.

...The police in Connecticut believe that Lanza's mother, a gun lover herself, was an enabler of her son's increasing obsession with guns, that she was making straw purchases of guns for him all along, and ignoring the fact that he was getting more and more fixated on them.
Uh Oh: First Pop of the Coming Bubble Bath
This isn't the first time that a Chinese company has gone bankrupt but it is the first time that one has been allowed to go bankrupt publicly and stiff its bondholders. And it won't be the last - all those ghost cities won't pay for themselves.
For the first time, a mainland Chinese company has defaulted on its bonds. SunTech Power Holdings has been clinging on by its teeth but after failing to repay $541mm of notes due on March 15th - and following four consecutive quarters of losses through the first quarter of 2012 and since then having failed to report quarterly earnings - owed to Chinese domestic lenders, the firm is restructuring. ...This is highly unusual and perhaps is the beginning of a trend for Chinese firms. We already know the little discussed but gargantuan size of China's corporate bond market (which dwarves the US relative to GDP) as the mis-allocated credit tsunami of the last few years begins to hit its lending limit - just as Chinese corporate leverage is surging.
Also China Finally Doing Away with the One-Child Policy
China's demographics have been dramatically skewed by strict family planning. Last year, the working age population shrank for the first time in 50 years, a serious threat in an economy built on a huge pool of cheap labour.

The incoming Chinese leadership has already moved to dismantle the Family Planning Commission, which has enforced the one-child policy, sometimes brutally.

"We need to find a new family planning policy to fit with the times," said Huang Jiefu, a former vice minister at the Health ministry, after seeing the Family Planning Commission merged into the Health ministry.

"Where else in the world can you find a Family Planning bureau? It was quite appropriate to fold it into the ministry," he added.

Wang Feng, a population expert and director of the Brookings-Tsinghua Center for Public Policy in Beijing, told the Wall Street Journal that the government had begun the process of bringing the policy to an end.

Government officials have said the merger will not affect this year's family planning targets. But Mr Wang said the denials were "a measure to save face and a recognition that they can't announce all the change in one day".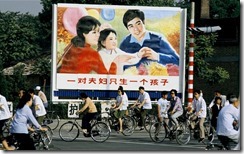 How Guys Will Really Use Google Glasses
Works for me. And don't trust that Siri - she's a blabber.
Sword Facts & Myths

All Medieval swords weighed at least 12 pounds - FALSE

Most Medieval swords weighed around 2.5 lbs - even long hand-and-a-half and two-handed swords weighed less than 4 lbs.

Medieval swords were not sharp - FALSE

Some surviving samples of Medieval swords are still sharp - many are razor-sharp.

All swords should balance within 2" of the guard - FALSE

A sword's balance should be determined by its function, not an arbitrary standard. Swords intended for cutting often balance 5 or 6 inches from the guard.

Swords were made to cut through armour - FALSE

Period armour was often work- and case-hardened and curved such that it is difficult to hit at a right angle. Late Medieval thrusting swords, even the ones with a reinforced point, were used to thrust into the gaps in armour, not through the plate.

Japanese swords are the sharpest and best swords ever made - FALSE

Japanese swords have many admirable qualities and were well-suited to their intended use, but they are not necessarily sharper or better than a properly designed and sharpened Medieval sword.
And our own Christopher Taylor points out that most of what we think we know about Medieval swords and sword-fighting is wrong:
And the weapons were much better than is generally understood as well. The katana is a very fine sword made of multiple layers of different kinds of metal to generate strength and flexibility, with a harder section at the blade to retain sharpness and a softer at the spine to allow the blade to bend. This results in a very sharp, very strong sword that does not break easily. The process is very difficult and time consuming, involving folding and pounding the weapon, using a cooling and heating process that greatly strengthens the metal and blends in various elements.

And researchers have discovered that's exactly what European blacksmiths did as well. The art was lost over the centuries as broadswords became obsolete and became the rapier and foil, which have an entirely different construction. But old swords, manuscripts, and information from the medieval period have revealed folded blades with the same concept: a softer central core and harder, sharper portions for the cutting edges. The reason we know so much about the Katana is that they were still being made and used as late as the 1800s, and even were used by Japanese officers in World War 2. Their technology and skills weren't lost in time, replaced by the gun.
...In other words, the medieval knight learned martial arts, just not the eastern kind. And since that became obsolete due to gunpowder, people stopped teaching it and it faded away. The west tends to do that: we abandon what doesn't work anymore and don't whine about lost culture, we pick up what's better. That's why the Japanese were still fighting with swords in the 1800s and the west had rifles and steam ships. Eastern culture tends to be one of deep reverence for tradition and strong opposition to change and the new.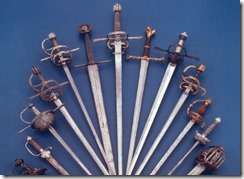 The Yahoo AoSHQ group. Bla bla bla.
And my twitter thang.
Tonight's post brought to you by Friedmanesque one-stop shopping: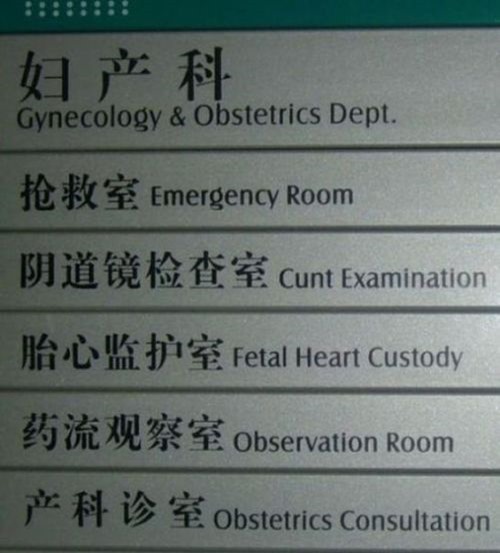 Notice: Posted by permission of AceCorp LLC. Please e-mail overnight open thread tips to maetenloch at gmail. Otherwise send tips to Ace.

posted by Maetenloch at
09:53 PM
|
Access Comments