« SMOD Update: Finding Comet PANSTARRS
|
Main
|
Top Headline Comments 3-12-13 »
March 11, 2013
Overnight Open Thread (3-11-2013) – Asian Paradise Edition
It occurred to me as the fiscal quarter draws to a close that I've never talked about Malaysia on the ONT.
Which is a shame because it truly is a wonderful country - blessed with beautiful landscapes, friendly people and abundant resources, as well an enlightened moderate Muslim government.
With borders stretching from Thailand all the way down to Indonesia its 127,000 sq. miles encompass both rain forest-covered mountains and beautiful pristine beaches. Lifestyle-wise it offers the best of relaxed tropical living along with the fast paced bustle of the city life and rapidly expanding industry in the Kuala Lumpur and Johor Bahru regions.
And with unrestrictive labor laws, flexible regulation and a GDP growing an average 6.5% for almost 50 years it's quickly become the go-to location for business investment in Asia.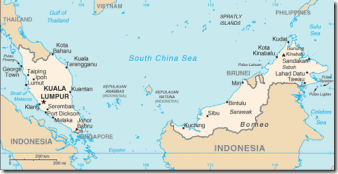 Culturally Malaysia is a boiling melting-pot of races and religions where most ethnic groups live together in peace and harmony under a modern sharia-influenced legal system. And thanks to this ethnic diversity it enjoys an amazing array of art and crafts from traditional batik to modern textiles and batik as well as hundreds of colorful festivals where the locals enthusiastically pray and recite verses.
For foodies it's a gastronomical paradise with cuisine influenced by the Arab, Malay, Chinese, Indian, Thai, Javanese, and Somalian cultures. And socially the Malaysians are a very relaxed and friendly people and open to visitors of most major religions.
While officially a Muslim state Malaysia seems to have found a unique middle way in being true to Islam while guaranteeing some rights to religious minorities - and the Malaysian national motto 'Bersekutu Bertambah Mutu' ("Unity Is Strength" ) reflects these values. The esteemed Prime Minister Najib Alibaba Razak explains their success this way:
"We have always taken the position that Islam is an integral part of public policy in Malaysia. By doing so, we have taken the wind from the sails of the extremists. There is no contradiction between being moderate and being Muslim,"

..."Being moderate, taking the middle path, is fundamental to Islam. It is one of the pillars of Islam. Muslims have rights, but it's also enshrined in the teachings of Islam to safeguard non-Muslims in your midst. It's wrong for Muslims to even be unkind to non-Muslims. We would no more harm a non-believer than kill a fly without cause."
With beaches, culture, a growing economy, and a harmonious, moderate Islamic society Malaysia truly is the the jewel of Asia.
And with the monsoon rains almost over why not book your journey to Malaysia now!
What Do You Think About Obama Pardoning the Sequester?
And sending it to Portugal. The LIVs weigh in on this recent controversial decision.
North Korea Getting All Frisky - What's the Deal?
They've declared the 1953 ceasefire invalidated and cut the direct hot line to Seoul. And then you have this:
North Korea has put many combat units on alert and mobile ballistic missiles have been seen being moved to firing positions. This is apparently yet another response to the new sanctions and China becoming openly hostile to the North Korean leadership. These latest moves are apparently in preparation for the end of scheduled South Korea-U.S. military training activities (on April 30 th ) that North Korea has always protested as "provocative" and this year has declared as a cause for a war. This annual training exercise began March 1 st . These joint exercises have been going on for decades, but North Korea insists they are rehearsals for an invasion of North Korea. South Korea has said it would not just retaliate if North Korea fired on them again (as has happened many times before, especially since 2010). This time South Korea says it will hit back a lot harder.
Plus even China is getting fed up with Norks.
While China has officially joined the many nations backing sanctions against North Korea, it has not cut off trade (China is North Korea's largest, by far, trading partner) or aid. ...Inside China, public opinion, despite decades of pro-North Korea propaganda, has turned against North Korea. More ominously (for North Korea), censors and state controlled media are not hiding this anger. When the Chinese want to make a big policy change, they usually make a big show of popular support for the shift.
And why would the North Koreans do all this? Well Galrahn at Information Dissemination says it's their way of putting the unpredictability back into North Korean unpredictability. And a way to stealthily declare war while still retaining deniability. 
My sense is North Korea is looking for a small skirmish, some kind of clash that raises tension on the security situation, but only a limited battle not a full war. After 2010 it is unclear if they can maintain escalation control though, which may explain why they are message traffic heavy to the locals. The key here is that North Korea wants to change the dynamics of the security situation for the purposes of negotiation, because apparently they have calculated the security situation is too comfortable for everyone else for security to be used in negotiation as a concession. If that is truly the case, then if a skirmish or something breaks out North Korea would need to get hit harder than they hit the South in order to keep the security situation from being a concession in negotiation, but that isn't easy to do unless we feel you have control over escalation and deescalation of the situation.

...I do not believe North Korea is looking for a major war, but I do think the North is looking for an incident. From their point of view, they have honored every legal requirement regarding any direct attack against any target beginning March 11, 2013 is not some random act of violence. That is what really bothers me, basically North Korea has positioned their nation to be legally at war on purpose, but the specific purpose is yet to be revealed.
Oh and guess what - we have an new inexperienced retard-American Secretary of Defense, no carriers in the Pacific, and our top Admiral says climate change is the real threat in the area. Good times, good times.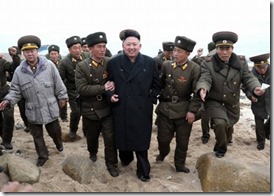 Good Swordsmen Are Hard to Find
And that may drive Saudi Arabia to switch to firing squads.
A joint Saudi committee composed of representatives of the ministries of interior, justice and health is mulling the replacement of beheading with firing squads for capital sentences due to shortages in government swordsmen, Saudi daily Al-Youm reported on Sunday.

..."This solution seems practical, especially in light of shortages in official swordsmen or their belated arrival to execution yards in some incidents; the aim is to avoid interruption of the regularly-taken security arrangements," the committee said in a statement.
News You Can Use: Zombie Deterring Perfume
Cause if you stop smelling like sweet, sweet delicious living brains, the Z's will stop being interested.
The perfume works by masking your natural human scent - that "un-undeadness," if you will - with a veil of deep earthy notes. like dried leaves, mushrooms, mildew and moss. Mmmm. And of course, there are different versions for Him and for Her.

...Demeter also makes fragrances that smell like Play-Doh, Clean Windows, Bourbon, and Holy Water. No scent is off-limits, so the smell of barely-dead bodies shouldn't seem all that surprising.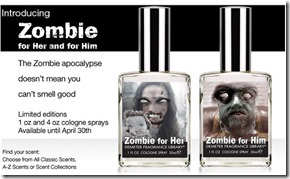 Pixar's 22 Rules of Storytelling
1. You admire a character for trying more than for their successes.

2. You gotta keep in mind what's interesting to you as an audience, not what's fun to do as a writer. They can be very different.

3. Trying for theme is important, but you won't see what the story is actually about til you're at the end of it. Now rewrite.

4. Once upon a time there was ___. Every day, ___. One day ___. Because of that, ___. Because of that, ___. Until finally ___.

...

9. When you're stuck, make a list of what WOULDN'T happen next. Lots of times the material to get you unstuck will show up.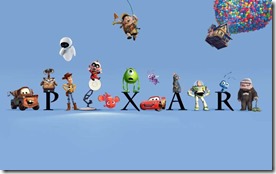 Well PSA has some in stock as of this moment - 50rds for $14.99.
Ammo is getting hard to find at any price. I stopped in a local range last week and they had zero .45 ammo of any kind. And no pistol primers either. And no guarantee of getting any more in the next month or two. The guy at the counter advised rationing any .45 shooting until things loosen up.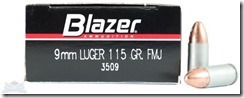 Well now's your chance to lease a Porsche 911 for two years for only $1100/month. Which is cheap when you consider that a 911's sticker price is almost $100K.
And since I've recently come into some financial good fortune, I'm quite tempted.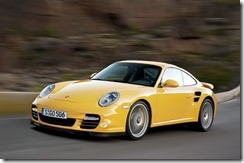 The Yahoo AoSHQ group. Bla bla bla.
And my twitter thang.
Tonight's post brought to you by two years ago today: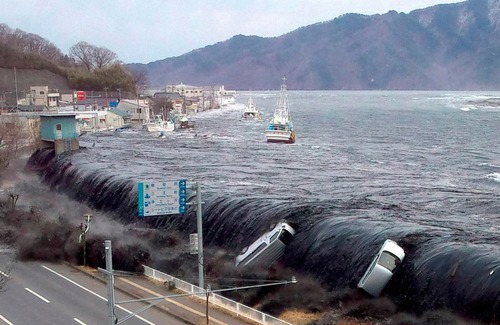 Notice: Posted by permission of AceCorp LLC. Please e-mail overnight open thread tips to maetenloch at gmail. Otherwise send tips to Ace.

posted by Maetenloch at
10:23 PM
|
Access Comments