« Yannow.... That Hilary Mantel Piece is Really Not an Attack on Kate Middleton
|
Main
|
Top Headline Comments 2-20-13 »
February 19, 2013
Overnight Open Thread (2-19-2013)
Great Moments in Failed Predictions
If I had even a Canadian nickel for every time someone has predicted the imminent running out of gas/oil/air/food/water and/or the end of mankind/flora/fauna/Earth, well let's just say there would a new drug-lord style home theater in the lighthouse and I could finally hire some professionals to deliver justice to my enemies.
Here are some classics to get warmed up:
In 1865, Stanley Jevons (one of the most recognized 19th century economists) predicted that England would run out of coal by 1900, and that England's factories would grind to a standstill.
In 1939 the US Department of the Interior said that American oil supplies would last only another 13 years.
In 1949 the Secretary of the Interior announced that the end of US oil was in sight.
And some more recent insanely wrong predictions:
Claim: "[By] 1995, the greenhouse effect would be desolating the heartlands of North America and Eurasia with horrific drought, causing crop failures and food riots . [By 1996] The Platte River of Nebraska would be dry, while a continent-wide black blizzard of prairie topsoil will stop traffic on interstates, strip paint from houses and shut down computers." Michel Oppenheimer and Robert H. Boyle, Dead Heat, St. Martin's Press, 1990.
Claim Jan. 1970: "By 1985, air pollution will have reduced the amount of sunlight reaching earth by one half." Life Magazine, January 1970. Life Magazine also noted that some people disagree, "but scientists have solid experimental and historical evidence to support each of the predictions."
Data: Air quality has actually improved since 1970. Studies find that sunlight reaching the Earth fell by somewhere between 3 and 5 percent over the period in question.
And then you have the modern master of disastrously wrong disaster predictions: Dr. Paul Ehrlich.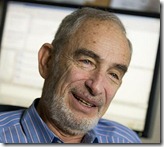 Pretty much everything he ever wrote or said in the last 40+ years turns out to have been wrong. His failed predictions are simply too numerous to even begin to give a proper sampling of them but these should give you a taste:
"In the 1970s . hundreds of millions are going to starve to death," and by the 1980s most of the world's important resources would be depleted. He forecast that 65 million Americans would die of starvation between 1980-1989 and that by 1999, the US population would decline to 22.6 million. The problems in the US would be relatively minor compared to those in the rest of the world. (Ehrlich, Paul R. The Population Bomb).
Claim 1970: "In ten years all important animal life in the sea will be extinct. Large areas of coastline will have to be evacuated because of the stench of dead fish." Paul Ehrlich, speech during Earth Day, 1970.
And if you're wondering what his solution to all this was? Here's the short version: world government, Untermenschen reduction.
Now you might think by the 80s he'd have been chastened by his dismal track record but no - he was doubling-down and moving on to ever greater fame and publicity. Because acid rain/CFCs/global warmingchange!!
Oh and he's still alive and still a dick:

Remember these predictions were all made by scientists, experts and top. men. in their field. Sadly these men are still respected and taken seriously, there is no dictator-style theater in Casa Maetenloch, and my enemies can sleep peacefully in their beds. :-(
You can fly anywhere that's legal and the FAA allows...unless a policeman doesn't like it.
On July 26, 2012, Mr. Fleming [a 70 year old glider pilot] was out for a leisurely flight when, late in the afternoon, the tranquility of the day was suddenly broken by a radio call from local enforcement officials barking orders that he land his glider immediately. "The presumed offense," the magazine Flying reports in a story called "Pilot Arrested, Charged for Doing Nothing," "was his briefly flying over a nuclear power plant at approximately 1,000 feet AGL [i.e., above ground level] while looking for lift."

According to Flying, "Local law enforcement cannot, for the record, order any pilot of an airplane in flight to do anything." What the magazine meant, alas, is that local law enforcement agencies may not so order a pilot.  That they can do was demonstrated by the unhappy case of Mr. Fleming on that otherwise pleasant summer say.

Mr. Fleming landed. His plane was instantly surrounded by 17 police vehicles. He was "detained on the spot, brought to jail, held overnight on a charge of 'breach of peace,' and not released until he was bailed out late the next day."

....The sheriff's office claimed that Mr. Fleming had violated a "no fly" zone. The problem, as Flying points out, is "there is no such kind of zone, no such regulation and no such offense."
Milton Friedman: The Minimum Wage is the Most 'Anti-Negro Law in the Land'
As Andy has pointed out the proposed new minimum wage would say that everyone's hour of labor is worth at least $9. But clearly that's not the case and people generally don't like to overpay for things. So they don't and they won't.
Why Cyclists Enrage Car Drivers
Well the author gets the cause mostly right (or at least why *I* hate cyclists) but not the reasons behind it.
I've got a theory, of course. It's not because cyclists are annoying. It isn't even because we have a selective memory for that one stand-out annoying cyclist over the hundreds of boring, non-annoying ones (although that probably is a factor). No, my theory is that motorists hate cyclists because they offend the moral order.
Well my main beef is that cyclists don't follow car rules or pedestrian rules and quite often not even bicycle rules. They want to be treated like cars but then they'll suddenly become not-cars when it's convenient. So basically cyclists are slow, fragile unpredictable vehicles that always have the right of way. And that's guaranteed to bring teh rage in nearly anyone. Oh and then you have the sanctimony.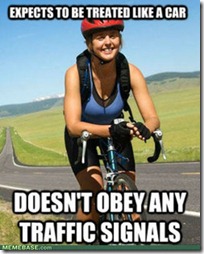 Conservative Counter-Culture Sites
Tired of relying on web sites that are run and owned by leftists that hate you? Well here's your chance to put your clicks where your comments are.
Yesterday, I directed your attention to Ritely, which aims to be the conservative answer to Reddit.  Ritely is easy to use:  posting articles takes seconds and it's got a clear format for finding other people's posted articles.  Today, I get to tell you about Helen's Page, a conservative information clearinghouse that Glenn Reynold's wife started.  It too has an easy interface and straightforward format.
More Pickpocketing Magic From Apollo Robbins
Okay now check your pockets. Just to be sure.
Would make a great video game enemy. But we must never let it and Big Dog mate.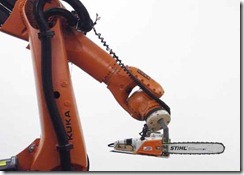 Best Tooth Extraction Technique Ever
Well apart from using a long bow I guess.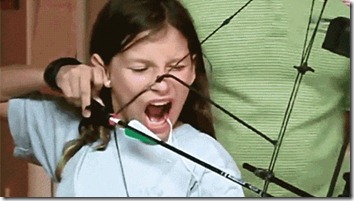 Teh Tweet!
Tonight's post brought to you by Marines firing at Fuji: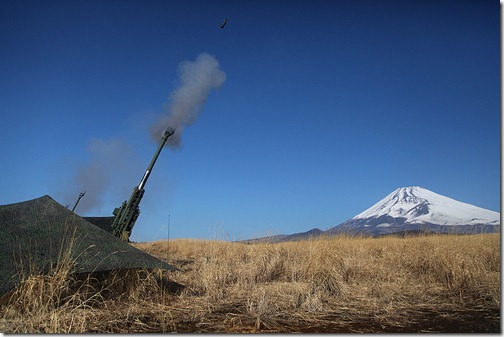 Notice: Posted by permission of AceCorp LLC. Please e-mail overnight open thread tips to maetenloch at gmail. Otherwise send tips to Ace.

posted by Maetenloch at
09:38 PM
|
Access Comments