« Sunday Morning Open Thread
|
Main
|
Weekend Home Improvement...its baaaack [Purp] »
February 17, 2013
Sunday Morning Book Thread 02-17-2013: In Praise of Fat Books [OregonMuse]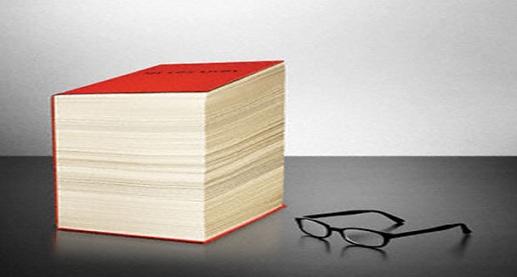 "Does this red binder make my ass look fat?"
Good morning morons and moronettes, and welcome the overweight, morbidly obese, and positively corpulent Sunday Morning Book Thread.

The Fattest of the Fat
When I was in high school, I had a weekend job as a radio dispatcher for the local police department in the small town where I lived. As you can imagine in such a small town with not a lot going on, the job entailed lots of sitting around and downtime. So I usually brought in books to read to pass the time, and that habit, plus my generally nerdy nature was a source of amusement to everyone else. So one Christmas season, we had one of those anonymous gift exchanges, and the officer who drew my name told me afterwards he no problem picking out a gift for me. He simply went to a downtown bookstore and picked out the biggest, fattest book he could find. As it turned out, it happened to be The Source by James Michener. And it was, indeed, a very fat book, especially the paperback edition that he got for me.
But the joke was on him. He admitted it was strictly a gag gift and never intended that I would actually read it. But I did read it, and you know what, it's actually a pretty good read. The story concerns an archeological dig at a site in modern-day Israel, and in every layer, they find a period artifact that Michener uses to write a story. Totally fictitious, of course, but in Michener's usual compulsively-readable style.
Another fat book, one which that has left a lasting impression on me (heh), is the massive Gulag Archipelago by Aleksandr Solzhenitsyn. I first read it in 1985, the which was the first summer after I had gotten married, and I was so profoundly affected by what I was reading that it became my holy duty, and that is the only way I can describe it, to read all of it, all three volumes. I felt I owed it to the man who suffered so much to bring it to the world's attention. It was not a happy read, it was not fun, at least not in the usual sense of the word, but I was happy to do it. I still remember Solzhenitsyn's closing sentence on the last page of Volume III, "There is no law."
Reading all three volumes took me the rest of the summer, but I felt compelled to do so, and the more I read, the stronger the sense of obligation grew.
Unfortunately, there is no e-book or Kindle edition of this great work.
So, what fat books have you guys read and enjoyed?
Morons What Write Books
Semi-frequent moron commenter 'The Regular Guy' has a blog. I know, who cares, right? My pet sea slug has a blog. Heck, even AllenG has a blog (supposedly). But never mind that, what's important here is that this guy, The Regular Guy, has recently come out with his first novel. It's available both in paperback and on Kindle. Here is how Amazon describes it:
It is the winter of 1939. The Nazis and Soviets have invaded, conquered and partitioned Poland. Ed Rybowski, 21 year-old, Brooklyn-born Polish-American Jew, is wracked with guilt as he studies, safely, at Princeton among the wealthy sons of the American elite. To take his mind off the looming war, his only friend, Billy Randolph, the radical son of Virginia's junior Senator, takes "Saint Ed" on a road trip, first to Manhattan and Harlem night spots, then to Mad River, Vermont for skiing. Along the way, Rybowski discovers the dark secrets of his father's past concealed in a box of letters stolen from his mother's New York apartment, and Randolph reveals his own dark secret that could threaten his family's political dynasty.

Recommendations From Morons
Me, I'm recommending moron Oldsailor's Poet's first book, Amy Lynn, which has been mentioned on previous threads, but I just started reading it a few days ago. It's a novel about character, about a farm girl who is slowly discovering who she is, amidst all the competing influences in her life, in the wake of the untimely death of her brother. I like reading this book so much that I find I have to ration out the pages, otherwise, I'll just sit there and gluttonously read and read, like Michael Moore in front of a plate of chile-cheese fries, until there's nothing left to read.
I haven't finished it yet, but from what I've read so far, I'd give it "C+" for writing, "B+" for story, and "A-" for overall enjoyability. This is a good first effort, and OSP needs to be encouraged to write more.
___________

So that's all for this week. As always, book thread tips, suggestions, rumors, and insults may be sent to OregonMuse, Proprietor, AoSHQ Book Thread, at aoshqbookthread@gmail.com.
So what have you all been reading this week? Hopefully something good. because life is too short to read lousy books.


posted by Open Blogger at
10:57 AM
|
Access Comments