« Dr. Ben Carson's Getting Buzz
|
Main
|
Early morning ponder: Phone "safety" [Purp] »
February 11, 2013
Overnight Open Thread (2-11-2013)
How Long Does It Take To Get a Building Permit?
One of Adam Carolla's constant complaints is how regulated everything in society is in general and in particular how long and complex the city of Los Angeles has made doing the simplest of (legal) construction projects. Depending on where you live adding a pool to an existing house on flat stable land can take up to a year and cost $100K+ just for the permits and studies. If it's on a sloped lot... well you better be rich and have plenty of free time - although according to Adam even Jimmy Kimmel Joel McHale balked when he found what a new pool would cost him.
Well it turns out that lots of cities have decided to effectively stamp out any new (legal) building.
Here's a heat map created by Prof. Stephen Oliner of UCLA/AEI showing the average time to complete the planning process for new construction projects. As you can see depending on which county you happen to be in it can take up to 10x times longer. Basically any county in dark red doesn't truly want people to build anything new and will grind them down with process until they give up - all the while demanding federal and state help in bringing new jobs to the area.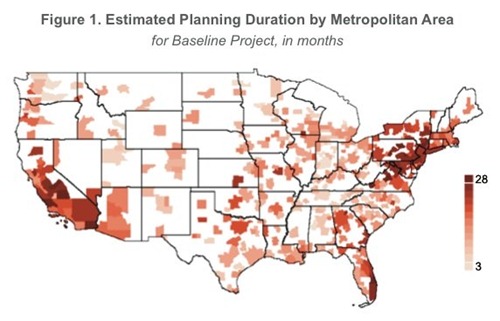 Also: Meet Your New and Improved 3-D Printable AR-15 Magazine
The 3-D printing gunsmiths at Defense Distributed are about to release blueprints for an upgraded magazine that won't degrade even after you fire hundreds of rounds.

...In recent tests at a gun range near Austin, Texas, Defense Distributed fired a total of 342 rounds using the magazine with no issues, according to the group's founder, Cody Wilson. The group fired 227 of those rounds using full automatic fire, while swapping out the barrels on the rifle to keep them cool. The group also uploaded a promotional video, seen above, demonstrating a portion of the test.
And of course YouTube promptly pulled the video down although it seems to be back up now.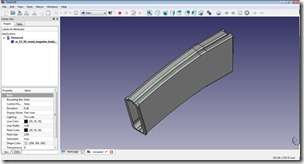 Also Geico and Intuit Hate Guns, Gun Businesses. Apparently Time-Warner too.
Oh Those Mean Nasty Republicans With Their Hateful Rhetoric
Yep just full of nasty hate speak and always lowering the country's politics into the muck.
Oh and by the way here is then Speaker of the House Tip O'Neil talking about President Reagan:
"It's sinful that this man is president of the United States." "The evil is in the White House at the present time. And that evil is a man who has no care and no concern for the working class of America and the future generations of America, and who likes to ride a horse. He's cold. He's mean. He's got ice water for blood."
Sigh. Why can't we have some of that Republican hate-speech like in the old days?
Fran Tarkenton: Mickelson Was Right - Taxes Kill Jobs
I guess he's old enough and rich enough now not to be intimidated by the Punish the Rich crowd:
Pro golfer Phil Mickelson has gotten a lot of flak for his recent comments about threatening to make "drastic changes" in his life due to state and federal tax increases. Never mind that he later backed off, saying he should have kept hi thoughts to himself and apologized to those he "upset or insulted."

Mickelson was telling the truth. If there's anything that should upset or insult Americans, it's just how much of their money the government takes. Mickelson estimates that more than 60% of his earnings are snatched in federal and state taxes (he lives in California). Should a private citizen, no matter how successful, really owe the government more than half of what he or she makes? Intuitively, this cannot make sense to anyone who believes in the principles of hard work and personal responsibility.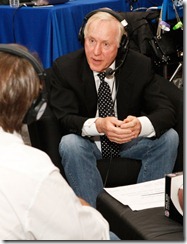 Our Best and Brightest: Hagel Got Money from 'Friends of Hamas', CIA Nominee Brennan is a Convert to Islam
Senate sources told Breitbart News exclusively that they have been informed that one of the reasons that President Barack Obama's nominee for Secretary of Defense, Chuck Hagel, has not turned over requested documents on his sources of foreign funding is that one of the names listed is a group purportedly called "Friends of Hamas.
Yesterday, a former U.S. Marine and FBI agent confirmed [that] John Brennan did convert to Islam... "Mr. Brennan did convert to Islam when he served in an official capacity on behalf of the United States in Saudi Arabia."
So what quality do the Dope and the Convert share? They were both hand-chosen by Obama.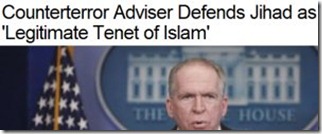 The Blaze: Rise of the Next Conservative Media Giant?
Jonathon Last who's currently on a book tour is quite impressed with what Glenn Beck has created:
I'm fascinated by what Glenn Beck is doing with The Blaze as an internet TV network and it's incomprehensible why media reporters (and business reporters) aren't all over this story. Beck took a cable TV following, ported it out of an established network, and ushered into his own new network, which is not just an internet TV channel, but a pay internet TV channel. How is this not the most interesting, and potentially disruptive, media experiment since the advent of Fox News Channel? And yet when you look around the mainstream press . . . crickets.

...I went on The Blaze's Real News last night and came away even more impressed with the operation. What they're doing isn't an alt-version of Fox. It's actually more like what PBS might be in an alt-universe where it had created a hit newscast for younger, conservative viewers. It's long-form broadcast. It's high-energy, but not shout-y. And it's really, really smart.
Well Last isn't normally one to gush like a fanboy so I'm officially intrigued.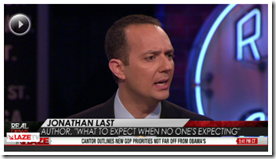 Father Guido Sarducci's Five Minute University
I had the full version of this routine on tape as a kid and even decades later I can still pass the Five Minute University exam. Of course today Dennis Prager actually does have a 5 Minute University which attempts to distill the best of Western Civilization's key ideas into five minute videos.
Also check out Fr. Sarducci's the secret of life here. (Hint: Vita est Lavorum)
Antlers: The Hot New Bridal Accessory?
This listing is for a bridal mini hat by Fine & Fleurie featuring three handmade silk habotai flowers and a set of handmade sculpted antlers. Each flower is centered with ivory swarovski pearls and peeking out from behind the flowers are handsewn rhinestone leaves. Chocolate brown ribbon ties make for a perfect fit and and elastic band provides additional stability. This is a great piece for a fearless, whimsical bride.
And just $325 . I mocked but then it occurred to me that a) she looks good in antlers, b) brides have probably been wearing animal-based head thingies far longer than veils or funny hats, and c) it'd actually be kinda cool to have some antlers.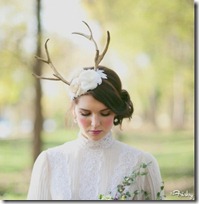 The Yahoo AoSHQ group. Bla bla bla.
And my twitter thang.
Tonight's post brought to you by modern nanny states: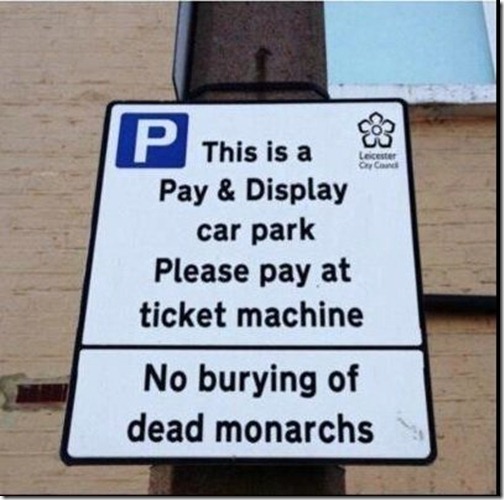 Notice: Posted by permission of AceCorp LLC. Please e-mail overnight open thread tips to maetenloch at gmail. Otherwise send tips to Ace.

posted by Maetenloch at
09:47 PM
|
Access Comments