« Sunday Morning Open Thread
|
Main
|
Gun Thread (2-10-2013) »
February 10, 2013
Sunday Morning Book Thread 02-10-2013: February Is Black History Month [OregonMuse]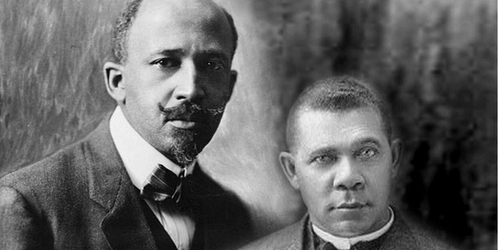 Good morning morons and moronettes, and welcome the Sunday Morning Book Thread.
On last week's book thread, what with the Africa theme and all, I should have mentioned the novels of The British author H. Rider Haggard. He wrote a crapload of adventure novels, the most well-known are probably King Solomon's Mines, She, and Allan Quartermain. Pretty much all of Haggard's novels were set in Africa, a dark and mysterious, yet exotically attractive locale in the Victorian English mind. They're available for free on Gutenberg or really cheap on Kindle.
I first found out about Haggard through no less a writer than C.S. Lewis, who mentioned him in his essay 'On Stories', specifically, how the Hollywood movie version of King Solomon's Mines ruins everything Lewis enjoyed about the ending of the book.
That essay by Lewis, by the way, is a good one to read, particularly for writers.
But getting back to this morning's topic...

Two Views
Booker T. Washington and W.E.B. Du Bois were two leaders of the early, post-slavery-era black civil rights movement. I've selected them because they each represent two different philosophies of how African-Americans should best recover from the injustices imposed on them by slavery and racism.
Here is Wikipedia's description of Washington's approach:
Washington advocated a "go slow" approach to avoid a harsh white backlash.[16] The effect was that many youths in the South had to accept sacrifices of potential political power, civil rights and higher education.[17] His belief was that African-Americans should "concentrate all their energies on industrial education, and accumulation of wealth, and the conciliation of the South." [18] Washington valued the "industrial" education, as it provided critical skills for the jobs then available to the majority of African-Americans at the time, as most lived in the South, which was overwhelmingly rural and agricultural. He thought these skills that would lay the foundation for the creation of stability that the African-American community required in order to move forward. He believed that in the long term "blacks would eventually gain full participation in society by showing themselves to be responsible, reliable American citizens." His approach advocated for an initial step toward equal rights, rather than full equality under the law. It would be this step that would provide the economic power to back up their demands for equality in the future.[19]
In contrast, Du Bois
...insisted on full civil rights and increased political representation, which he believed would be brought about by the African-American intellectual elite. He referred to this group as the talented tenth and believed that African Americans needed the chances for advanced education to develop its leadership.
[He] wanted blacks to have the same "classical" liberal arts education as upscale whites did, along with voting rights and civic equality. He believed that an elite he called the Talented Tenth would advance to lead the race to a wider variety of occupations
Naturally, these two views resulted in two different agendas, and they butted heads:
Washington's 1895 Atlanta Exposition address was viewed as a "revolutionary moment"[16] by both African-Americans and whites across the country. Then Du Bois supported him, but they grew apart as Du Bois sought more action to remedy disenfranchisement and lower education. After their falling out, Du Bois and his supporters referred to Washington's speech as the "Atlanta Compromise" to express their criticism that Washington was too accommodating to white interests.
I must say I'm not a big fan of Du Bois' "talented tenth" idea, which to me sounds elitist, and too much like the "revolutionary vanguard" that Vladimir Lenin said would lead us all into the glorious communist paradise. Not that Du Bois was a out-and-out commie, but as time went on, he liked to hang out more and more with the third-world "non-aligned" (i.e. anti-U.S) crowd and like Jimmy Carter, I don't think he ever met a socialist or a third world thug dictator he didn't like.
Also, from an earlier thread, anyone who speaks of the necessity of "elites" or "central planning" always views himself as being one of the elite planners. This alone is reason enough to view any and all such pronouncements with extreme suspicion.
I think the difference in the background of these two leaders is interesting as well. Washington
was born into slavery to Jane, an enslaved woman, and a white father. His father was a nearby planter, in a rural area of the southwestern Virginia Piedmont. After emancipation, his mother moved the family to rejoin her husband in West Virginia; there Washington worked in a variety of manual labor jobs before making his way to Hampton Roads seeking an education. He worked his way through Hampton Normal and Agricultural Institute (now Hampton University) and attended college at Wayland Seminary (now Virginia Union University)
Du Bois, however,
was born in western Massachusetts...grew up in a tolerant community and experienced little racism as a child. After graduating from Harvard, where he was the first African American to earn a doctorate, he became a professor of history, sociology and economics at Atlanta University. Du Bois was one of the co-founders of the National Association for the Advancement of Colored People (NAACP) in 1909.
Ironic that the one who experienced slavery first hand was the one advocating the more conciliatory approach.
Also, it looks like there was this "blue collar" v. "white collar" thing going on here between the two.
These two men are still with us today. The spiritual descendents of W.E.B. Du Bois, who seem to hold the dominant position, are Jesse Jackson, Al Sharpton, Jeremiah Wright, etc. Booker T. Washington's descendents are represented by men such as Walter E. Williams, Thomas Sowell, Herman Cain, and lately, Dr. Benjamin Carter Carson.
I'm not sure where I would put Martin Luther King, Jr. Probably with the Du Bois group.
Washington and Du Bois each wrote a number of books. Du Bois' best known work is The Souls of Black Folk (1905). Washington wrote his famous autobiography, Up From Slavery (1901)
By the way, any of you clowns who makes the "I especially liked Booker T. Washington when he was with his band, the MGs" joke will be summarily consigned to the barrel for the duration.

Morons What Write Books
Moron commenter zimreal has written his first book, a historical investigation concerning the formation of Islam, House of War: Mecca, the Qur'an, and the Propaganda of 675-695 Amazon says
The Islamic second civil war raged across the Near East from 682 until 692. It was the formative event in the religion's history. Islam before the war is best described as a contract between the Arab amirs and their subjects. The war tested that model to its limit. The combatants' points of contention included who was to lead the amirate, who could properly call himself a Muslim, and where it was that God had established His House. As they fought, the dueling sides made use of a new weapon, that their Lord had bequeathed to them – the Qur'an.

Recommendations From Morons
Tom Francis emails to recommend The Devil's In The Cows, a book of "flash fiction" from Sippican Cottage:
Sippican Cottage offers 37 sly vignettes, with all the life you can handle in every paragraph. His method: choose a random picture from the Library of Congress and then infuse it with all the warmth and pathos his imagination and heart can muster.
___________

So that's all for this week. As always, book thread tips, suggestions, rumors, and insults may be sent to OregonMuse, Proprietor, AoSHQ Book Thread, at aoshqbookthread@gmail.com.
So what have you all been reading this week? Hopefully something good. because life is too short to read lousy books.

posted by Open Blogger at
10:55 AM
|
Access Comments