« SPLC "Hate Crimes List"... Fails to Include FRC Shooting
|
Main
|
Top Headline Comments 2-8-13 »
February 07, 2013
Overnight Open Thread (2-7-2013)
Red Letter Media's Review of Revenge of the Sith
Okay this is kinda old but I happened to watch it again last weekend while trying to explain to Mrs. Maetenloch just how awful the Star Wars prequels were and why. (Lucky for me she indulges my little rants and feigns interest remarkably well)
Actually of all the reviews this might be the most insightful and educational one - as well as the most poignant when Plinkett considers what might have been. Here he analyzes RotS and the entire story arc in the movies and points out where they went wrong (and right). He even gives Lucas credit for avoiding some of the more tempting mistakes.
Some of the more interesting points from the review for the ADD types: The huge fundamental logic gaps in the story that got worse as the series progressed, the fact that Anakin becoming Darth Vader just isn't all that interesting, how using blue screen in every scene ultimately makes it static and boring. Also the parallels of Anakin's story and Citizen Kane (and Lucas and Charles Foster Kane) were something new to me (must have taken a bathroom break during the original viewing.)
It's particularly telling when he shows similar scenes from the original Star Wars and the prequels - in nearly every aspect except for special effects the original is better. And even the new special effects aren't necessarily an improvement: At one point Plinkett replaces the movie with a scene from a Star Wars video game and the sad part is that you don't even notice for a while. It's all just one giant video game with the about same emotional impact as a gaming session.
Guns Drove Nazis To Kill Says Tony Bennett
At least I think that's what he was getting at. But his comments at a Mayors Against Illegal Guns rally this week were such a hot mess of stupidity that who knows what he really meant - other than guns are bad, bad, bad.
"My own children were just told don't ever have a gun, no guns in my house, they're not allowed." "[Guns] shouldn't be on our streets here,"

"It's the kind of turn that happened to the great country of Germany, when Nazis came over and created tragic things, and they had to be told off. And if we continue this kind of violence and accept it in our country, the rest of the world's going to really take care of us, in a very bad way."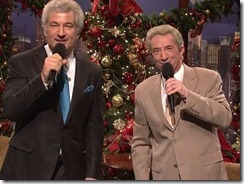 The Pension Fund That Ate California
After spending years dogged by unpaid debts, California labor leader Charles Valdes filed for bankruptcy in the 1990s-twice. At the same time, he held one of the most influential positions in the American financial system: chair of the investment committee for the California Public Employees' Retirement System, or CalPERS, the nation's largest pension fund for government workers. Valdes left the board in 2010 and now faces scrutiny for accepting gifts from another former board member, Alfred Villalobos-who, the state alleges, spent tens of thousands of dollars trying to influence how the fund invested its assets. Questioned by investigators about his dealings with Villalobos, Valdes invoked the Fifth Amendment 126 times.
This is a cautionary tale on how CalPERS, the CA state pension fund, metastasized from a boring but well-run holding account into a giant black hole of debt and obligation that threatens to push many California cities and even the state itself into bankruptcy.
And how badly was it run? This bad:
Another reason not to buy CalPERS's stock-market excuse is that its losses have been far worse than they should have been, thanks to a number of overly risky investment practices. Wilshire Consulting reported last year that CalPERS's returns over the past five years have trailed those of 99 percent of large public pension funds.
In a just world everyone who was in charge of CalPERS over the last 15 years would be in prison. But that ain't the world we live in.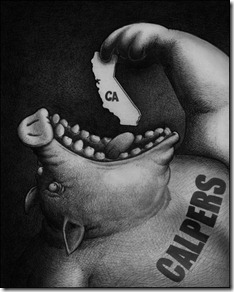 What Sequestration Will Really Mean
A leaked set slides to be presented by the Army to the White House on the impact of sequestration has appeared and includes the following:
- Only deploying units in Afghanistan, Korea and the division ready brigade will be allowed to conduct readiness training. All other units will conduct collective small unit training in first part of fiscal 2014. That means 78 percent of non-deploying brigade combat teams will be ill-prepared for future contingency operations.

- Interrupts timeline for pulling vehicles and equipment out of Afghanistan and delays reset of $20 billion in post war equipment needed for future operations.

- No new depot maintenance orders issued beyond January. This could affect units in Alaska, Georgia, Hawaii, Colorado, Kentucky, Louisiana, New York and North Carolina and delay the repair and reset of 1,300 tactical vehicles, 14,000 radios and 17,000 weapons.

- 250,000 Army civilians would be furloughed for up to 22 days.

- 5,000 contract, temporary and term employees would be released
Now the military budget does have a good deal of cruft and waste built into it but this is not the way to make cuts without seriously hurting our capabilities. But until people actually experience some kind of impact from our limited budget they will keep voting for big government and low taxes.
Following the Left's Example on Guns: Personalize, Personalize, Personalize
You're sound asleep when you hear a thump outside your bedroom door. Half-awake, and nearly paralyzed with fear, you hear muffled whispers. At least two people have broken into your house and are moving your way.

With your heart pumping, you reach down beside your bed and pick up your shotgun. You rack a shell into the chamber, then inch toward the door and open it.
In the darkness, you make out two shadows. One holds something that looks like a crowbar. When the intruder brandishes it as if to strike, you raise the shotgun and fire.

The blast knocks both thugs to the floor. One writhes and screams while the second man crawls to the front door and lurches outside.

As you pick up the telephone to call police, you know you're in trouble. In your country, most guns were outlawed years before, and the few that are privately owned are so stringently regulated as to make them useless. Yours was never registered.

Police arrive and inform you that the second burglar has died. They arrest you for First Degree Murder and Illegal Possession of a Firearm.

When you talk to your attorney, he tells you not to worry: authorities will probably plea the case down to manslaughter.

"What kind of sentence will I get?" you ask.

"Only ten-to-twelve years," he replies, as if that's nothing. "Behave yourself, and you'll be out in seven."
Sound crazy? Well it actually happened. And if we want to fight back against the Left's anti-gun narrative, our arguments need to be personalized as well.
Also Guns in School Circa 1956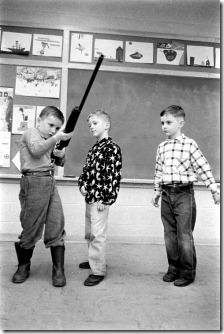 Original James Bond Astin-Martin DB5 For Sale
And it actually seems pretty cheap at just $5 million given the history and features.
This Aston Martin DB5 may not have a 3D GPS system or a remote-controlled driving app, but this is the original high-tech automobile. One of four Aston Martins used in the James Bond films and one of only two that received gadget upgrates from Q-Branch, this DB5 features oil slicks, rotating license plates, front-mounted machine guns, a bullet-proof rear window, and a place in movie history.

The 1965 Aston Martin DB5, complete with 13 working James Bond gadgets and built to help promote the film franchise is being sold by UK Aston Martin specialists RS Williams, and perhaps, unsurprisingly, the firm has already been inundated with enquires from around the world.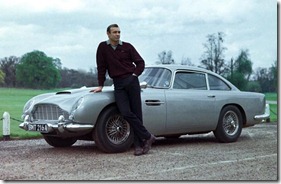 Christopher Dorner Sent Bullet-Riddled Coin, Manifesto to Anderson Cooper
Well you can worship the sun, and pray to Joes Pesci but if you want to get your kookoo message out to the world you mail it to Anderson Cooper.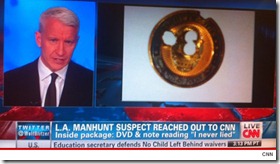 A Rehabilitation Success from 1924
They cured him alright.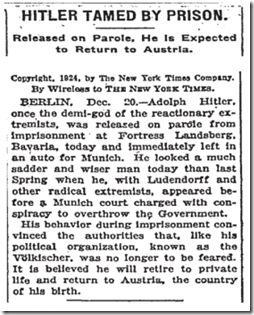 By the original diva.
and a completely different take on the same piece:
Yahoo group. That is all.
And my Twitter spew.
Tonight's post brought to you by the great debate: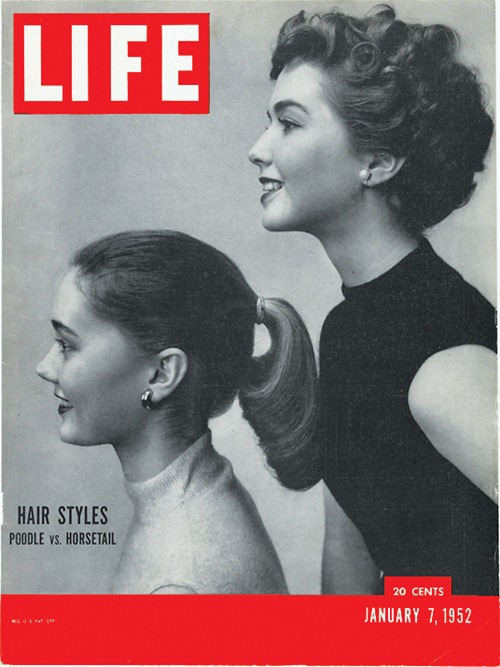 Notice: Posted by permission of AceCorp LLC. Please e-mail overnight open thread tips plus $1 for S&H to maetenloch at gmail. Otherwise send tips to BizarroAce.

posted by Maetenloch at
10:21 PM
|
Access Comments