« Obama's Solution To The HHS Mandate Is To Conjure Contraception Out Of Thin Air
|
Main
|
Obama-Worshipping Arch-Liberal Matt Ygelesias: Geeze, Startin' a Business is Hard and All This Bureaucratic Burden Surely Must Reduce People's Initiative & Industry! »
February 03, 2013
Sunday Morning Book Thread 02-03-2013: African Adventures [OregonMuse]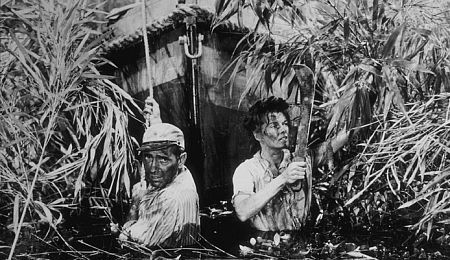 "Hang in there, Kate, 3 scenes from now and we'll be making out like horny teenagers!"
Good morning morons and moronettes and welcome the dark, mysterious, and dangerous Sunday Morning Book Thread, now with a throbbing drumbeat!
This reminds me of my favorite Africa joke. I've forgotten the rather laborious setup, but it ends like this:
"Those drums, those drums are driving me mad, they've been pounding, pounding, pounding all night long, won't they ever stop?"
"Oh no, ma'am, that's very bad, you don't want them to stop, it's very bad when they stop, very, very bad."
"Why? What can possibly be so bad? What happens when they stop?"
"Bass solo."
(Rimshot!)

Piercing the Heart of Darkness
Mrs. Muse is reading The Hospital by the River: A Story of Hope by Catherine Hamlin and John Little as part of her book club she's part of along with some other women from our church. From Amazon:
The awe-inspiring story of the life and mission of Dr. Catherine Hamlin who, with her husband Reg, established what has been heralded as one the most incredible medical programs in the modern world. The Hamlins, both Christians, dedicated their lives to women suffering the catastrophic effects of obstructed labor. The awful injuries that such labor produces are called fistulae, and until the Hamlins began their work in Ethiopia, fistula sufferers were neglected and forgotten--a vast group of women facing a lifetime of incapacity and degradation. Catherine and Reg, with their team of dedicated fistula surgeons, have successfully operated on over 25,000 women, and the Addis Ababa Fistula Hospital has become a major teaching institutions for gynaecologists from all over Ethiopia and the developing world. Set against the backdrop of Ethiopia, this is a moving and utterly compelling account of an extraordinary life.
Mrs. Muse tells me that an untreated fistula is very nasty business, women suffering from it cannot control their pee and sometimes also their poo, so it just comes out whenever, and gets all over their clothes and and smells real bad. Naturally, nobody wants to be around them so the poor women are avoided and shunned.
The Hamlins went to Ethiopia to set up a midwifery school, and I think it was originally supposed to be a short-term deal, but their work just kind of grew and grew, which only goes to show that sometimes "mission creep" is a good thing.
These two saints are really doing the Lord's work in a very impoverished part of the world, and may their reward in heaven be great.

Mrs. Muse is also reading An Affair with Africa: Expeditions And Adventures Across A Continent by Alzada Carlisle Kistner. This was another short-term deal which turned into a long-term deal:
In June 1960, a young faculty wife named Alzada Kistner and her husband David, a promising entomologist, left their 18-month old daughter in the care of relatives and began what was to be a four month scientific expedition in the Belgian Congo. Three weeks after their arrival, the country was gripped by a violent revolution trapping the Kistners in its midst. Despite having to find their way out of numerous life-threatening situations, the Kistners were not to be dissuaded. An emergency airlift by the United States Air Force brought them to safety in Kenya where they continued their field work.Thus began three decades of adventures in science. In "An Affair with Africa," Alzada Kistner describes her family's African experience -- the five expeditions they took beginning with the trip to the Belgian Congo in 1960 and ending in 1972-73 with a nine-month excursion across southern Africa.

The entomologist husband went to Africa to study a certain variety of beetle that survives by living among, and mimicking, army ants. The ants are blind, but the beetles can see, and they have to be careful, because if the ants ever touch them with their antennae and discover they're not ants, the beetles will get swarmed over and eaten, kind of like zombies overrunning the inmates of a prison.
And the humans also have to be careful, because like the beetles, if the ants ever get a whiff of them, they'll also be eaten alive.
Lastly, I've just started The Pirate Coast: Thomas Jefferson, the First Marines, and the Secret Mission of 1805 by Richard Zacks, which, surprisingly enough, I snapped up from one of the Kindle buck-99 daily deals. I say "surprisingly" because on most days, the daily Kindle deal blow chunks: they rarely have any books I would actually read. This time, though, someone at Amazon put a good book on the list by mistake. He'll probably get fired.
William Eaton is probably one of the most important men in American history that few have ever heard of:
In an attempt to stop the legendary Barbary Pirates of North Africa from hijacking American ships, William Eaton set out on a secret mission to overthrow the government of Tripoli. The operation was sanctioned by President Thomas Jefferson, who at the last moment grew wary of "intermeddling" in a foreign government and sent Eaton off without proper national support. Short on supplies, given very little money and only a few men, Eaton and his mission seemed doomed from the start. He triumphed against all odds, recruited a band of European mercenaries in Alexandria, and led them on a march across the Libyan Desert. Once in Tripoli, the ragtag army defeated the local troops and successfully captured Derne, laying the groundwork for the demise of the Barbary Pirates.
Outmanned, outgunned, underfunded, and making it up as he went along. Sounds like a typically American operation. This was apparently America's first overseas covert op, and Eaton pulled it off. And being a Western Christian fanboi, I must say I like reading about historical conflicts where the aggressive, bullying Islamic power get punched in the face.

Morons What Write Books
Francis W. Porretto, one of the blogging heads at the Liberty's Torch blog, occasionally comments here. He's also an author. His books are available on Barnes & Noble, also Amazon and Smashwords. He's written quite a few books. I bought For the Love of God from B&N to get a flavor of his writing. It's a collection of "religiously oriented" short stories, and by that he means that the stories show different people struggling to work out the conflicts they find themselves in according to their faith. The stories are of uneven quality; some are inferior, some are pretty good, and one of them I intend to show to a Christian lady friend of Mrs. Muse who wants to be a writer as an example of a story that is constructed very well.
As I said, this author has written a ton of books, and you can even download some of them for free.
___________

Moron commenter Old Sailor's Poet first novel, Amy Lynn, mentioned here before, has just been released in a Kindle edition.
___________

Occasional moron commenter 'Jehu' has written Armageddon Now: The End of Once and Future War, a book in which he lays out his own views concerning the battle of Armageddon and what it means, and what happens after that.
___________
Lastly, it's not his book, but even so, Father Victor Feltes e-mailed me to recommend The Christus Experiment by Rob Bennett, a novel that one review describes as "the Da Vinci Code in reverse." The review goes on to say that the book is
a head-spinning blend of theology, suspense, and personal drama...[it] tells the story of haunted Georgia billionaire Anson MacDonald who recruits a pricy team of time-traveling physicists and historians in an effort to reach back through time and literally kidnap Christ...
I'm not sure I want to read this book, (I am naturally suspicious of any book that deals with Christ in such a manner) but the Catholic guy who recommended it evidently likes it, and it's gotten some pretty good reviews, so there you are.
___________

So that's all for this week. As is usual, I have a couple more book items I didn't get to, but will next week.
Book thread tips, suggestions, rumors, and insults may be sent to OregonMuse, Proprietor, AoSHQ Book Thread, at aoshqbookthread@gmail.com.
So what have you all been reading this week? Hopefully something good. because life is too short to read lousy books.

posted by Open Blogger at
11:00 AM
|
Access Comments