« Guns & Hunting Thread (1-13-2013)
|
Main
|
CAC's (Final) Bacon Review, The Salted Pig »
January 13, 2013
Sunday Morning Book Thread 01-13-2013: Getting My Nerd On [OregonMuse]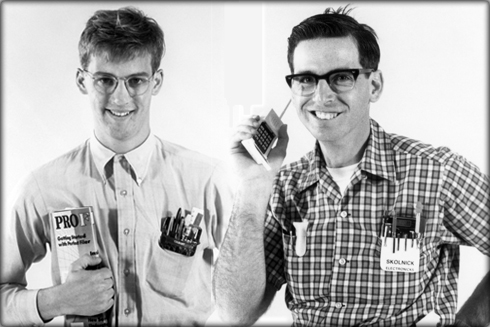 Look at the pointy elbows on these guys! I'll bet one of them is a tranny.
Good morning morons and moronettes and welcome to this week's socially inept, emotionally clueless, yet kind-of-appealing-in-a-weird-sort-of-way Sunday Morning Book Thread.
Where's My Pocket Protector?
I think a nerd is someone who enjoys things that non-participants find boring and/or useless. Just being really into something doesn't make you a nerd. For example, Bill Clinton is not a "sex nerd", rather he is a "horndog" or, if you prefer "a serial adulterer" or "rapist". Nerds seem to only be associated with certain hobbies or fields of study. With that in mind, I am a nerd in three fields, and this week I had the opportunity to indulge myself in two of them.
I can already hear you morons snoring already. Shut up.
Modern Ideas in Chess by Richard Réti is one of the game's significant theoretical works. Written in 1992, it established the principles of what become known as the "Hypermodern School", some of which were known earlier, but here gathered into a coherent whole. The principles espoused then by Réti and the other hypermodern proponents are still valid even today.
New chess books tend to be expensive, but this one was on sale, plus I got to use a discount coupon, so I couldn't pass it up. This is the "New 21st Century Edition", which means that the editors converted the move sequences from the old description notation into the more modern algebraic notation. A downloadable file of the book text and games in ChessBase format was included with the hard-copy book.
And for my second foray into the Kingdom of Nerd:
Donald E. Knuth is one of the grand wizards of computer science. He is the equivalent of a 15th level mage with a ginormous staff (heh) and a pointy hat decorated with stars and crescent moons. Way back in ye olden times (late 60s - early 70s), he wrote the seminal multi-volume work entitled The Art Of Computer Programming. I found a pdf copy floating around on bittorrent and I have ordered a used copy of Vol. 1, "Fundamental Algorithms". If you take you time and go slowly enough, it is a surprisingly readable book. Of course the TAOCP series is a well-known unfinished work. After the first two volumes were published, Knuth became dissatisfied with the typesetting, which he considered to be inadequate for this work. So he left off the TAOCP project and devoted his efforts to computer typesetting, and came back a few years later having written the typesetting system TeX. But he did not return to TAOCP and it stood at 3 volumes until recently when the various sections of Vol. 4 began to be published.
So, with what books do the rest of you morons gratify your inner nerd?
And Speaking of Nerdly Pursuits
John R. Henry e-mails to recommend his own book, Packaging Machinery Handbook, which is a bit pricey, but on the companion web site, there's a 20% off coupon. I thought one of you morons was pulling my leg at first, but I was wrong. Henry says
It is perfect for geeks who like to watch Unwrapped, How It's Made, Ultimate Factory and the like. Ever wonder how they get PET bottles stood up on a packaging line for filling? How they fill beans into cans? How they bag potato chips?

This illustrated book discusses all the different types of packaging machinery in common use today and how they work. It is written for the packaging student as well as the packaging professional. It is a semi-technical book and assumes no particular technical knowledge. Anyone curious about packaging will learn a lot.
I think I would have to say that industrial packaging is a field you can be a nerd in. I'm laughing a bit here, but you know, I would rather be a packaging nerd than a hipster dufus with a Crit. Lit. degree and no job.

Yet Another Moron Author
It is amazing to me how many of you morons are writers and authors. Published, and everything. It makes me want to cry.
Like many of you, I really enjoy the Hollywood "gossip" stories posted by the commenter "Mary Poppins' Practically Perfect Piercing" in the daily morning news threads. Well, come to find out, MPPP is a mystery author whose novels have a (surprise, surprise) Hollywood theme. If you go to the site linked in his nic, you can read about MPPP's Theda Bara Mystery series, of which the first one, The Director's Cut: A Theda Bara Mystery, is available on Amazon, BN and Kindle. I think the second in the series, Hollywood and Vain is a bit behind schedule, but you can read an excerpt here.

So that's all for this week, my droogies. As always, book thread tips, suggestions, rumors, and insults may be sent to OregonMuse, Proprietor, AoSHQ Book Thread, at aoshqbookthread@gmail.com.
So what have you all been reading this week?

posted by Open Blogger at
11:05 AM
|
Access Comments