« Saturday Morning Open Thread
|
Main
|
Open Thread »
January 12, 2013
A Classic New Jersey Dish: Barbecued Shrimp and Cheese Grits [CharlieBrown'sDildo]
(With a Shrimp Rant™ at no additional charge)
For Ace's Southern readers who may be unfamiliar with grits; they are simply milled corn cooked in some liquid. In this case homemade chicken stock. And adding cheddar cheese, butter and a dash of cream has never hurt any food in the history of cooking, so trust me on this; it's a good thing. Finish it off with some good quality shrimp (American, from the Gulf or off NC or SC is the best around) in a nice barbecue sauce of your choosing, and you will have a quintessential American meal that is fantastic.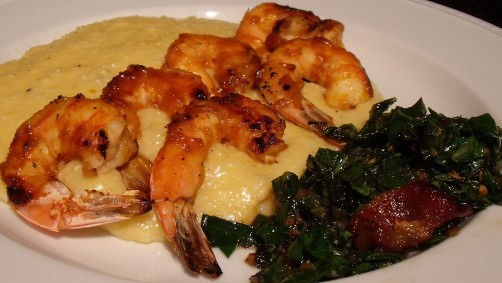 Grits are easy to make: four to one boiling liquid to grits (pour them in slowly, stirring constantly), and cook uncovered on low heat until they are tender and creamy, about 20 minutes, stirring the pot frequently. My timing is one sip of a Sazerac to one stir of the pot. I also toss in a bit of garlic, because garlic is always a good thing.
When they are done, stir in some grated sharp cheddar, a fair amount of butter, and some cream. Correct the seasoning -- salt and pepper, and some Cayenne if you are a fan of heat.
The shrimp are even easier. Use good, big shrimp, coat them with your favorite sauce (not too sweet and not too much!), and grill for two minutes/side.
Serve with some more sauce on the side, and Bourbon. Lots of Bourbon.
Crumbled bacon wouldn't hurt this, but some crispy Andouille sausage might be nice too.
This recipe calls for:
4 cups stock
1 cup old fashioned grits
4 ounces grated sharp cheddar
2 ounces butter
1 ounce cream
1 pound large shrimp
Adjust the amount of liquid based on how firm you want your grits. These are fairly firm.
But let's talk about shrimp -- specifically, those great Gulf shrimp whose fishery was destroyed by the evil oil companies. Remember? I made this dish last night, using fantastic Gulf shrimp that I bought at my local market. They weren't particularly expensive, but they were particularly good, and I couldn't even taste the oil.
The reason I try to buy American shrimp, aside from the excellent quality and a desire to support our fisheries, is that the cheap foreign shrimp that has flooded the market for years is cultivated, mostly in India, Indonesia, Thailand and China. The ponds are pumped full of a cocktail of chemicals to promote growth and minimize loss to bacterial disease. And those bacteria can be nasty. The most common is supposedly vibrio, which can be an unpleasant way to spend a few days driving the porcelain bus. Those ponds are also not the cleanest places on earth, and my guess is that there are all sorts of heavy metals and other crap in the silt on the bottom.
But foreign shrimp is cheap, and absent clear evidence that they are bad, it's simply an economic and gastronomic choice. Of course Obama and his minions will soon drive many of our fishermen and packing houses out of business, so we may not have that choice for very much longer.


posted by Open Blogger at
10:19 AM
|
Access Comments