« About that gun law enforcement thing...[Purp]
|
Main
|
Top Headline Comments 12-31-12 »
December 30, 2012
Overnight Open Thread (12-30-2012)
Actually we already are and in fact the Federal Government is basically paid for by the top 5%.
And if more than few take their taxes elsewhere we are screwed e.g. France.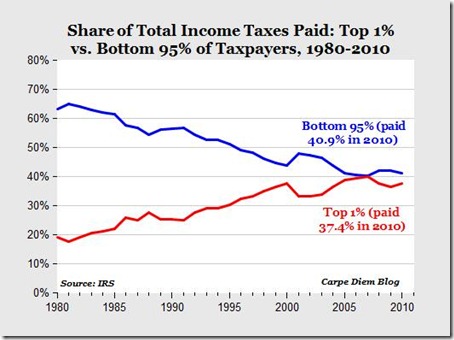 Well if you're the government you just take the money:
On April 15, 2011, a day that has been dubbed "Black Friday" in the poker community, the DOJ shut down the American operations of three major sites: PokerStars, Full Tilt Poker, and Ultimate Bet.

...In January of this year, Full Tilt and the DOJ worked out an arrangement in which the DOJ took ownership of Full Tilt with the intention of selling it to raise funds to pay back American players. Seven months later, on July 31, PokerStars purchased Full Tilt from the DOJ. Businessweek estimated that the transaction would make $547 million for the U.S. government. At the time, the DOJ vowed to reimburse Full Tilt's U.S. players; Stars said that it would take responsibility for returning $184 million to non-American customers.

PokerStars followed through on its end of the deal and recently relaunched the Full Tilt site outside of the U.S.
And surprise, surprise the DOJ has returned exactly $0 of the US account holders' money.
According to Steven L. Kessler, an attorney based in New York City who specializes in forfeiture law."In one of its publications [the 'National Asset Forfeiture Strategic Plan 2008-2012'], the government talks about bringing in $2 billion in forfeitures and returning only $700 million." Recouping Full Tilt funds will be "a long, drawn-out process to the point that you will need to be out five or six or seven figures for it to be worth pursuing. The system is set up so that you are discouraged from going after your money..Plus, look at what you're exposing to get back what belongs to you. You have to wonder if it will turn into a tax case."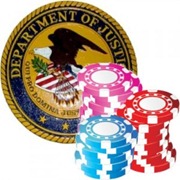 Celebrating New Years Dutch-Style
Apparently Carbidschieten (carbide shooting) is how the Netherlands ring in the new year.
Basically, a small chunk of calcium carbide and a little bit of water is placed in a metal milk churn. The carbide decomposes into acetylene and a flame is held up to a small hole in the milk churn. The resulting explosion sends the lid of the milk churn across a field and much fun is had by all.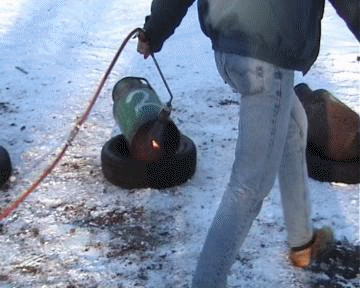 The Next Gun Control Angle: Insurance
Megan McArdle discusses an idea making the rounds - requiring liability insurance to own firearms. I think she dismisses some of the concerns over this a little too easily but in the end she believes it would have a negligible effect on gun ownership. In terms of pure insurance I would agree since an NRA membership already gives you a certain amount of liability and theft coverage. Jazz Shaw seems to have completely missed the point that McArdle was estimating the effects of this policy if it were implemented.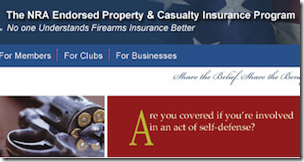 The Journal News Doubles Down so their competitor, the Rockland County Times, Goes After Gannett Execs
Well since the Journal has seen fit to pierce the personal privacy of perfectly legal gun owners, I see why no reason why Journal News employees and Gannett executives shouldn't have their own privacy pierced. It's all available from public sources anyway so let them explain why their info is sacrosanct but private gun owners' is not.
DailyKOS: Hey Lets Have a War Against Gun Owners
And of you'll need a police-state apparatus to deal with all the NRA-criminals:
The very first thing we need is national registry. We need to know where the guns are, and who has them. Canada has a national firearms registry. We need to copy their model. We need a law demanding all firearms be registered to a national database. We need to know who has them and where they are. We need to make this as easy as possible for gun owners. The federal government provides the money and technical expertise, and the State police carry it out. Like a funded mandate..

Now we get down to it. The registration period has passed. Now we have criminals without registered guns running around. Probably kooky types that "lost" them on a boat or something.

...I'm not so concerned with the guy who bought that bolt action Mauser a decade ago and doesn't have anything registered to his name. It's a pretty good possibility that he sold it, gave it away, or got rid of it somehow. And even if he didn't, that guy is not who I'm concerned with. I'm concerned that other guy who bought a half dozen assault weapons, registered two hunting rifles, and belongs to the NRA/GOA. He's the guy who warrants a raid.
Bob Owens Responds with What You'll See in the Rebellion
Let me explain, gun grabbers, how your confiscatory fantasy plays out. Let us imagine for a moment that a sweeping gun control bill similar to the one currently suggested is passed by the House and Senate, and signed into law by a contemptuous President. ...Tens of millions of Americans will refuse to comply with an order that is clearly a violation of the explicit intent of the Second Amendment. Among the most ardent opposing these measures will be military veterans, active duty servicemen, and local law enforcement officers.

...After a number of carefully-planned, highly-publicized, and successful raids by the government, one or more will invariably end "badly." Whether innocents are gunned down, a city block is burned to ash, or especially fierce resistance leads to a disastrously failed raid doesn't particularly matter. What matters is that when illusion of the government's invincibility and infallibility is broken, the hunters will become the hunted.

Unnamed citizens and federal agents will be the first to die, and they will die by the dozens and maybe hundreds,  but famous politicians will soon join them in a spate of revenge killings, many of which will go unsolved.

Best Ever Monkey-Suit-Based Music Video
Places You'll Recognize from the Background of Every Movie
You know them even if you don't know you know them.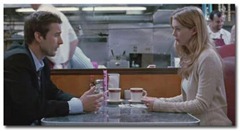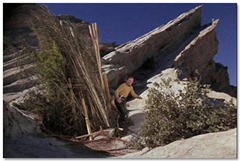 Weekly AoSHQ Commenter Standings
Top 10 commenters:
1 [718 comments] 'Oldsailors Poet, aka Jack July author of Amy Lynn available on Amazon.' [100.79 posts/day]
2 [427 comments] 'Vic'
3 [303 comments] 'DAve'
4 [257 comments] 'Butters'
5 [250 comments] 'Jones in CO'
6 [223 comments] 'MWR, Proud Tea(rrorist) Party Hobbit </i></u></b>'
7 [220 comments] 'J.J. Sefton'
8 [204 comments] 'BCochran1981'
9 [192 comments] 'CharlieBrown'sDildo'
10 [191 comments] 'ette'
Top 10 sockpuppeteers:
1 [33 names] 'Cicero (@cicero)' [4.63 unique names/day]
2 [29 names] 'fluffy'
3 [24 names] 'Truck Monkey'
4 [22 names] 'Brandon In Baton Rouge'
5 [20 names] 'Islamic Rage Boy'
6 [19 names] 'kbdabear'
7 [19 names] 'andycanuck'
8 [19 names] 'MrCaniac'
9 [17 names] 'Romeo13'
10 [15 names] 'Dr Fish, TDY to SAT for ill mom'
The group. Yeah.
Where it's at - the Twitter
Tonight's post brought to you by Wayne and Cooper on vacation: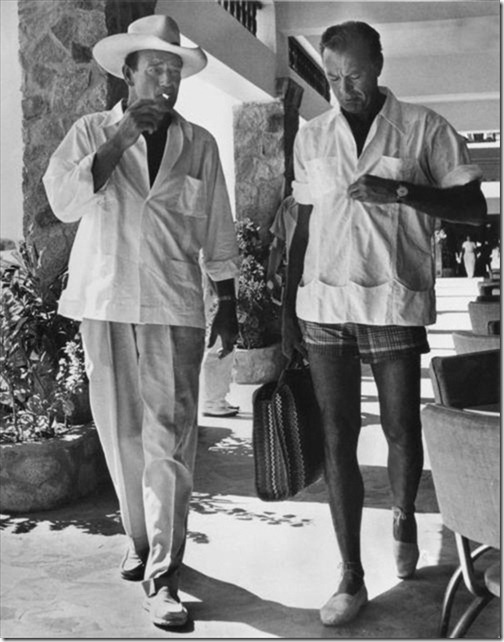 Notice: Posted by permission of AceCorp LLC. Please e-mail overnight open thread tips to maetenloch at gmail. Otherwise send tips to Ace.

posted by Maetenloch at
10:01 PM
|
Access Comments