« Christmas Gift Bragging Thread
|
Main
|
David Gregory in the hotseat [@PurpAv] »
December 25, 2012
Overnight Open Thread (12-25-2012) - Yule Edition
Merry Christmas all!  Hope all your Christmas wishes came true.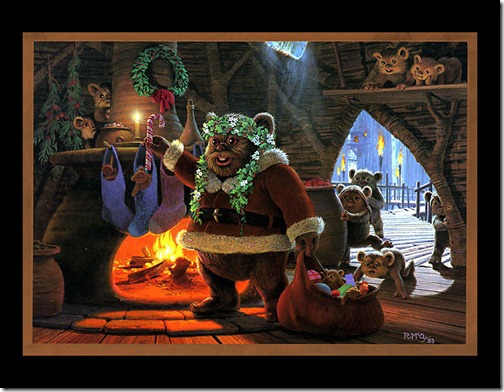 Hans Christian Andersen - The Fir Tree
Out in the woods stood a nice little Fir Tree. The place he had was a very good one: the sun shone on him: as to fresh air, there was enough of that, and round him grew many large-sized comrades, pines as well as firs. But the little Fir wanted so very much to be a grown-up tree.

He did not think of the warm sun and of the fresh air; he did not care for the little cottage children that ran about and prattled when they were in the woods looking for wild-strawberries. The children often came with a whole pitcher full of berries, or a long row of them threaded on a straw, and sat down near the young tree and said, "Oh, how pretty he is! What a nice little fir!" But this was what the Tree could not bear to hear.

At the end of a year he had shot up a good deal, and after another year he was another long bit taller; for with fir trees one can always tell by the shoots how many years old they are.

"Oh! Were I but such a high tree as the others are," sighed he. "Then I should be able to spread out my branches, and with the tops to look into the wide world! Then would the birds build nests among my branches: and when there was a breeze, I could bend with as much stateliness as the others!"

Neither the sunbeams, nor the birds, nor the red clouds which morning and evening sailed above him, gave the little Tree any pleasure.
Read the rest here.
David Gregory: Either a Liar or a Deliberate Felon
It's illegal to possess a  high capacity magazine in DC - yes even for the MFM elite.
It may be even worse for Gregory and NBC News.  According to an e-mail received by The Patriots Perspective website, which originally broke the Gregory story, NBC News had inquired whether it was permitted to use the magazine and was told that it was not permitted.  The authenticity of the email has not been verified.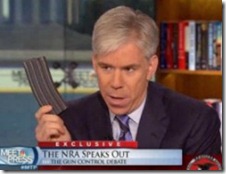 Merry Christmas Gunnery Sergeant Hartman Style
Every year for 60 years the US Air Force has dropped gifts to the people of Micronesia.
This large-scale humanitarian mission had relatively humble beginnings. According to the 36th Wing historian, the exact origin of the operation is unknown, but legend has it that the first supplies were dropped around Christmas in 1952. An aircrew, assigned to the 54th Weather Squadron at Andersen Air Force Base, Guam, flew a WB-29 aircraft over a tiny island and saw the villagers below. The crew then packed a box and sent it down on a parachute used for weather buoys. This became tradition and continued each year until Operation Christmas Drop was officially named and organized in 1958.
Christopher Lee Wishes You a Heavy Metal Christmas
Not a joke - he really is into heavy metal.
For the 2nd Battalion Suffolk Regiment in India.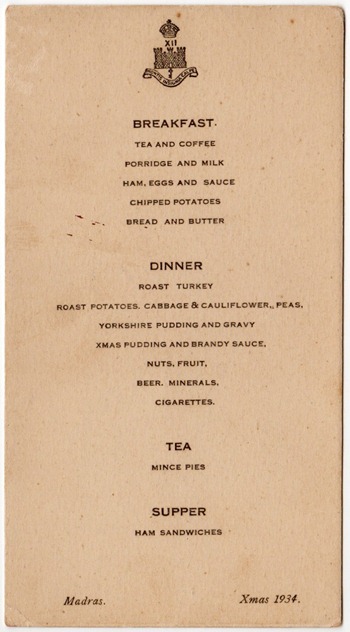 Teh Tweet!
Tonight's post brought to you by a Graceland Christmas: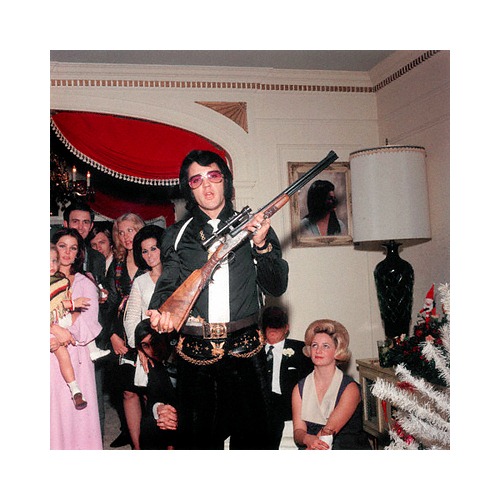 Notice: Posted by permission of AceCorp LLC. Please e-mail overnight open thread tips to maetenloch at gmail. Otherwise send tips to Ace.

posted by Maetenloch at
09:18 PM
|
Access Comments