« Guns & Hunting Thread (12-23-2012)
|
Main
|
Sunday Football Thread »
December 23, 2012
Sunday Morning Book Thread 12-23-2012: Having a National Conversation [OregonMuse]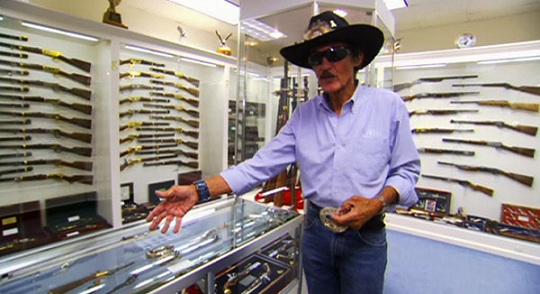 "OK, Mr. President, I'm ready to have a national conversation on guns. You go first."

Good morning morons and moronettes and welcome to this week's locked, loaded, and primed Sunday Morning Book Thread.

Blah, blah, blah
In the wake of the Newtown murders, acting President Obama has announced that he wants to have a "national conversation on guns." I don't know about you, but I really love these "national conversations". Of course, we all know that when a liberal says he wants to have a "conversation", it means he wants those who disagree with him (i.e. us) to shut up and listen to a lecture by him consisting of roughly equal parts of contempt, ridicule, insults, and threats.
This is what the left thinks is a "conversation."
But I'm serious when I say I welcome a national conversation on guns - for the simple reason that this is a debate that conservatives win pretty much every time. This seems to be the one area of American life that the progressive left has not been able to impose its worldview on. I'm not sure why this is; perhaps it's because gun owners are so numerous or so well-organized (the left bitterly complains about the NRA and the "gun lobby"), or maybe it's because the tradition of private gun ownership in America is so deep and pervasive that any attempt to transform it into a more European model (i.e. hardly any private gun ownership) simply has no chance of success. But whatever the reason, every time this subject comes up, the result is the same: we win, they lose. More or less.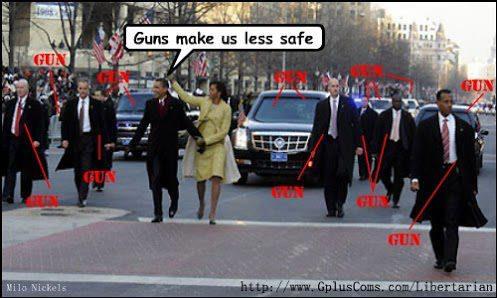 All of the left's counterarguments are weak tea, mostly appeals based on emotion and empty rhetoric. And then there's this book here, which claimed to be a scientific study on the origins of American "gun culture." This book was greeted with loud hosannas and shouts of joy and praise from the liberal left, who were in a state of near-religious ecstasy because they thought that finally, FINALLY they had some solid evidence they could use against those mouth-breathing, troglodyte gun owners and that pesky 2nd Amendment. This rapturous joy soon evaporated, however, when subsequent investigations revealed that the author basically made shit up wholecloth to support his bogus thesis. His scholarship was so transparently dishonest that they revoked his Bancroft Book Award prize and he also lost his job at the university where he was teaching. Given that the book is completely fraudulent, I'm surprised it's even still in print.
But everybody knows it's crap. And the left has still got nothing.
Faith in Fiction
Here's an article by some guy bemoaning the loss of religious faith and the quandaries and issues it raises from modern fiction writing. He says:
In The New Yorker, a novelist describes his best seller as a work about free will written from a Catholic perspective — but the novelist is Anthony Burgess, dead almost 20 years, and his essay (about "A Clockwork Orange") is a lecture exhumed from 1973.
This, in short, is how Christian belief figures into literary fiction in our place and time: as something between a dead language and a hangover. Forgive me if I exaggerate. But if any patch of our culture can be said to be post-Christian, it is literature.
Warning: link is to the NY Times. I think the article is kind of meh, but it does have a number of references to modern books and stories that may be worth looking into.

From the Mailbag
Moron author Raymond Fiore informs me that there will be a 100% off sale on the Kindle editions of his books on Christmas Day. That's right, morons, he's giving them away for free for one day. How cool is that? Info on titles available here.

Long-time moronette commenter Tammy al-Thor recommends the works of Celia 'Sgt. Mom' Hayes. Sgt. Mom spoke of her own books in a comment on last week's book thread:
To Truckee's Trail is about the first wagon train to make it over the Sierra Nevada with their wagons in the dead of winter, The Adelsverein Trilogy is about the German settlements in Texas (Yes, there was an extensive effort to plant a large colony of German settlers in Texas in the 1840s which hardly anyone outside of Texas has ever heard of) and Daughter of Texas and Deep in the Heart are about the early days in Texas, the war for independence, and the raucous days of the Republic of Texas... again, lots of interesting shenanigans going on, like an international dispute between the Republic and France over an innkeeper's wandering pigs.
Me, I'd buy it just to find out what happened with those pigs.
[Update: ] It looks like a number of you moron authors have books coming out soon (I'm looking at YOU Oldsailors Poet, and YOU Sabrina Chase!). You should e-mail me the pertinent details, and I'll announce it in an upcoming book thread.
So that's all for this week. As always, book thread tips, suggestions, rumors, and insults may be sent to aoshqbookthread@gmail.com.
So what have you all been reading this week?

posted by Open Blogger at
10:59 AM
|
Access Comments