« "I Live With A Son Who Is Mentally Ill. I Love My Son. But He Terrifies Me "
|
Main
|
Sunday Football Thread »
December 16, 2012
Sunday Morning Book Thread 12-16-2012: Everything Old Is New Again [OregonMuse]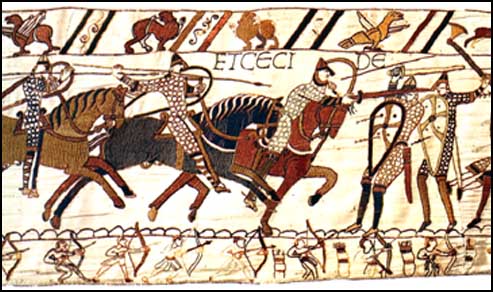 Don't lance me, bro!

Good morning, 'rons and 'ettes, and welcome to the historically accurate, but never fake, Sunday Morning Book Thread

Historical Fiction
For some reason, I've been running into this genre a lot this week, and when something like that happens, it becomes fodder for the book thread.
So let's start out with one I didn't like. This one here. Ugh. I thought idea of a story whose characters are trying to survive in a pre-historic Ice Age environment was kind of interesting, but the writing was dismal, the characters weak, and the sex scenes were needlessly lurid, so much so that after awhile, I thought I was looking at some kind of paleolithic porn novel. I think I finished the first book in the series and then gave up a short way into the second.
On a humorous note, we all know that the Amazon customer reviews tend to be overly generous. The fan bois really come out in force when their idol is on the line. So with that in mind, I think it's quite telling that the 6th book in Auel's "Earth's Children" series, with over 1300 reviews, could only manage an average of 2 stars out of a possible five. Two stars! Egads, that must be one stinky pile of poo.
But enough of that.
Here is one I really liked. I remember when I read it a number of years, I couldn't put it down. Follett is a good storyteller. The sequel was OK, but not as good as the first one.
I ran into this author while looking for Kindle deals and I was going to buy one of his books until I read one of the 1-star reviews from someone who demonstrated that Cornwell's historical setting was very inaccurate, even for a work of fiction. Also, he really has an axe to grind against the Catholic Church, he writes about in unremittingly negative terms. Now we all know that the medieval church was often corrupt, I get that, but considering it was one of the chief mainstays of western civilization back in those days, I think there's more to the story than evil popes, greedy bishops, and drunken, debauched clergy
I found out about Sharon Kay Penman on another conservative blog with a book section. Her book The Sunne in Splendour, set during the War of the Roses, was recommended as "a perfect read (900+ pages) if you are snowed in with a bottle of brandy and a raging fire." This sounds like my kind of book. However, I'm not going to be able to get to it for awhile, so in the meantime, I checked out an audio version of one of Penman's other novels, Lionheart, for Mrs. Muse, so I'll see how she likes it.
So I'd like to hear recommendations from all you morons, and even though I've been talking mostly about medieval history, it's certainly not limited to that. It's certainly a broad category.

Bleg
I read a short story years ago when I was in 8th grade whose title and author I have long forgotten, so I wonder if any of you 'rons or 'ettes can help me out with it. It was written by a south-of-the border author and the setting is, I believe, one of Mexico's interminable civil wars/revolutions. Not to give too much of it away, but a poor man is working in his barber shop one day when the leader of one of the warring factions comes in and asks for a shave. So there he sits in the barber's chair, head tilted back, neck exposed, and as the barber is shaving him, he just can't stop thinking about what it would be like to kill him, just simply cut his throat with the razor he's using, how easy it would be, and should he do it, and perhaps he would get a big reward out of it.
I can't say any more without spoiling it.
So if anyone knows the short story I'm describing, don't hesitate to pipe up in the comments. Thank you.
[Update]: In the comments, Coldstream says this is the Nabokov story 'Razor'. I looked up 'Razor', and that's not it. It's similar, though. In fact, it's so similar, I wonder if the one inspired the other, and if so, which one?
[Update 2]: And we have a winner! Commenter 'No One of Consequence' says this story is called "Espuma y Nada Mas" ("Just Lather, That's All"). I looked it up and it was written by the Colombian author Hernando Tιllez. You can read an English translation here.
And here's a shout-out to moron commenter Vic, who is gone for the weekend. I hope he makes it back soon.
And that's it for this week. As always, book thread tips, suggestions, and insults may be sent to aoshqbookthread@gmail.com
So what have you all been reading this past week? Something good I hope.

posted by Open Blogger at
11:28 AM
|
Access Comments