« Obama: I Won't Play That Game, And By Game I Mean "Some Degree of Financial Responsibility"
|
Main
|
Top Headline Comments (12-6-12) »
December 05, 2012
Overnight Open Thread (12-5-2012)
Conservative Blogger Poll: Who Should the GOP Choose as its Nominee in 2016
AoSHQ was not part of this particular Kool Konservative Bloggers Poll so you'll have to send your pipe bombs and cobras to someone else this time. :-)
Here are the top 10:
1) Which of the following candidates would you most prefer to see as the GOP's 2016 candidate?

1) Marco Rubio (FL Senator) 20.5% (16 votes)
2) Rand Paul (KY Senator) 14.1% (11 votes)
3) Scott Walker (WI Governor) 11.5% (9 votes)
4) Bobby Jindal (LA Gov) 9% (7 votes)
4) Paul Ryan (WI Congressman. VP candidate) 9% (7 votes)
6) Jeb Bush (Former Fl Governor) 6.4% (5 votes)
6) Sarah Palin (Former AL Governor. VP candidate) 6.4% (5 votes)
8 ) Mike Pence (IN Governor) 5.1% (4 votes)
9) Susana Martinez (NM Governor) 3.8% (3 votes)
10) Chris Christie (NJ Governor) 2.6% (2 votes)
And then you have the bottom 10 :
3) If the list were narrowed down to the following 10 candidates, then which one would you **** LEAST LIKE **** to see as our 2016 nominee?

1) Chris Christie (NJ Governor) 32.5% (25 votes)
2) Jeb Bush (Former Fl Governor) 26% (20 votes)
3) Rand Paul (KY Senator) 14.3% (11 votes)
4) Scott Walker (WI Governor) 11.7% (9 votes)
5) Paul Ryan (WI Congressman. VP candidate) 5.2% (4 votes)
6) Susana Martinez (NM Governor) 3.9% (3 votes)
7) Brian Sandoval (NV Governor) 2.6% (2 votes)
8 ) Bob McDonnell (VA Governor) 1.3% (1 votes)
9) Marco Rubio (FL Senator) 1.3% (1 votes)
10) Bobby Jindal (LA Gov) 1.3% (1 votes)
So doing the differential math it looks like it's gonna be Marco Rubio/Bobby Jindal in 2016.
Let the pre-criminations begin!
A Physician on ObamaCare: Patients Ask Me to Break the Law
ObamaCare guarantees everyone an annual 'free exam' but that's it - and it would be illegal to ask about anything else during the same visit.
If you are here for that annual exam, you will not be covered if you want to discuss any new ailment or unstable condition. I cannot bait and switch to another code - that's illegal. We, the physicians, are audited all the time and can lose our license for insurance fraud.

You, the patient, will then have to make a decision.

Do you want your "free" yearly exam, or do you want to pay for a visit which is coded for a particular, new problem? You can have my "free" exam if you only discuss what Obamacare wants me to discuss.

...On top of all of that, doctors will be obligated - that's right, obligated - to talk to you about things you may have no interest or need to talk about.

You may just want to have a pap smear or check your cholesterol. However, I am now mandated by the government to talk to you about your weight, exercise, family life, smoking, sexual abuse(!), and even to ask if you wear seat belts. And I am mandated to record your answers.

I am a physician. But I need to tell you to wear a seat belt and then record your answer.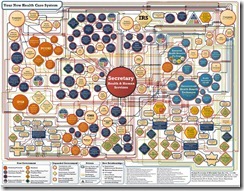 Elections have Consequences: No More Student Loan Deductions for You
It turns out that the Bush Tax Cuts For The RichTM also let a lot of people deduct their student loan interest. But that will be going away come Jan. 1st:
It appears that along with reducing taxes on rich people (those making more than $250,000 per year), allowing the Bush tax cuts to expire at the end of the year is going to have a bunch of other interesting effects, including: "The student loan interest deduction will be disallowed for hundreds of thousands of families." 

...Which means a lot of Obama voters -- people that bought into Obama's "soak the rich" rhetoric -- who have been able to deduct the first $2,500 of student loan interest from their federal income taxes -- are going to lose that deduction if they are more than five years into their loans.
Well if you bought the Obama ticket, then enjoy the Obama economic ride.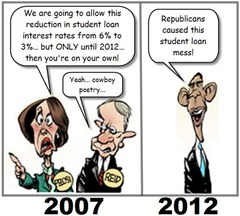 The poverty rate is about to shoot up and permanently stay there. Why? Because it's going to be graded on the curve which guarantees there will always be an 'impoverished' 10%.
Now, a family of four with full medical insurance, living in Oakland, can be considered "poor" if its yearly pre-tax income is below $42,500. In Washington, DC, the figure is $40,300; in Boston, $39,500; in New York, $37,900.

Remarkably, for the first time these new poverty thresholds are linked to an "escalator" that will boost them faster than inflation year after year. The income thresholds will rise automatically in direct proportion to any rise in the actual living standards of the average American.

While the old poverty measure counted absolute purchasing power (how much steak and potatoes you can buy), the new measure counts comparative purchasing power (how much steak and potatoes you can buy relative to other people.)
Are the Five Stages of Grief All BS?
By now most people are familiar with the Kübler-Ross five stages of grief. But it turns out that there's very little evidence that it's true:
The idea that grief has specific stages is a popular belief and was given its most professional gloss by the Swiss psychiatrist Elisabeth Kübler-Ross, who is often cited as suggesting that mourners pass through stages of denial, anger, bargaining, depression, and acceptance. ...But regardless of how accurately her ideas were used, the evidence for these stages evaporates under scrutiny - perhaps unsurprising considering they were based on little more than casual observation and creative thinking.

In contrast, psychologist George Bonanno has studied the course of grief by following people from before they were bereaved to months and even years afterwards. It turns out that there is little evidence for a progression through specific stages of adjustment, and even the belief that most people are plunged into despair and gradually "get better" turns out to be little more than cliché. This is not to say that sadness isn't a common response to loss, but an experience of deep debilitating anguish tends to be the exception rather than the rule. In fact, two-thirds of people are resilient in the face of losing a loved one - in other words, they are sorrowful but they are neither depressed nor disabled by their experience.
America's Most Embarrassing Addresses
So I'm guessing there was an unfortunately incident involving a cleaning implement in this area. At least if Lake Havasu follows Australian Naming Rules.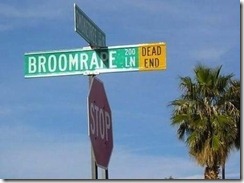 Regularly scheduled parades without absolute control of the air are just asking for a hostile visit.
"This is June 1942 and the real dark days of war for the French and this was to demonstrate that the Germans weren't invincible."

Wg Cdr Gatward was chosen for the sortie as he had demonstrated a skill for accurate flying during low-level attacks on enemy positions after Dunkirk.

The British had been informed the Germans held daily parades down the Champs-Elysees and he was asked to strafe the parade.

He and his navigator, Flight Sergeant George Fern, took off from Thorny Island, near Portsmouth, on June 12.

After reaching Paris, he flew at just 30ft before Ft Sgt released the flag down the flare shute and over the Arc de Triomphe.

Mr Grinter said: "It is an amazing story - one of those that makes the hairs on the back of your neck stand up.

"He flew down the Champs-Elysees at second floor window height. It was an incredible act of bravery and a real audacious attack.

"He attacked the Gestapo HQ and SS troops were seen to run for their lives. As he turned for home the Germans came out and shook their fists at him.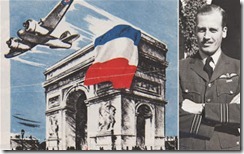 5 Things Nobody Tells You About Living in Japan
Well my experience living in Japan almost two decades ago and visiting in the last few years pretty much matches what the Cracked writer says. Japan has a weird mix of high and low-tech - so people may walk around with gadgets more advanced than anything in the US yet most business is done with old-school faxes and involves quite a lot of paper-work. And public wi-fi and on-line forms for most services are extremely rare.
And then you have the national utter lack of decent heating systems in a country whose climate is essentially the same as the US eastern seaboard.
You can pick up an electric AC/heater, if you feel like throwing down hundreds of dollars to pay for both the unit and the required professional installation, but even then it's only enough to cover one room. The Japanese simply do not heat more than one or two places in the entire house -- they never have, and they aren't likely to start before you move here. Your only other option is a kerosene heater, which you can't really leave running overnight unless you're trying to burn and/or suffocate your family to death. Of course, having one also means keeping several cans of kerosene around the house at all times, so the "burning" thing may eventually happen on its own.
But Japanese blogger AMPONTAN disagrees.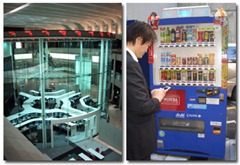 Teh Tweet!
Yahoo group. That is all.
Tonight's post brought to you by mastering your inner wolf: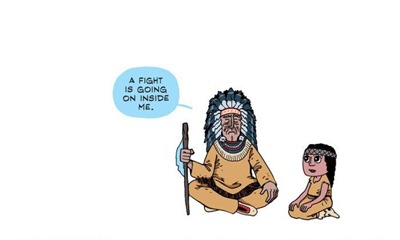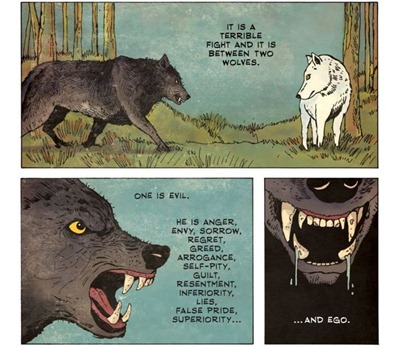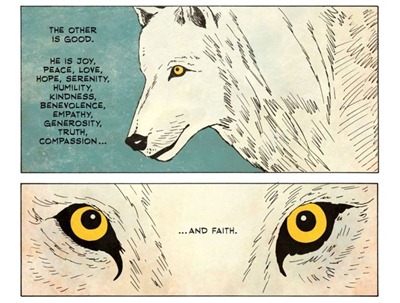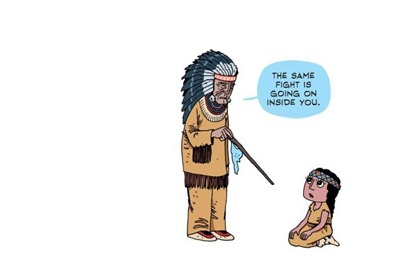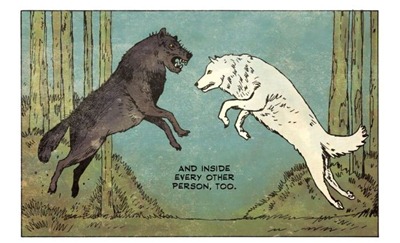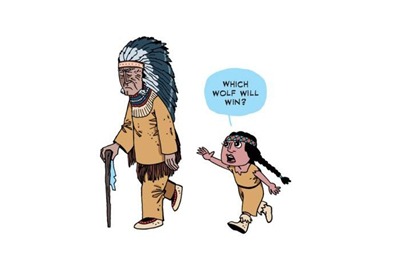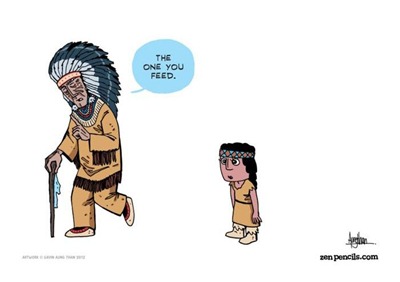 Notice: Posted by permission of AceCorp LLC. Please e-mail overnight open thread tips to maetenloch at gmail. Otherwise send tips to Ace.

posted by Maetenloch at
10:22 PM
|
Access Comments