« Caller To Sports Show Claims Jovan Belcher Was An Evil Bully and Thug At 12 Years Old
|
Main
|
Top Headline Comments 12-4-12 »
December 03, 2012
Overnight Open Thread (12-3-2012)
Unshocker: Majority of Democrats Like Socialism
Okay that's not really a surprise  - the fact that 53% of Democrats view socialism positively seem rather low actually.
But who the hell are these 23% of Republican voters who loves themselves some socialism?!? Are they unclear on the concept or did they punch the wrong chad or something?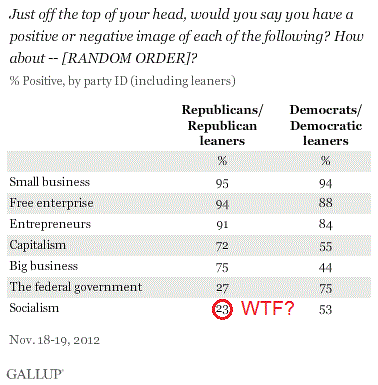 The Top 100 Baby Names of 2012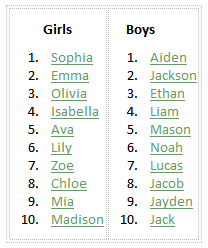 "Careers Start by Peeling Potatoes"
There's no substitute for having deep knowledge of every step involved in a business. And that is best learned from the ground up.
One of the iconic punishments in basic training in the military was being threatened by our drill instructors of being assigned to KP - Kitchen Patrol - as a penalty for breaking some rule. If you got assigned to KP you were sent to the base kitchen and had to peel potatoes all day for all the soldiers on the base.  It was tedious work but to my surprise I found that it wasn't the dreadful experience our drill instructors made it out to be. But working in the mess hall, the real eye-opener was the inside look at the workings of something I took for granted - how do you cook three meals a day for 10,000 people at a time. Peeling potatoes was a small bit in the thousands of things that had to go right every day to keep 10,000 of us fed.

One my first career lessons: stop taking for granted finished goods and appreciate the complexity of the system that delivered them.
The Disappearance of Heroism in the Nanny State
Sometime the cradle-to-grave lesson  of passivity and deferring all action to the authorities doesn't quite take. Here a 14 year old British student was the one who wouldn't stand by.
A teenager in his school uniform dived in to stop a fight which saw four security guards punched, kicked, head-butted and bitten.

Have-a-go-hero Jack Slater, 14,  did not spare a thought for his own safety until after he saved the security man from four attackers.

[snip]

Dozens of adults gathered to watch the  spectacle, but only Jack jumped in to help.

...'I've never done anything like this before and it was only afterwards I thought, "I could've been hurt there".

'My friend tried to stop me and said I was stupid for getting involved but it was a spur of the moment thing.'
Years ago I spent several summers in Mexico with friends and we would usually gather at local Denny's-type cafι for our daily lunch. After a few weeks we were regulars and knew all the other regulars. Once when some drunk was hassling a woman and got violent the regulars took him down and gave him the bums rush. But while doing so one of them told us to guard their stuff and the cash register so I knew we were accepted.
There were a couple other incidents involving rowdies and would-be thieves where we had to help out in the melees.  There were no authorities around but then people didn't have to have them around in order to take action and deal directly with trouble-makers.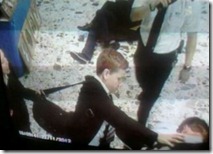 Dallas didn't bring down the Iron Curtain but it sure helped.
As Nick Gillespie of Reason notes in the above encomium to the late Larry Hagman and the show that made him a superstar, in the 1980s, Nicolae Ceau?escu allowed Dallas to be aired in then-communist Romania, because Ceau?escu believed that the CBS prime-time soap opera showed all that was wrong with decadent capitalism. Instead Romanian viewers loved what the saw - and wanted a piece of it for themselves.
In Estonia as well:
In the eyes of the Communist leadership, that American serial with its jousting millionaires epitomized the creeping allure of capitalist decadence.

In the facetiously lighthearted documentary "Disco and Atomic War," the director Jaak Kilmi, who grew up in Tallinn in those days, recalls how the exploits of J. R. Ewing and company mesmerized his city in the far north of the country, where the broadcast infiltrated the Iron Curtain.
And sometimes heavy handed Soviet propaganda against the US ended up making the case for western 'decadence':
In 1977, the year I was born and the year my father, his mother, his aunt and many other Jews left the Soviet Union (my mother and I left in 1978 ), the Soviet propaganda machine began circulating a rumor. It went, roughly: life in America is so terrible that the old people eat cat food.

This was.perplexing.

People didn't quite get it: they have food specifically made for cats in America? What a country!

A lot of things about America remained beyond their comprehension.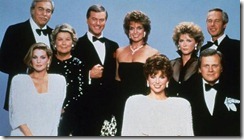 Larry is forever known as the middle-guy stooge and doesn't get much respect. But he was in every Stooges short and movie, didn't mind being the permanent straight man, and seems to have lived a pretty good life.
But Larry? Heck, 99% of the world IS Larry.

Larry Fine, a loyal Stooge for over 40 years, probably took more slaps, punches, eye-pokes, and stomach jabs than any comedian in history. According to Larry's brother, he developed a callous on the side of his face from Moe swatting him. But he stuck in there, he did his job, he watched as Moe hogged the leadership and Curly got the majority of the laughs. No one, in movies or in the real world, ever went with the flow like Larry Fine.

In real life, Larry Fine and his beloved wife Mabel had a happy marriage of over 40 years. Mabel passed on in 1967. The couple had two children, a daughter, Phyllis, and a son, John.
Whisky Cures Blindness in Vodka-Poisoned Man
Whisky on vodka, all is clear:
he doctor thought he might have formaldehyde poisoning, which is associated with ingesting methanol and can be treated by administering ethanol - the type of alcohol found in alcoholic beverages.

There wasn't enough medical ethanol available in the hospital, so the registrar nipped down to the local bottle store and picked up a bottle of whisky.

"Johnnie Walker Black Label. It was good whisky, yeah."

...Auckland City Hospital intensive care medicine specialist Tony Smith said administering ethanol was a well-established treatment for methanol poisoning.

It worked because the ethanol competed with the methanol and prevented it from being metabolised into harmful formaldehyde, which can cause blindness.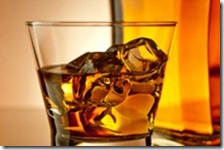 The Yahoo AoSHQ group. Bla bla bla.
And my twitter thang.
Tonight's post brought to you by kicks: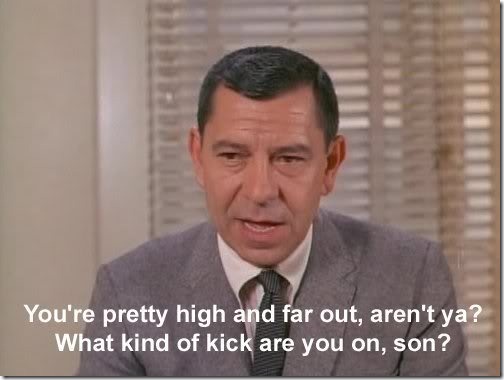 Notice: Posted by permission of AceCorp LLC. Please e-mail overnight open thread tips to maetenloch at gmail. Otherwise send tips to Ace.

posted by Maetenloch at
10:00 PM
|
Access Comments