« Study: Sitting For Long Periods Worse For You Than Previously Thought
|
Main
|
If John Boehner Is Required To Give Up the Republicans' Most Cherished Pledge to Their Constituents, Why Does Harry Reid Feel No Heat To Do The Same Regarding the Democrats' Most Cherished Demogoguery? »
December 03, 2012
Bob Costas, Bien Pensant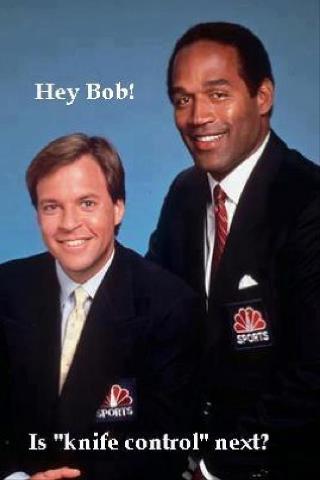 I cribbed that from Instapundit.
Costas revealed a series of flawed thoughts. I thought I'd note some of them.
The first flawed idea is the notion of mastery over the human condition, via the policy preferences of the dominant liberal elite class. Murders have been occurring for all 100,000 years of human history. And an especially ugly class of murders involve men killing their women when their women decide to leave.
No gun is needed for such murders, since men are generally much stronger than women. As the picture demonstrates, a man (especially an athlete!) doesn't need a gun to kill; he just needs a halfway decent cutlery set.
Bob Costas gets around this (he thinks) by suggesting it's not just about the gun, but about "gun culture," a culture, if I'm to understand this correctly, that encourages violent outcomes to personal disputes.
Responsible gun owners certainly don't believe that. Irresponsible gun owners and criminals do, but that's hardly a "gun culture" extending to responsible citizens.
Nevertheless, Bob Costas wants you to know that if you sign on for the cultural preferences of the monied liberal urban elite, we can finally have an end to this whole murder business.
This is an extremely arrogant idea, of course. But is as usually the case, people have the strongest opinions when they have the least actual knowledge.
Another thing Costas does here is to ignore three cultural matters that are less easily burbled about than his anti-"gun culture" kick, which of course safely targets White Republicans. Adam Carolla talks about this a lot -- it is a favorite posture of the liberal urban elite to discuss safe villains, White Republicans, who have nothing to do with the ills they're discussing, in order to avoid talking about things that aren't so easy to talk about. Things that actually do have something to do with the ill they're talking about.
The easiest of the other three cultures to discuss is the bubble that athlete heroes live in, in which most of their personal problems are "fixed" by a large and wealthy organization that has a lot of investment in them. This leads to the idea of action without consequences and all the evils that flow from that.
More difficult to discuss is the very violence implicit in football itself -- violence that leads to concussions and brain injuries (and brain injuries of course may well lead to defects in thought and judgement).
This is especially difficult to discuss because you can't have football without this. You cannot have what we know as "football" without the very real risk and frequent incidence of serious brain trauma.
Thus, we're all kind of complicit in this, or, putting it a different way, we've all accepted the violence as a necessary evil for a bit of entertainment. The athletes accept the cost-benefit tradeoff; the teams accept it; NBC accepts it; the public accepts it. We all accept that to have the game as we've had the game, and as we want the game, there are going to be some serious casualties along the way, the most serious of which involve the brain and spinal column.
And that's kind of a heavy, ugly idea. But it's true. Ninety percent of human thought is, I sometimes think, devoted to rationalizing why things which are obviously true are not true. And we reward people who give us the best, most plausible falsehoods denying the obvious truth.
The most difficult culture to talk about is a strain of black culture that is so rejectivist -- so knee-jerkedly oppositional anything "white" -- that it often throws out a lot of babies with the bathwater. That's a problem, because what we might call "conventional traditionalist white middle-class culture" happens to have seized on a great many extremely positive and useful mores, so any culture which is broadly oppositional to that culture is going to wind up rejecting many crucial moral guidances.
But while all of these are far more relevant to the murder-suicide than the "gun culture" Costas discusses -- his cowardice posing as a form of informed courage -- actually, none of them have much to do with the murder-suicide, either. Brain injuries may have something to do with it, but that's highly speculative. I'm just nothing them as having more to do with the murder-suicide than the Easy Dodge Bob Costa offers.
The main problem is really human wiring. Yes, for a 100,000 years men have frequently thought that killing a former lover was a good way to deal with heartbreak. (On the distaff side of the coin, women have also occasionally thought murdering a male spouse was a pretty good idea.)
People do in fact snap. Some brains snap under much lesser strains than others. And when people snap, they start thinking a lot of murder, and suicide.
And they don't need guns to do this, as they have never needed guns to do this. A knife works pretty effectively; a woman can use a knife, too. She's every bit a man's physical equal when a man is asleep, or pass-out drunk, or drugged. And beyond knives there is poison, and there are of course bludgeons and ligatures; and drowning people in bathtubs; and running them down with a vehicle; and dousing them with kerosene and setting them on fire.
A lot of these emotional-snap murders involve setting people on fire, including setting one's children on fire; nutty, murderous people seem to think that killing one's children is a great way to either spite the straying spouse even more, or a great way to clasp one's children to one's breast as one enters a fiery heaven. No idea what they're thinking, actually.
But I do know we're not talking about outlawing matches.
I have several problems with this sort of Automatic Liberalism, this sort of unthinking liberalism, but, confining my critique to the intellectual plane, my problem is that it is thoughtlessness passing as thoughtfulness and cowardice masquerading as courage. It's a very weak dodge, a manner of avoiding more difficult conclusions, but the Dominant Media/Informational Culture of the country has deemed these weak evasions to be Brave and Intelligent, and thus they are.
Costas will be praised for his guts-- but I notice he didn't discuss anything controversial, like the Athletic Bubble (that's something that's sort of easy to discuss for most-- but not when your job is promoting athletes and getting interviews from them), the broad Black Counterculture which is generally harmful to anyone who embraces it (and is unwillingly embraced by it) and, most of all, the sad and often violent state of the human condition.
This last one is the hardest one to discuss at all, because it offers no easy answers at all.
And that's precisely the thing that Jason Whitlock are looking for, easy answers, simple-minded statements they can posture as sages for speaking.

posted by Ace at
02:26 PM
|
Access Comments