« Sunday Morning Open Thread
|
Main
|
Sunday NFL Football Thread »
December 02, 2012
Sunday Morning Book Thread 12-02-2012: Brotherly Love Edition [OregonMuse]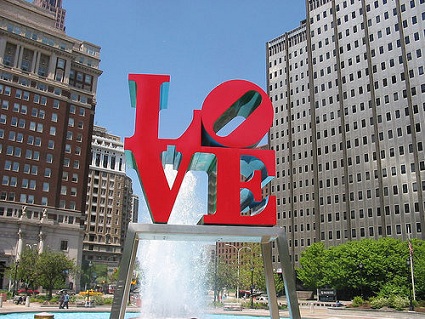 Yeah, some dumb guy in Philadelphia actually thought putting up this sculpture was a good idea
Good morning, 'rons and 'ettes, and welcome to the Sunday Morning Book Thread. I had to be out of town most of the day yesterday, so today's content will be light.
Book by Morons for Morons
You're all probably familiar with longtime moron commenter Wyatt Earp. You've heard him bitch about his home town, Philadelphia ("the crack whore of cities"), and you've heard him piss and moan about the Eagles, an NFL team known primarily for being used by other NFL teams to blow their noses on, but despite all this, he got off his sorry ass and actually wrote a book. When I was highlighting moron authors awhile back, I somehow missed him. Anyway, Mr. Earp's book Only Son, is available on Kindle for the absolutely outrageous very reasonable price of $3.99. The plot of this crime novel involves "a discharged U.S. serviceman [being] found dead on a Philadelphia street and a pair of homicide detectives struggle to solve a crime with no witnesses, no leads, and no family to speak for the victim."
And you know no one knows the mean streets of Philadelphia ("we're not as corrupt as Baltimore") quite like Wyatt Earp, a police officer who no doubt spends all of his time dealing with perps, creeps, scrotes, toughs, punks, thugs, and Methodists.
So buy his book and read it, dammit.

From the Mailbag
I received an e-mail from moronette commenter DangerGirl who recommends Injured Reserves, available on Kindle. Subtitled "a song of war", DG says this 16,000-word novella is "one of the most beautifully written accounts of a war situation I've ever read. Not only is it horrifying, but it is uplifting as well and patriotic in a way." When I tracked down a link for it on Amazon, I was struck by the superlative language used by the reviewers: "blown away", "like nothing else", "you'll never forget this" and my favorite, "it's not even about the words, it's the way they're woven. It's like a fine Persian rug. You stare and admire the beauty but can't figure out how the creator put it all together."
Whew. Anyway, for $2.99, it's definitely worth a look.

And that pretty much wraps it up for this week. As always, book thread tips, suggestions, and insults may be sent to aoshqbookthread@gmail.com
So what have you all been reading this past week? Something good I hope
Update (and bleg): This is really strange. I have lost the ability to post comments on this blog. It doesn't tell me I've been banned, it's just that when I enter a comment and click on the 'Post' button, the screen refreshes and the comment simply disappears and does not appear in the comment list. This occurs whether I use IE, FF, or Chrome, and it doesn't matter if I'm in Linux or Windows. I've also reset my modem and gotten a new IP address, but I still can't comment. Anyone else run into this before?

posted by Open Blogger at
10:54 AM
|
Access Comments