« We're Already In A Recession, Says Analyst
|
Main
|
Top Headline Comments 11-30-12 »
November 29, 2012
Overnight Open Thread (11-29-2012)– Loafing Edition
It Don't Pay To Work in Pennsylvania
At least if you're a single mom. And the Pennsylvania Department of Public Welfare admits as much:
"the single mom is better off earning gross income of $29,000 with $57,327 in net income & benefits than to earn gross income of $69,000 with net income and benefits of $57,045."
If you're a PA single mom, have a job and make between $29K and $70K, you're a fool actually making yourself poorer by working.
Behold the Welfare Cliff: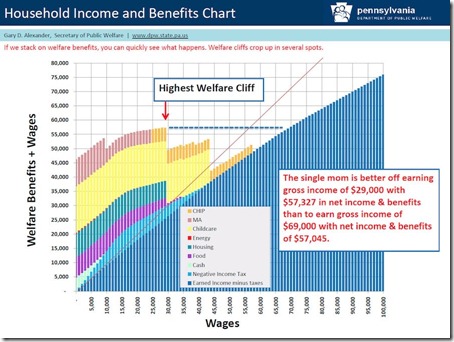 What you subsidize, you get more of.
Dennis Prager: 'Leftism is a Religion'
I know that certain pundits claim that leftism is a mental disorder but here I think Prager makes the stronger case that it truly is a religion - the most dynamic one in the world. Does anyone doubt that Leftism has its own belief system, moral judgments with angels and devils along with taboos and shared rituals?
You cannot understand the Left if you do not understand that leftism is a religion. It is not God-based (some left-wing Christians' and Jews' claims notwithstanding), but otherwise it has every characteristic of a religion. The most blatant of those characteristics is dogma. People who believe in leftism have as many dogmas as the most fundamentalist Christian.

One of them is material equality as the preeminent moral goal. Another is the villainy of corporations. The bigger the corporation, the greater the villainy. Thus, instead of the devil, the Left has Big Pharma, Big Tobacco, Big Oil, the "military-industrial complex," and the like. Meanwhile, Big Labor, Big Trial Lawyers, and - of course - Big Government are left-wing angels.

And why is that? Why, to be specific, does the Left fear big corporations but not big government?

The answer is dogma - a belief system that transcends reason. No rational person can deny that big governments have caused almost all the great evils of the last century, arguably the bloodiest in history. Who killed the 20 to 30 million Soviet citizens in the Gulag Archipelago - big government or big business? Hint: There were no private businesses in the Soviet Union.
So why isn't Leftism recognized as a religion? Because it declares itself to be a rational un-religion:
One reason is that leftism is overwhelmingly secular (more than merely secular:  It is inherently opposed to all traditional religions), and therefore people do not regard it as a religion. Another is that leftism so convincingly portrays itself as solely the product of reason, intellect, and science that it has not been seen as the dogma-based ideology that it is. Therefore the vast majority of the people who affirm leftist beliefs think of their views as the only way to properly think about life.

That, in turn, explains why anyone who opposes leftism is labeled anti-intellectual, anti-progress, anti-science, anti-minority, and anti-reason (among many other pejorative epithets): Leftists truly believe that there is no other way to think.
Spectre Gunships Are Now Day Hunters
"They are currently flying during the day," Air Force Special Operations Command chief Lt. Gen. Eric E. Fiel said of his AC-130s at a recent industry conference.

The potential impact of the flight expansion, which had been anticipated for more than a year, is hard to overestimate. AC-130s fly longer, carry more weaponry and fire more precisely than most other planes. "Gunships are in a class all by themselves when it comes to close air support," Bob Seifert, a former AC-130 pilot who flew combat missions over Iraq, tells Danger Room. In adding daytime missions "you've literally increased your overall effectiveness by 100 percent," Seifert points out.
And this was desperately needed:
In part because it flew during daylight, a single Marine Corps KC-130 tanker with bolt-on Hellfire and Griffin missile launchers - a sort of half-gunship codenamed "Harvest Hawk" - flew 8 to 10 percent of all close-air-support missions over southern Afghanistan last year, according to Lt. Col. Charles Moses, who commanded the KC-130 squadron. That's "a significant number considering it's only a single aircraft," Moses said.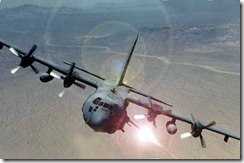 Yet Another Bummer: Federal Judge Dismisses Walker v. Kimberlin Federal Lawsuit
Apparently the judge decided it was just a political dispute and washed his hands of it.
The court decided to duck the entire matter as a "dispute between political enemies", and we disagree with his assessment as to the Court's inability to grant the remedies sought. We disagree with the ruling and its failure to address in any way even a single point of substantive law raised by either party, nor did it take into consideration our response to Rule 11 filed yesterday, or our forthcoming Opposition to the Motion to Dismiss by the Organizations, which the court should have considered before granting that particular motion.
We plan to pursue all available options, including an appeal, once our focus is no longer on the 12/04 hearing in Virginia.
So perjury and violating discovery rules are fine if it's a 'political' thing. Kimberlin skates again. For now.
Did Lincoln Scribble the Gettysburg Address on the back of an Envelope?
Nope. He worked hard on it.
The myth dates back at least to 1866, when Harriet Beecher Stowe wrote that she had seen the president jot down the speech "in only a few moments," and industrialist Andrew Carnegie later claimed that, as a young man, he himself had handed Lincoln the pencil he used to write the speech!

...The historical record is actually fairly clear: Lincoln spent almost two weeks on the speech. This was typical for him. As president, he often turned down opportunities to speak off the cuff, considering himself a poor impromptu speaker. John Hay, one of Lincoln's private secretaries, remembered in 1891 that the speech was "carefully considered." On November 15, three days before leaving for Gettysburg, the president told Noah Brooks, a reporter friend, that the speech was "written but not finished."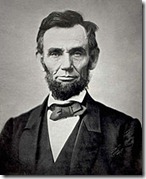 Hurricane Sandy Proves Cash Is Still King
I know people who swear that cash is now passι but this isn't even true when everything is working perfectly. When things aren't working, there is no substitute for old fashioned actual cash-in-hand currency.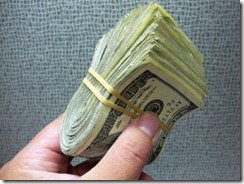 Le Shock: Belgian man discovers his wife used to be a man after 19 years
If you catch your wife cheating and think it couldn't get any worse - well always remember that yes it could in fact get even worse. And then even worser:
The couple are still living under the same roof after a judge refused to grant Jan an order to evict her.
Thanks to RL.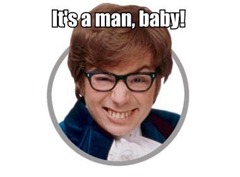 The Ten Chick Flicks Guys Love But Refuse to Admit Watching
Well love is a pretty strong term - perhaps not-a-complete-waste-of-time/mildly amusing is more apt description. And Twilight is just a damned filthy lie.
So believe me when I say that I've never seen one of those movies. That being said...I've also told people I've never seen Notting Hill or Pitch Perfect. I once even told a cop that no, I didn't see that nice Italian man shoot that snitch and dump the body in the river my house overlooked, but that was for different, far more disturbing reasons. Point being, sometimes chick flicks are actually pretty enjoyable--the dialogue is witty, there's hot trim to stare at and sooner or later the main chick usually ends up in her underwear.
Well Notting Hill and Pitch Perfect were pretty good and even Bridget Jones' Diary had its redeeming moments....from what I've heard from my p-whipped friends.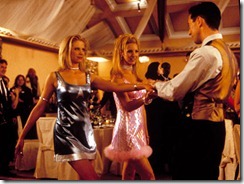 The fabulous French fry and hash brown diet
I'd like to believe -  but it would be nigh impossible to really lose 5lbs of fat in 3.5 days even on a fast much less a diet of wonderfully delicious fried potato products.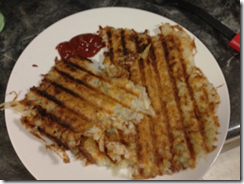 Yahoo group. That is all.
And my Twitter spew.
Tonight's post brought to you by The Plan: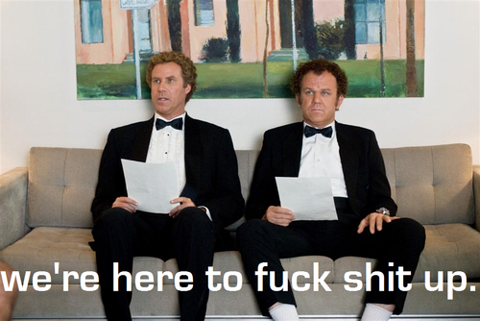 Notice: Posted by permission of AceCorp LLC. Please e-mail overnight open thread tips to maetenloch at gmail. Otherwise send tips to Ace.

posted by Maetenloch at
09:50 PM
|
Access Comments