« The Noir Photos of Brassai
|
Main
|
Top Headline Comments 11-27-12 »
November 26, 2012
Overnight Open Thread (11-26-2012)
What Have You Learned as a Police Officer About Life and Society That Most People Don't Know or Underestimate?
Taken from a Quora thread (may require signing up or bugmenot to see it all). And also an invitation for all active or retired Morons in blue to de-lurk and share.
One of the things my upbringing did not prepare me for was the complete lack of civility that some people have. I didn't think of myself as having been sheltered from evil as a child, but I did not learn that some people have absolutely no regard for the welfare of anyone but themselves, and lash out at anyone who tries to make them aware they are not the only people on the planet
Everyone has a "hot button." Calm and even-tempered as you might be, there is some topic that will set you off, especially if it's referenced to you personally. It might be your height, your weight, your sexuality, your education, how much money you have, your mom, whatever. Rational people can become maniacs if someone pushes their buttons.
High-speed chases look like fun because they are.
Take away alcohol and stupid, and the world would require about 90% fewer cops
The number of homicides where neither the victim nor the perp knew two minutes out that it was about to happen is astounding.  (See "alcohol and stupid" above.)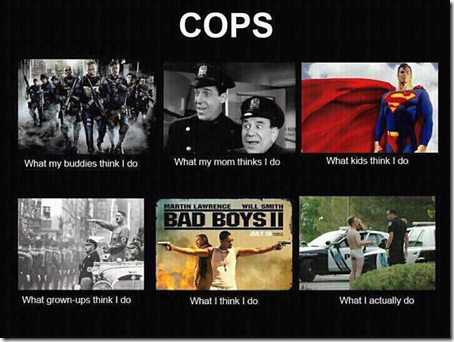 Sandra Fluke a Candidate for Time's Person of the Year
So her biggest claim to fame is that she declared to congress that she wants the government to pay for all her birth control and then Rush Limbaugh said something not so nice about her and this is enough to qualify her as the Time Person of The Year? Out of the 7 billion people on this planet?? What the fucketty fuck?!! Did someone just slip crazy pills into my brandy?!?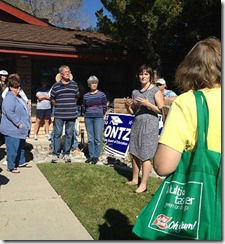 Democrats: The New York and California Party
A Smart Politics analysis of 83 general election cycles dating back to 1850 finds that the Democratic Party now comprises a larger percentage of Californians and New Yorkers in the U.S. House than at any point since California joined the Union.
30% of all Democratic members of Congress are from either NY or CA.
Here's an interesting interview with Michael Mauboussin, Chief Investment Strategist at Legg Mason Capital Management, on how to separate skill from luck in success (and failure). He focuses a lot on sports which leads him to declare basketball the most skill-based sport.
Basketball is the game that has the most skill. Football and baseball are not far from one another, but baseball teams play more than 10 times the games that football teams do. Baseball, in other words, is close to random - even after 162 games the best teams only win about 60 percent of their games. Hockey, too, has an enormous amount of randomness.
But he also touches on other areas such as the reliability of medical studies and why low class sizes are correlated with high test scores yet shrinking classes doesn't improve scores.

The Secret Online Gun Store That Will Sell Anyone Anything
Ok I'm pretty skeptical that you really can buy anything without getting scammed but this is the internet after all.
The Armory wants to make itself hard to access (for obvious reasons that have to do with not going to prison), so it's not as easy as just firing up any old website. In fact, it's not really on the web in any traditional sense. To get to The Armory, you need to deploy a free piece of software called TOR. ...The Armory's URL-ayjkg6ombrsahbx2.onion-reflects that, a garbled string of letters and numbers deliberately impossible to memorize. Once you're actually signed in, you then have to turn to Bitcoins as mandatory currency, a further exercise in computer secrecy and complexity in itself. This ain't exactly walking into a gun show and walking out with a pistol.

Still, the site prides itself on being about as easy to use as an illegal underground weapons dealership can be
And if these prices seem low, it's because they're in bitcoins which currently run at 9 dollars per bitcoin.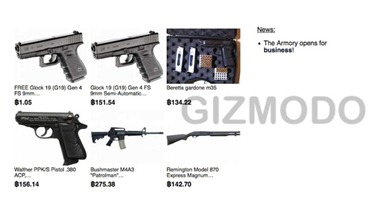 In 1922 Niels Bohr received the Nobel prize for his work on sussing out the structure of atoms. For his outright brilliance he was given a house next door to the Carlsberg brewing company, and had a pipeline running from the brewery into the house so that he could have a never-ending supply of fresh beer on tap.
This might also be why he didn't get a second Nobel prize. But his impact on the world was by no means done:
All sources agree that almost as soon as Hitler had taken power in Germany, Bohr played an active role in rescuing Jewish physicists out of Germany, typically offering them haven in Copenhagen before they could take up permanent residence elsewhere.[a] As for Sweden during World War II and especially in the autumn of 1943, it was far from certain that they would accept Danish Jews attempting to escape Hitler's deportation order. As related by Bohr's friend Stefan Rozental[30] and the historian Richard Rhodes,[31] Bohr was immediately smuggled out of Denmark in order to secure his services for the Manhattan Project. But rather than proceeding promptly to the United States, as had been planned for him, on 30 September 1943 Bohr persuaded King Gustav of Sweden to make public Sweden's willingness to provide asylum, on 2 October 1943 Swedish radio broadcast that Sweden was ready to offer asylum, and there followed quickly thereafter the mass rescue of the Danish Jews by their countrymen.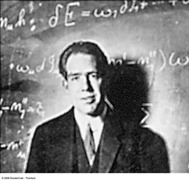 Ball Busters: They're Here to Help You
No more powerful magnets for you.
In the face of "baseless and relentless legal badgering" by the federal government, the manufacturer of Buckyballs is discontinuing its popular rare-earth magnet toy for adults. The company will continue to sell the remaining inventory, but will produce no more once the cupboard is bare...

The demise of Buckyballs leaves Zen Magnets as the last of 13 rare-earth magnet makers, though in a statement on their website, the company says, "Magnet spheres may soon be harder to acquire than ammunition in the U.S."The CPSC is now proposing a ban on "high-powered magnets that are part of magnet sets," but is allowing the public to weigh in on the proposal until November 19 at regulations.gov.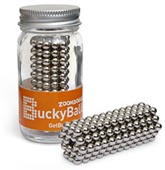 Surprising Things All Men Do (According To Reddit Users)
"Flush mid piss and race the toilet."
"Take an epic dump so intense that you had to remove your shirt because it got so hot."
"When I'm in the shower, I day dream about criminals breaking into my home to harm my family and how I would be a hero and fucking kill all the bad guys. I'm an adult man and have been doing this since forever." [um isn't this just standard guy contingency planning?]
All men at one point in their lives have given The Nod™ to another man for one reason or another. They have also given it to a woman, only to receive a look of confusion.
Additionally, they were never taught The Nod™. It simply exists within them naturally.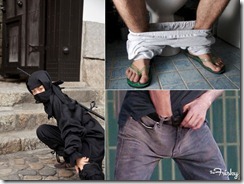 The Yahoo AoSHQ group. Bla bla bla.
And my twitter thang.
Tonight's post brought to you by Swingline: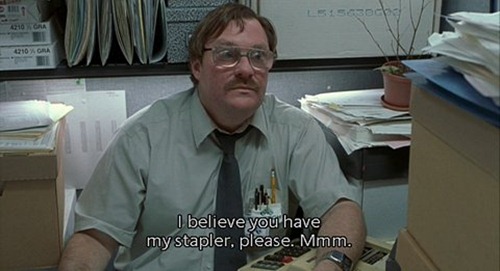 Notice: Posted by permission of AceCorp LLC. Please e-mail overnight open thread tips to maetenloch at gmail. Otherwise send tips to Ace.

posted by Maetenloch at
09:20 PM
|
Access Comments