« Saturday Morning Open Thread
|
Main
|
Bedlam! In! Norman! »
November 24, 2012
College Football Thread
Happy post-Thanksgiving all you birds stuffed full of bird. I hope you ate yourself into an L-tryptophan coma (I'm not looking that up, spelling is for sissies) and most important of all, you had pie.
Everybody likes pie.
Top ten teams are like the number 2 guy in charge of Al-Qaeda, they don't seem to last very long.
LSU (7) survived against Arkansas last night, 20-17
Notre Dame (1) vs. USC, 8pm
Alabama (2) vs. Auburn, 3:30pm
Georgia (3) vs. Georgia Tech, noon
Florida (4) vs. Florida St. (10), 3:30pm
Oregon (5) vs. Oregon State (15), 3pm
Kansas State (6), idle
Stanford (8) vs. UCLA (17), 6:30pm
Texas A&M (9) against Missouri, 7pm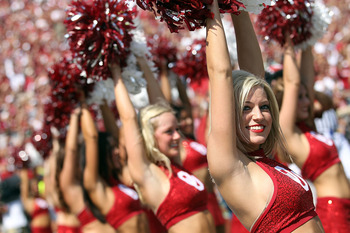 Have some more pie. What could it hurt at this point?

posted by Dave In Texas at
11:43 AM
|
Access Comments