« If You're Gonna Do It, Do It Right
|
Main
|
Election Day Open Thread »
November 06, 2012
Do Not Listen To DMM Stooges Today And Co-Blogger Predictions
This was originally going to just be a predictions thread but Democratic Machine Media (DMM) hacks like Chuck Todd are already working hard to depress GOP turnout.
On Morning Joe he kept hitting the idea that Romney will have tough sledding because "half the swing state vote is in". First, that's likely not true. Second, if it is true it assumes a huge Obama advantage.
That's definitely not true.
Overall, early vote turnout OH up 2.44% in state. Down -4.1% in Obama/Kerry counties; up 14.39% in Bush/McCain counties.
All this talk about Obama's huge early vote lead is bullshit propaganda. I still think this will be very close in several key states (shocking!) and the race could go either way but what the Chuck Todds of the world are doing is simply what they've been doing for over 5 years...carrying Obama's water.
Ignore them.
Now, onto "staff" predictions:
RDBrewer: Romney 338- Obama 200
Gabe: Romney 267- Obama 271
Russ: Romney 466- Obama 72
Dave In Texas: "Chaos" (Ohio is the new Florida) also Romney 286- Obama 252
Andy: Romney 316- Obama 222
John E.: Romney 315- Obama 223
@reidepstein: VP pooler @mikememoli in Delaware: Is this the last time you will vote for yourself? Joe Biden: "No, I don't think so."
Biden 2016: Because The Lulz!
Oh and no news post from Ben today, he's working hard for Team Mitt today.
Last prediction: Obama will definitely carry the key swing-state of "Oiho".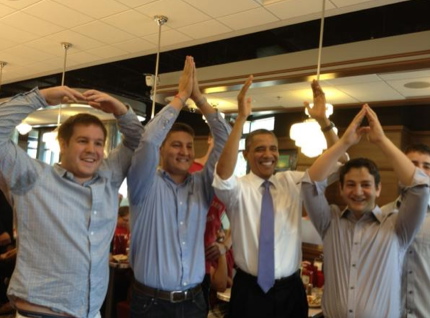 posted by DrewM. at
09:48 AM
|
Access Comments