« Overnight Open Thread (27 Oct 2012)
|
Main
|
Sunday Morning Open Thread »
October 27, 2012
Hurricane Sandy 10/28 update (tmi3rd)
Good evening yet again, Morons and Moronettes, and hello from the tmi3rds at the AoSHQ Weather Desk. Let's get the headlines out of the way now:

1) If you're anywhere north of the North Carolina border east of the Appalachians, you need to be ready for one of the bigger rain events you've seen.

2) If you're along the coast or near any waterways, you need to be ready for the probability of serious flooding.

3) Any coastal hurricane preparation needs to be rushed to completion at this point.
4) This storm's going to linger, and that's where the problem is.

More below the fold...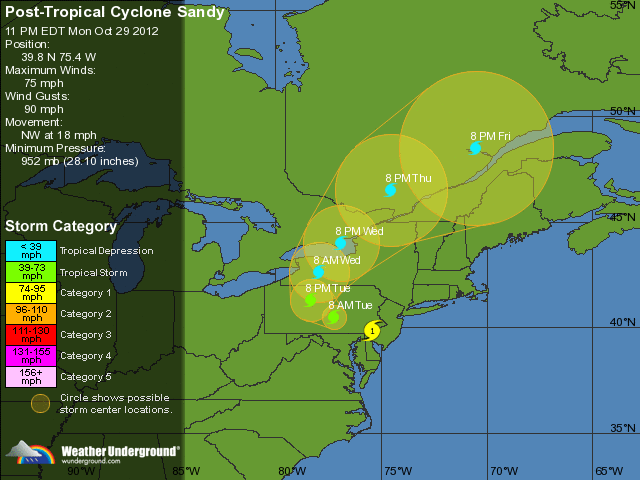 So, as of the 11 PM EDT advisory, Sandy has sustained winds of 75 mph, with gusts to 90 mph. Movement is currently northeast at 12 mph, and the lowest pressure measured is 960 millibars. This is a powerful storm.

As Sandy sucks up the cold front and winter storm, it will stop being a true hurricane (by scientific definitions), but it then is no longer dependent upon warm water to maintain itself. It'll strengthen through what are called baroclinic processes- easiest way to describe that is that it's like a figure skater pulling her arms in in a spin. As the storm tightens up, it'll spin quicker, and the winds will increase.

The current path (which, as you'll note, continues to fluctuate) takes the center of circulation ashore somewhere around Delaware Bay or southern New Jersey, but the business side of the storm is the northeast side. So, if you're basically anywhere along the coast from Philadelphia or Wilmington north through Cape Cod, please just stay the hell away from waterways. If you're in low-lying areas, get anything you care about off the ground. Finally, if the locals tell you to get out, do it. Here's why...

You'll notice that the forecast track takes it over central PA, up through central NY, and then leaves via Montreal and the St. Lawrence River. It's going to slow way down when it gets on shore, and 20" of rain is an entirely realistic estimate. Assume before it gets to you that you'll be looking at some water in the house.

Not having lived up there, I don't know how the power crews are, but you'll want to figure you may be without power for several days. If you're in the higher elevations in the mountains, that cold core coming down from the north may make a serious snow event out of it as well. It'll just be rain to the east of the mountains, but the thing I want to emphasize is that you're likely to have some loss of services for a few days. Please don't get caught unprepared.

Other than that, there's not much else to tell... since this sucker's so big, you'll start seeing serious coastal effects tomorrow, Monday evening will be when it makes landfall, and we'll be thinking about coastal and inland flooding the whole way. Again, high water is your big threat.

As ever, guys, if you need to get a hold of me, the best way is through Twitter at @tmi3rd. I won't be able to give you much information in terms of hydrology (waterways and such), but whatever I can do, I'm delighted to try.

Everyone stay safe, and we'll catch you on the flip side of this. I'll have another update for you tomorrow night.

-tmi3rd

posted by Open Blogger at
10:55 PM
|
Access Comments