« Monday Night Football Thread and Also Some Baseball Thing and 3rd Debate
|
Main
|
Romney Wins The War, Again »
October 22, 2012
Overnight Open Thread (10-22-2012) - Clique Members Only Edition
The Cuban Missile Crisis - 50 Years Later
Here Steven Hayward of Powerline reviews the episode and declares it a defeat of the US rather than the triumph it was made out to be:
To be sure, as Churchill once put it, "talk-talk is better than war-war," but the conventional "lesson" of the Cuban Missile Crisis could not be more incorrect.  The view that that U.S. "won" the Cuban Missile Crisis has more lives than a cat.  In fact, the Cuban episode was an American defeat, and it contributed powerfully to the thinking that led to the Vietnam quagmire.
...In fact Khrushchev had calculated correctly that he could bluff the U.S. into giving a non-intervention guarantee for Cuba and a trade of Soviet missiles in Cuba for NATO missiles in Turkey.  Kennedy and his grandmasters thought they had "won" because they had avoided war, even though the Soviets were never prepared to engage in warfare at the time.  The Crisis ended with Cuba being secured not only as an intact political asset to the Soviet Union, but also potentially as a military asset for the future.  Some "victory."
I'm not sure I would go quite as far as Hayward since in the end the Russians were forced to back down militarily (at some strategic cost to us) and nuclear war was avoided - but it did teach the Kennedy administration all the wrong lessons which they then went on to apply all throughout the rest of the decade.
But the best and brightest of the Kennedy-Johnson administration were so self-deluded with their "success" that they decided to apply the same strategy of "flexible response" in Vietnam. Cyrus Vance, who was a deputy secretary of defense at the Pentagon in 1962 and who later served as Jimmy Carter's Secretary of State, confirmed this view: "We had seen the gradual application of force applied in the Cuban Missile Crisis and had seen a very successful result. We believed that, if this same gradual and restrained application of force were applied in South Vietnam, that one could expect the same result."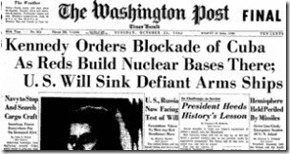 And if you want to know when the world truly came the closest to a full-scale nuclear war, check out Able Archer in 1983.
Able Archer 83 was a ten-day NATO command post exercise starting on November 2, 1983 that spanned Western Europe, centered on the Supreme Headquarters Allied Powers Europe (SHAPE) Headquarters situated at Casteau, north of the Belgian city of Mons. Able Archer exercises simulated a period of conflict escalation, culminating in a coordinated nuclear release.

The 1983 exercise incorporated a new, unique format of coded communication, radio silences, participation by heads of government, and a simulated DEFCON 1 nuclear alert.

The realistic nature of the 1983 exercise, coupled with deteriorating relations between the United States and the Soviet Union and the anticipated arrival of strategic Pershing II nuclear missiles in Europe, led some members of the Soviet Politburo and Soviet military to believe that Able Archer 83 was a ruse of war, obscuring preparations for a genuine nuclear first strike.

In response, the Soviets readied their nuclear forces and placed air units in East Germany and Poland on alert.
The Soviet top leadership had never been to America and only knew Reagan as the war-mongering caricature that the US media portrayed. A missile early warning false alarm and the KAL 007 incident in September only increased Soviet paranoia and by November Andropov and the Politburo were absolutely convinced that the US was planning a first strike and Able Archer would be the cover for it.
It was only later that Reagan found out how close the USSR had come to war over the exercises and he later wrote this:
"Three years had taught me something surprising about the Russians: Many people at the top of the Soviet hierarchy were genuinely afraid of America and Americans. Perhaps this shouldn't have surprised me, but it did ... During my first years in Washington, I think many of us in the administration took it for granted that the Russians, like ourselves, considered it unthinkable that the United States would launch a first strike against them. But the more experience I had with Soviet leaders and other heads of state who knew them, the more I began to realize that many Soviet officials feared us not only as adversaries but as potential aggressors who might hurl nuclear weapons at them in a first strike

... Well, if that was the case, I was even more anxious to get a top Soviet leader in a room alone and try to convince him we had no designs on the Soviet Union and Russians had nothing to fear from us."
Poster seen in the halls of the EU European Commission. The ideology behind the hammer and sickle impoverished and outright killed more people in the 20th century than Nazism did - yet the swastika is banned in most European countries while the symbol of communism is celebrated in the halls of the EU.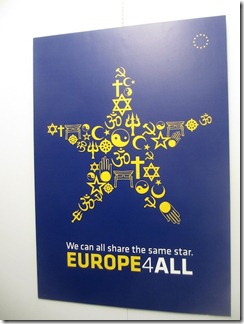 Then you could be a rancher/homesteader in Manitoba, Canada:
Got an extra ten bucks? If so, you, too, could be the owner of a sparkling new home in Reston, Manitoba, a rural prairie town in Southern Manitoba bordering Saskatchewan on the west and North Dakota on the south.

In an effort to jump on the oil boom in that part of the country, officials are once again selling undeveloped land for a mere $10, an initiative they first started in 2010.

Back then they had 14 lots for sale, 11 of which have houses built on them today, economic development officer Tanis Chalmers told ABC News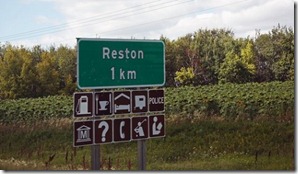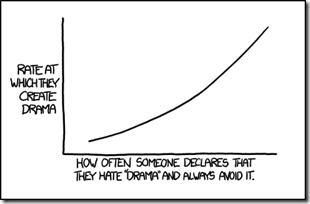 Why Atheists Can't Have Nice Things
Because they insist on doing dickish things like this:
Richard Dawkins and Sean Faircloth are recruiting college students to photograph the homes of ministers as the two well-known atheist work to make a documentary they say they hope leads to the abolishment of tax exemptions for religious leaders in America.

Faircloth, author of "Attack of the Theocrats: How the Religious Right Harms Us All & What We Can Do About It," encouraged hundreds of University of Colorado - Boulder students who attended his talk last week to photograph the homes of ministers and send them to him.
When he sees injustice on the Phoenix light rail, he acts:
A vigilante drew what appears to be a samurai sword to break up a brawl on a Phoenix light rail car. The martial arts weapon, long-associated with feudal Japan, does not appear often on American public transportation.

The man, wearing a baseball cap and headphones, did not need to execute a single martial arts move to scare away the fighters. He simply unsheathed the katana and inched slowly toward them.

"Let me see it! Let me see it!" said the man who had been losing the fight, but the wannabe samurai held up his fist to signal that he was in control of the situation.

The two young men who had the upper hand during the fight fled from the car, as the man who was punched and kicked repeated cursed at them from the doorway.
I'm thinking you could create a whole modern day Kung Fu-like TV series based on this incident alone.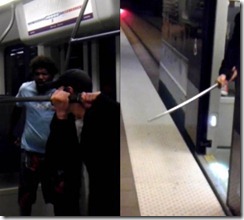 Russian Mail Order Brides Part VII
Sure there's a chance they'll break your heart, empty your bank account, and betray your country - but it's only like 74% - maybe 80% tops - and that's better than most of what you get in Vegas.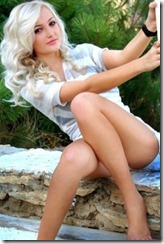 The Yahoo AoSHQ group. Bla bla bla.
And my twitter thang.
Tonight's post brought to you by the Rules of Bacon: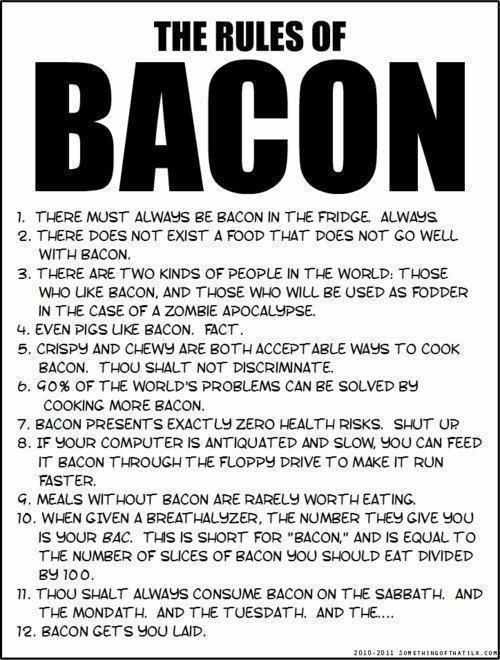 Notice: Posted by permission of AceCorp LLC. Please e-mail overnight open thread tips to maetenloch at gmail. Otherwise send tips to Ace.

posted by Maetenloch at
10:20 PM
|
Access Comments